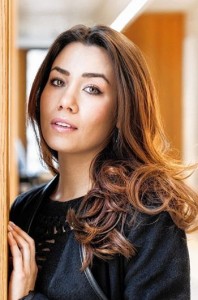 Juan Pablo won't be coming to Canada anytime soon.
Before next week's hometown visits on "The Bachelor," Ottawa's Sharleen Joynt on Monday did what we hoped scores of women would have had the guts and self-awareness to do before her — leave on her own volition.
Why is it only the Bachelor who has to wonder whether each woman is right for him while it is assumed the women have their mind made up that the guy with the roses is definitely the one?
Of course there should be women who might stop and say no thanks, you're not my type. It just took longer for Sharleen to do so. And while being standoffish, she became all that more attractive to him – she stood out simply because she was unlike all the others who fawned and fell for him just like they were supposed to.
There's no doubt Sharleen found herself drawn physically to Juan Pablo — he's so kissable! But something was gnawing at her.
"It's so hard not to kiss him when I'm close to him it disturbs me," she said in a confessional. "It makes me wonder what's compelling this relationship."
Later, she says "a little voice in my head is telling me that it's not right."
What? Meeting a guy on a TV show with 25 other girls and kissing your way to a marriage proposal four weeks later?
Someone may have misinformed her about show rules: A girl who gets the final rose doesn't have to immediately be engaged. But Sharleen, polite as she is, doesn't want to deny one of the other women who are more sure than she is a chance at their own hometown dates.
So after a full day's yachting trip full of kisses and some banter that indicates she'd be willing to give up her opera singing career for him, she tells the five other remaining girls that she'd be dropping out, before going to tell him.
Juan Pablo is tickled that another girl has knocked on his door after hours, but he wants to know why Sharleen is looking so upset. She tells him what is "excruciatingly difficult" for her to admit: she's not quite ready for a proposal should that be coming. And it's not fair to stand in the way of others who are ready.
It doesn't seem to immediately sink in to Juan Pablo, and then he takes it about as well as a guy could, who has five other women waiting for him. He does shed a tear or two. She is, after all, the one woman who caught his eye from the very beginning. She's also the one woman he tells his family about ("she's an Oprah singer," he mispronounces). But now she's gone, jumping into a yellow cab instead of a stretch limo because of short notice.
"I am quite surprised at how sad I am," she says in the taxi. But, she adds, "he didn't have what I was looking for in terms of forever."
The five other girls are not so sad at all. "Each one of us feels like our hometown is that much closer," Chelsie says.
And indeed, once Sharleen leaves, her name is never brought up again. In fact, Juan Pablo talks about how "it's been a good week in Miami."
Besides Sharleen's self elimination (actually she was eliminating him in a unique act of empowerment), the other big news was that Nikki was chosen for the other one-on-one date and became the first of the girls to meet his family and, most importantly, his daughter, who seemed to like her right away. I think she also met his ex, which may be a Bachelor first.
Of course that's a huge thing for Nikki and she was right to assume she was getting a rose.
That left the four others to go on a beach group date in which he spent considerable one-on-one time with each of them (except for Renee). Chelsie showed a pack of letters her parents had written to her while she was gone; Clare told about a video her late father made for whoever her prospective husband was (something ABC has to get on the air).
Yet the one who got he one rose from the trip was Andi. So she got to stick around and have a night time date with him at South Beach, where they went to a nightclub and the Latin singer crooned to them as they danced badly.
Clare was starting to get really angry, cussing in the plane that took the three non-rose holders back, and once back, picking a fight with Nikki who tried to explain herself for, uh, smirking. After a while Nikki realizes it's not worth fighting back, but Clare wants to keep arguing. This leads to some of the looniest moments of the season.
It casts a pall on the final pre-rose ceremony cocktail party, such that Clare and Nikki don't really want to talk to one another when they are left together to sit.
The producers seem to think this is very funny that they won't talk so there is a long period of time watching them say nothing. They may also be adding cricket sound effects to drive the point home.
The result is something quite different: Making us realize how boring this contrived dating game can be, how dull the waiting around must be for them, and the terrible people you have to endure while going through it. And we're watching for fun?
At the rose ceremony, Nikki gets the first rose and Clare gets the second, so there's not as much division in Juan Pablo's mind about them as there is in theirs. The person who I'm still hoping is the sleeper candidate gets the final rose, Renee, though I wasn't quite so happy when she started siding with Clare and Chelsie, who, yes, was the one chosen to go home. ("Such a mistake," Clare mutters).
Juan Pablo seemed more upset about this ouster than he was about Sharleen leaving. Even after being dumped, Chelsie is inexplicably still under his spell. "You're so wonderful," she says.
"I can no be happy right now," he says, just like that.
Next week promises two hour episodes on both Monday and Tuesday that include home visits and fantasy suite action. From the clips, everybody's got a reason to cry, from Clare, whose mom won't give a blessing, to Nikki, whose dad won't, to Andi, who stalks out of the fantasy suite for some reason.
And suddenly Sharleen looks even smarter for taking herself out.