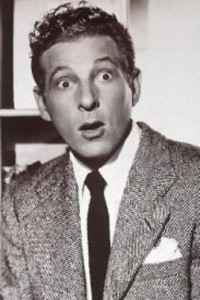 So I wrote about Danny Kaye the other day, or at least a story about a guy who does a one-man Danny Kaye show, for the Washington Post.
Then I got a letter from a guy who didn't like Danny Kaye so much.
I read the article on Danny Kaye in the Sunday Style section.  I understand that the mission was to portray him in a positive light.  I feel obligated to offer a personal story of Danny Kaye's dark side.
 
In the winter of 1962, I was assigned to an Army unit on the DMZ in Korea.  Danny Kaye was scheduled to come to our small camp to give one of his USO performances.  The plan was to have him come to the General's Mess for a lunch and then to go to the outdoor performance area for his hour + show.  As the Aide to the General I was responsible for all the arrangements.
 
Everything began well enough, until, at lunch, when we suggested it was time to go, Danny refused saying that he'd like to hold off for a few more minutes.  His attitude was dismissive and he showed a great deal of arrogance in his comments, choosing to make fun of the situation.  I must say that the soldiers had been waiting in the outdoors cold for more than 3 hours for the show.  It was cold and windy.  Danny finally agreed to leave and went to the show stage.  He preformed for only 30 minutes, and to all our surprise, said good-by to the soldiers and left.  
 
As you can imagine, the soldiers and the entire camp was stunned.  The troops began to Boo.  But the show was over.
 
Put that in your show if you want to be true to the real person.
But it would be a terrible one-man show.