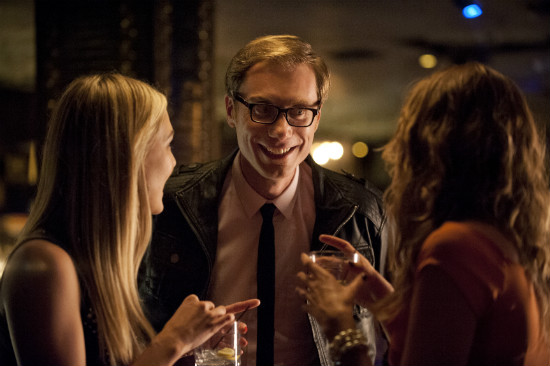 Stephen Merchant was on the ground floor of cringe comedy, co-creating "The Office" and various other projects with Ricky Gervais including "Extras" and "Life's Too Short." But working on his own in the series "Hello Ladies" he was no more lucky than his hapless character, a lanky would-be lothario consistently (and hilariously) striking out with women.
There was no second season, but there is closure of sorts tonight in "Hello Ladies: The Movie" (HBO, 10 p.m.), a kind of extended romp through the same material that includes humiliations of trying to impress an old girlfriend even as it ties up things romantically just as you think it always would. There are some nice cameos, from everyone from Nicole Kidman to Allison Tolman. And it's easy to jump in and pick up the narrative even if you were among the many who ignored Stuart first time around. 4
It sure beats the other original movies of the night, such as the still pre-season "A Royal Christmas" (Hallmark, 8 p.m.) about a modest Philly girl (Lacey Chabert) discovering her fiancé (Stephen Hagan) is actually a European prince, whose mother is Jane Seymour. I'm sure Christmas fits in there somewhere as well, just as it does in "An En Vogue Christmas" (Lifetime, 8 p.m.), in which three members of the group reunite to perform in order to save the club where they started.
The lead up to "Hello, Ladies: The Movie" is "That Awkward Moment" (HBO, 8 p.m.) from earlier this year, with Zac Efron, Michael B. Jordan and Miles Teller.
There's still time to get caught up in "The Missing" (Starz, 9 p.m.) where a man is being questioned in connection with the missing child.
Movies about boxing are on Turner Classic Movies with "The Champ" (8 p.m.), "The Kid from Brooklyn" (9:45 p.m.) and "The Prizefighter and the Lady" (11:45 p.m.).
Later, there's a couple of Karl Malden's odder films, "Cat O' Nine Tails" (TCM, 2 a.m.) and "Phantom of Rue Morgue" (TCM, 4 a.m.).
College football again dominates prime time with Oklahoma State at Baylor (Fox, 7:30 p.m.) opposite Southern California at UCLA (ABC, 8 p.m.). Other than that, there's reruns of "NCIS" (CBS, 8 p.m.), "NCIS: Los Angeles" (CBS, 9 p.m.) and "State of Affairs" (NBC, 9 p.m.) as well as the newsmagazines "Dateline" (NBC, 8 p.m.) and "48 Hours" (CBS. 10 p.m.).
Pretty much the same chefs and authors dominate the second night of the "Eat: The Story of Food" miniseries, discussing "Sugar Rushes" (National Geographic, 9 p.m.) and "Sea Changes" (National Geographic, 10 p.m.) about new moves in seafood consumption.
Never thought "Vanilla Ice Goes Amish" would have a spin-off, but here it is, from season one, Robert Schlabach and Albert Miller travel to big cities for home improvement jobs in a show called "Amish Renogades" (DIY, 10 p.m.).
A 13th (!) season of the British iteration of "Jersey Shore," "The Only Way is Essex" (Hulu, streaming) begins online.
Other college football games include, at noon: Kansas at Oklahoma (Fox Sports 1), Minnesota at Nebraska (ESPN), Fordham at Army (CBS Sports), Northwestern at Purdue (ESPNU), Southern Methodist at Central Florida (ESPNews) and Penn State at Illinois (ESPN2).
Later, it's Yale at Harvard (NBC Sports, 12:30 p.m.), then the following at 3:30 p.m.: Syracuse at Pittsburgh (ESPNU), New Hampshire at Maine (NBC Sports Network), Mississippi at Arkansas (CBS), Arizona at Utah (ESPN), Boston College at Florida State (ABC), Louisville at Notre Dame (NBC) and Wisconsin at Iowa (ESPN2).
Then it's South Florida at Memphis (ESPNews, 4 p.m.), Stanford at California (Fox Sports 1, 4 p.m.), Miami at Virginia (ESPN2, 7 p.m.), Samford at Auburn (ESPNU, 7 p.m.), Richmond at William and Mary (NBC Sports, 7:30 p.m.), Missouri at Tennessee (ESPN, 7:30 p.m.), Cincinnati at Connecticut (CBS Sports, 8 p.m.), Boise State at Wyoming (ESPN2, 10:15 p.m.) and Fresno State at Nevada (ESPNU, 10:30 p.m.).
Hockey tonight includes Montreal at Boston (NHL, 7 p.m.). In pro basketball, it's Dallas at Houston (NBA, 8 p.m.).
Cameron Diaz hosts "Saturday Night Live" (NBC, 11:30 p.m.) for a fourth time. Music guests on the new show include Mark Ronson and Bruno Mars. The vintage show at 10 p.m. is the classic Thanksgiving episode from 1976, with Paul Simon dressed as a turkey who ends up singing "50 Ways to Leave Your Lover," "Something So Right" and "Bridge Over Troubled Water" and a duet with Harrison on "Here Comes the Sun" and "Homeward Bound." Harrison also sang "Crackerbox Palace" and "This Song" in the episode, will they have time to replay all of that?