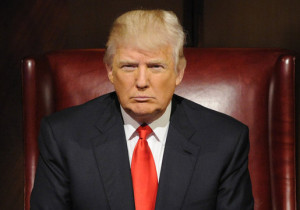 Donald Trump, whose very celebrity was aided by his long tenure as host of "The Celebrity" and then "The Celebrity Apprentice," was dismissed from NBC as host Thursday.
No season of "The Celebrity Apprentice" will be made this coming season, but it will return in the 2016-17 season with a brand new host, the NBC Entertainment Chief  said.
Robert Greenblatt made the announcement on the closing day of the TV Critics Association summer press tour that had been dominated by quips and comments about Trump, the outspoken businessman turned outsized figure in the boardroom of his own long running reality series, which has existed sporadically in recent years, but only by "employing" celebrities instead of hopeful business men and women.
NBC still has a contract to show its Miss USA and Miss Universe pageants, but the most recent one had been dropped after Trump made disparaging comments about Mexicans at his announcement. for candidacy for President. It ended up being picked up at a hard to find cable channel, Reelz.
Asked if there was the possibility of Trump ever returning to "The Apprentice," Greenblatt replied: "Two words: Absolutely not."