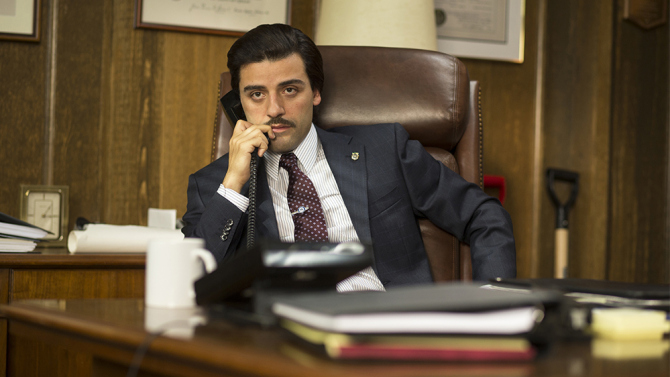 If you think a miniseries about placement of public housing would be boring, you don't know David Simon's work. After delving into stories that bubbled in Baltimore and New Orleans for previous HBO series, "The Wire" and "Treme," he looks at the racially-tinged turmoil of 1980s Yonkers, N.Y., in the gripping, heartfelt and exceedingly well made miniseries "Show Me a Hero" (HBO, 8 p.m.).
Based on Lisa Belkin's original reporting, Simon and William F. Zorzi crafted a typically multifaceted portrait of an American city, one that concentrated on the stubborn or beleaguered leaders, but also the people affected by their politically-motivated choices.
Oscar Isaac, who has already had a remarkable film career starring in "Inside Lewyn Davis" and "A Most Violent Year," stars as an ambitious young city councilman Nick Wasicsko, who becomes the youngest mayor of a major city in the country — amid a crippling court order to add affordable housing in the stubborn, resistant town.
Alfred Molina is menacing as a bigoted city councilman, Catherine Keener is an activist who wants to protect her home. It also stars Winona Ryder, Clarke Peters and a lot of familiar faces.
Directing is no less than Paul Haggis, Oscar-winner for "Crash."
That its six hour-long episodes are squeezed into the last three weeks of August makes it seem HBO was looking for a way to quickly dispose of a series its audience may not readily embrace. What they've done is created one of the strongest series of the year.
Speaking to the press via satellite at the TV Critics Association, Isaac called the story incredible — "Incredible because it happened not so long ago and not so far away. It happened in New York in the late '80s and early '90s. It wasn't in the '60s in Alabama."
Additionally,  he said, "when I when I started reading about everything that went down and learning about the real Nick Wasicsko, I fell in love with him, and I really wanted to try to understand who he was and tell that story."
The opportunities of TV was attractive to even someone who had struck lightning on the big screen. "I hadn't ever worked in this longer format with six episodes, six hours, to try and build an arc for a character," Isaac said. "So it was great."
It's not like the story does not resonate this summer, with race front and center in the national conversation.
Simon said in the series, "we are dealing with a government at the time in Yonkers that was wholly white and had complete agency for what happened politically and what the decisions were going to be or not be.
"There was no outlet for black political action or Latino political action in Yonkers at any point," he said. "This is a story about the struggle to govern when the government was comprised of people that did not, for the most part, with the exception of Nick Wasicsko and maybe one other councilman, didn't want to address the realities on the ground when they wanted to walk away from it."
I asked if there was resistance in Younkers to the retelling of this often painful civic tale.
"I think there was some resistance, actually," the co-writer Zorzi said. "The political hierarchy felt a little uncomfortable initially until they, sort of, saw the benefit of in an odd way of using their experience or the Yonkers experience as, sort of, being emblematic of what else is being faced in the nation."
"The city was very professional about it, you know, as far as their aspect," Simon said.
"And, public housing in Yonkers, because of this battle, was a success that those houses got built," the director Haggis said, "Because of people like Nick Wasicsko who championed this for whatever reasons they did, they have something to be proud of.
That's despite the fact, as Simon put it, "the cost of doing it politically was huge.
"The great irony," he said, "is that two towns north now in Tarrytown, the same fight with the same rhetoric. The same demagoguery is going on right now."
"Show Me A Hero" continues through Aug. 30 on HBO.