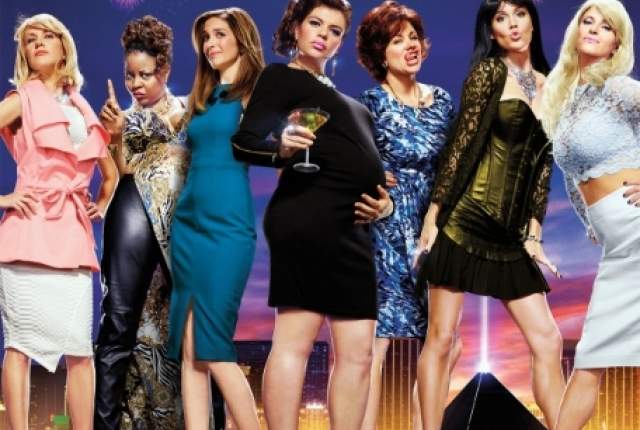 Some things are so excessive, you'd think it'd be hard to parody, from professional wrestling to a Trump candidacy. That's the case too with the glitzy, narcissistic, unnecessarily argumentative women in shows like "The Real Housewives of New York" (Bravo, 9 p.m.), to pick just one of the franchise from Bravo's never-ending roster.
Yet there are two parodies of the genre starting new seasons tonight — and another reality show to add to their number.
The best of the bunch is "The Hotwives of Las Vegas" (Hulu, streaming), featuring most of the cast of the previous "Hotwives of Orlando" though it's given them a new setting and new characters — except for Tymberlee Hill's Phe Phe. The assembled women relish putting not he wigs and airs of TV housewives and are acutely skilled to do so, led by Casey Wilson, Angela Kinsey, Andrea Savage and Erinn Hayes Kristen Show creators Dannah Phirman and Danielle Schneider are both in the frey as characters as is producer Paul Scheer. But there seems a lot of guest stars this season, because people seem to want to get into the excessive fun.
Kristen Schaal, who was in season one, only gets to pop up as a guest in her old role sporadically. But they've added Erinn Hayes as a kind of goth-witch character. Keegan-Michael Key also plays a large role, as a guy who is involved so he can engineer his own spinoff.
It's great fun, yet, sadly, not so different from its source material.
That's sort of the same story with Kevin Hart's "Real Husbands of Hollywood" (BET, 10 p.m.), returning for its fourth season with comedy that's a little less satiric and more generally broad.
And here's a show you'd think was a spoof: One that follows sports stars' wives and girlfriends are so referred to as the acronym "WAGS" (E!, 10 p.m.).
Here's another stab of a show by the former "Big Brother" star with "Worst.Post.Ever.: With Frankie Grande" (Oxygen, 9 p.m.), looking at social media gaffes.
The singer Kix Brooks of Brooks & Dunn looks for more pieces of meat on "Steak Out with Kix Brooks" (Cooking 9 p.m.), looking at New York City.
Ron Riggle makes a randy woodworking teacher in "Playing House" (USA, 10 p.m.).
Another dozen of the top 36 perform on "America's Got Talent" (NBC, 8 p.m.).
Benny and Rafi Fine try to find connections between the most unusual things on the new "Six Degrees of Everything" (truTV, 9:30 p.m.), such as Albert Einstein and breast implants.
Students get 36 horus to come up with a business idea on "Startup U" (ABC Family, 10 p.m.), which is full of much more clean-cut people than the coots on "West Texas Investors Club" (CNBC, 10 p.m.).
Ed tries to recruit two UConn players on this week's installment of "The Agent" (Esquire, 10 p.m.).
The first season of "Proof" (TNT, 10 p.m.) comes to a close.
THomas Edison pops up on "Another Period" (Comedy Central, 10:30 p.m.) and is likely appalled.
The rebooted "Punk'd" (BET, 10:30 p.m.) targets Chris Brown and K. Michelle.
Vivien Leigh is the star on Turner Classic Movies all day with "The Roman Spring of Mrs. Stone" (6 a.m.), "Anna Karenina" (8 a.m.), "Waterloo Bridge" (10 a.m.), "St. Martin's Lane" (midnight), "A Yank at Oxford" (1:30 p.m.), "Storm in a Teacup" (3:15 p.m.), "Dark Journey" (4:45 p.m.), "Fire Over England" (6:15 p.m.)." The evening is all but given over to "Gone with the Wind" (10:15 p.m.) preceded by the full length documentary on its production, "Making of a Legend: Gone with the Wind" (8 p.m.). Later comes "21 Days" (2:15 a.m.) and "A Streetcar Named Desire" (3:45 a.m.).
Daytime Talk
Kelly & Michael: Howie Mandel, Patricia Clarkson, RS, Ana Gasteyer. The View: Jim Parsons, Judy Blume (rerun). The Talk: Jim Gaffigan, John Seymour (rerun). Ellen DeGeneres: Jennifer Aniston, Garth Brooks (rerun). Wendy Williams: Kenya Moore, Ian Ziering, Johnny Damon (rerun). Meredith Vieira: Nene Leakes, Ashanti, Maysoon Zayid (rerun). Queen Latifah: Jennifer Hudson, Kellan Lutz, Tim Snell, the Madden Brothers (rerun).
Late Talk
Jimmy Fallon: Taraji P. Henson, Edward Burns, Sam Hunt. Jimmy Kimmel: Johnny Knoxville, Steph Curry, Kelly Clarkson. Seth Meyers: Zac Efron, Joe Piscopo, Chris Stapleton, Jimmy Chamberlin. James Corden: Patrick Stewart, Anthony Davis, Morrissey. Carson Daly: Britt Robertson, Mimicking Birds (rerun). Tavis Smiley: Michael "Killer Mike" Render (rerun). Jon Stewart: Paul Rudd (rerun). Conan O'Brien: Lisa Kudrow, Uzo Aduba, Bully.