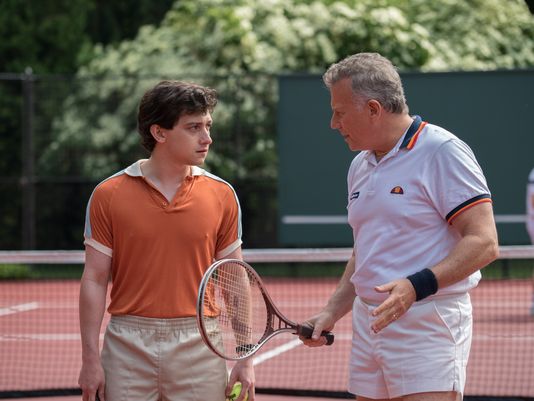 Streaming services have heretofore tried to make their mark with pretty serious fare (and have so far done pretty well with the acclaim and Grammys). But the new "Red Oak" (Amazon, streaming) will have something else — wide popularity.
Like a dozen 80s coming of age movies you've seen before, but somehow better, the series follows a pensive assistant tennis pro at a country club, navigating his way to adulthood. His dad (Richard Kind) wants him to be an accountant, but he's trying to find a more interesting avenue.
His girlfriend wants a conventional route, but the daughter of the grouchy country club president (Paul Riser) has some interesting artsy appeal.
What would seem to be cliched characters — the stoner valet, the a foreign tennis pro, a smarmy cub photographer, various blondes — each get rounded out through some amusing writing and good performances. That Jennifer Grey of "Dirty Dancing" appears as the main character's mom adds authenticity, that's bolstered by a good period soundtrack. It's endearing and entertaining.
Public television kicks off its fifth PBS Arts Fall Festival with the concert special "Unity: The Latin Tribute to Michael Jackson" (PBS, 9 p.m., check local listings). Sheila E. hosts the event taped last July in Miami featuring Jon Secada, Angel Lopez, Obie Bermudez and others.
It precedes The 28th Annual Hispanic Heritage Awards (PBS, 10 p.m., check local listings). Rita Moreno hosts the event filmed in D.C. with honorees Robert Rodriguez and Pedro Martinez, as well as Ana Gabriel, Aturo Sandoval and Becky G., who all perform, as does Gaby Moreno and Lila Downs.
Beloved in the original "Bullwinkle," ruined in a CGI movie, "The Mr. Peabody and Sherman Show" (Netflix, streaming) brings back the brainy dog and his kid and the Way Back Machine in a DreamWorks production that is at least looks like the old cartoon. Chris Parnell provides the voice of Mr. Peabody rather than Bill Scott. (The movie version used Ty Burrell!).
A new documentary on the crisis in Kiev is revealed in the new documentary "Winter on Fire: Ukraine's Fight for Freedom" (Netflix, streaming).
"Reign" (The CW, 8 p.m.) returns for its third season with a new queen vying for power. It comes alongside "America's Next Top Model" (The CW, 9 p.m.).
"The Amazing Race" (CBS, 8 p.m.) stays in South America, but moves to San Antionio de Areco, Argentina.
The National League Divisional Series gets under way with Cubs at St. Louis (6:45 p.m.) and Mets at Dodgers (TBS, 9:45 p.m.). This follows the second games in the American League Divisional Series, Texas at Toronto (MLB, 12:45 p.m.) and Houston at Kansas City (Fox Sports 1, 3:45 p.m.).
Ernest Moniz, Patrick J. Kennedy, Anne-Marie Slaughter, Andrew Sullivan and Rob Thomas are scheduled guests on a new "Real Time with Bill Maher" (HBO, 10 p.m.).
Reporters are threatened again on "Blue Bloods" (CBS, 10 p.m.).
The new three-part miniseries "The Enfield Haunting" (A&E, 10 p.m.) concerns ghosts in England in the 70s.
A climactic battle is expected to cap the series "Strike Back" (Cinemax, 10 p.m.), ending after tonight.
The Halloween roster tonight on Turner Classic Movies has to do with rogue body parts, in "Mad Love" (8 p.m.), "The Beast with Five Fingers" (9:30 p.m.), "Hands of a Stranger" (11:15 p.m.), "The Brain That Wouldn't Die" (1 a.m.), "Corruption" (2:30 a.m.) and "Eyes Without a Face" (4:15 a.m.) — not the Billy Idol song.
It's Minnesota at Indiana (ESPN2, 8 pm.) in game three of the WNBA Finals.
Hockey has Chicago at Islanders (NHL, 7:30 p.m.) and Minnesota at Colorado (NBC Sports, 9 p.m.).
And it's Southern Mississippi at Marshall (CBS Sports, 7 p.m.) and North Carolina State at Virginia Tech (ESPN, 8 p.m.) in college football.
Daytime Talk
Kelly & Michael: Kate Winslet, Ted Danson, Sara Bareilles. The View: Hugh Jackman, Levi Miller, Mario Cantone. The Talk: Tim Daly. Ellen DeGeneres: Selena Gomez, Taye Diggs. Wendy Williams: Billy Eichner. The Real: Ken Jeong, Tisha Campbell-Martin, Dave Foley, Suzy Nakamura. Meredith Vieira: Jay Leno, David Gregory.
Late Talk
Stephen Colbert: James Corden, Shane Smith, Halsey. Jimmy Kimmel: Matt Damon, Dr. Phil McGraw, Priyanka Chopra, FIDLAR (rerun). Jimmy Fallon: Jeff Daniels, Whoopi Goldberg, Nelly. Seth Meyers: Robert De Niro, Judy Greer, Highly Suspect (rerun). Carson Daly: Curtis Stone, Metz, Ravi Patel (rerun). Tavis Smiley: Fran Drescher, Rissi Palmer.