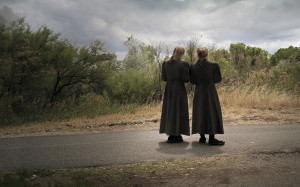 Amy Berg's devastating "Prophet's Prey" (Showtime, 9 p.m.) follows the tale of Warren Jeffs, the FDLS leader whose polygamy that included dozens of wives, some as young as 12, that got him on the FBI Most Wanted list between Osama bin Laden and Whitey Bulger.
What's shocking about the film, which is as effective in its way as HBO's Scientology expose, "Going Clear," is how widespread his ugly cult still is, growing to rural areas outside of Utah, to Colorado, Texas, South Dakota and Mexico and that it continues, with him still preaching with an iron hand to a flock of about 10,000. (Also, its current leader, his brother, evades prosecution because of the "Hobby Lobby" Supreme Court decision.
A real change of pace for the former "Downton Abbey" producer is "The Last Kingdom" (BBC America, 10 p.m.), a pretty well done series about the Danish attack on Northern England in the 9th century.  The slightly longer than an hour debut episode both serves as a solid stand-alone and a precursor for its eight parts.
It's fair to say the interest in bad old shows doesn't require "The Unauthorized Melrose Place Story" (Lifetime, 8 p.m.), which probably doesn't require the accompanying "Beyond the Headlines" (Lifetime, 10 p.m.).
Sports dominate prime time with Miami at Florida State (ABC, 8 p.m.) and TCU at Kansas State (Fox, 7:30 p.m.) in college football and NASCAR (NBC, 7:15 p.m.) from Concord, N.H.
The Will Smith caper with Margot Robbie, "Focus' (HBO, 8 p.m.), makes its premium cable premiere as does the Bruce Willis sci fi thriller "Vice" (Cinemax, 10 p.m.)
Walter has more public relations problems on "Blunt Talk" (Starz, 9 p.m.).
"Paul F. Tompkins: Crying and Driving" (Comedy Central, 11 p.m.) is a new standup special from the disarming comedian.
An alien warlord schemes on a new "Doctor Who" (BBC America, 9 p.m.).
A reminder that "Sex in Public" (Discovery Life, 10 p.m.) is a talk show and "Naked and Afraid: Uncensored" (Discovery, 10 p.m.) is quite censored.
Robert De Niro, Anne Hathaway, Keneth Branagh, Tom Hiddleston, and The Shires are on a new "The Graham Norton Show" (BBC America, 11:15 p.m.).
Master P, Amy Grant and Mike Ditka are revisited in "Oprah: Where Are They Now?" (OWN, 10 p.m.).
A trio of films about the Eiffel Tower are on Turner Classic Movies, "Ninotchka" (8 p.m.), "The Lavender Hill Mob" (10 p.m.) and "Zazie dans Le Metro" (11:30 p.m.). Later comes a couple of martial arts films "The Street Fighter" (2:15 a.m.) and "Enter the Dragon" (TCM, 4 a.m.).
In the second games of the National League Divisional Series it's Cubs at Cards (TBS, 5:30 p.m.) and Mets at Dodgers (TBS, 9 p.m.).
But mostly it's about college football again, starting with these games at noon: Texas at Oklahoma (ABC), Duke at Army (CBS Sports), Indiana at Penn State (ESPN), Illinois at Iowa (ESPN2), Baylor at Kansas (Fox Sports 1) and Tulane at Temple (ESPNU).
Games at 3:30 p.m. include LSU vs. South Carolina (ESPN), Georgia Tech at Clemson (ABC), Georgia at Tennessee (CBS), Minnesota at Purdue (ESPNU), Navy at Notre Dame (NBC), Wisconsin at Nebraska (ESPN2), Syracuse at South Florida (CBS Sports) and Connecticut at UCF (ESPNews).
Later comes Oregon State at Arizona (Fox Sports 1, 4 p.m.), Arkansas at Alabama (ESPN, 7 p.m.), Oklahoma State at West Virginia (ESPN2, 7 p.m.), Boise State at Colorado State (CBS Sports, 7 p.m.), East Carolina at BYU (ESPNU, 7:30 p.m.), California at Utah (ESPN, 10 p.m.), Wyoming at Air Force (ESPN2, 10:15 p.m.) and Utah State at Fresno State (CBS Sports, 10:30 p.m.).
The first hockey Saturday night includes Montreal at Boston (NHL, 7 p.m.).
In preseason basketball, it's Chicago at Minnesota (NBA, 8 p.m.).
Cassandra Wilson sings Billie Holiday on a new "Austin City Limits" (PBS, 11 p.m., check local listings).
Amy Schumer can't go wrong as first time host of "Saturday Night Live" (NBC, 11:30 p.m.).The Weeknd is musical guest.