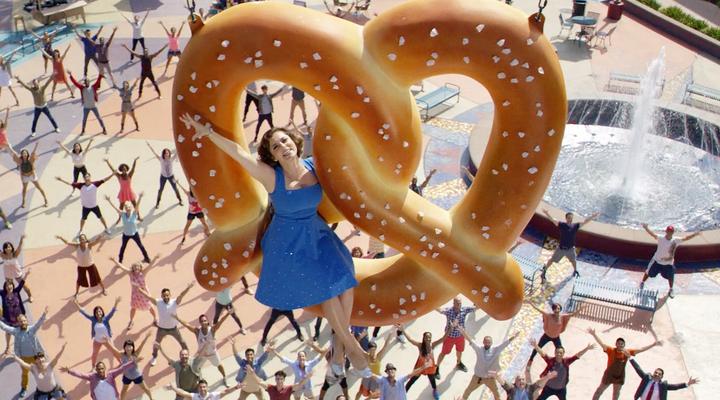 The best shows of fall TV both premiere on the same night — the season premiere of "Fargo" (FX, 10 p.m.), essentially a whole new story from season one with an entirely new cast; and the unexpected new "Crazy Ex Girlfriend" (The CW, 8 p.m.), the kind of romantic comedy that could border on obsession, since it involves a successful New Yorker moving to tiny suburban West Covina, Calif. to find her ex-crush from summer camp.
Newcomer Rachel Bloom has the every girl comic craziness of a Tina Fey, but also a big Broadway voice. So the series regularly bursts into song about her blown-up expectations. Bloom has released a bunch of songs on her own YouTube channel Rachel Does Stuff but tones down the nastiness a bit (the show was originally developed for Showtime). With a top comic cast that includes the great Donna Lynne Champlin, Santino Fontana and Michael McDonald, the perfectly formed pilot fires on all pistons. It's not clear how long it can keep it up, as a series, or where exactly it will go after several episodes. But it's pretty clear that it will be entertaining while it lasts.
It accompanies the season premiere of a breath of fresh air from last year, "Jane the Virgin" (The CW, 9 p.m.).
It's an unusual group of musical advisers assembled as "The Voice" (NBC, 8 p.m.) reaches its battle round — John Fogerty, Missy Elliott, Brad Paisley and Selena Gomez.
A complete roster of divisional playoff baseball today has Kansas City at Houston (Fox Sports 1, 1 p.m.) and Toronto at Texas (Fox Sports 1, 4 p.m.) in the American League, followed by the National League's St. Louis at Cubs (TBS, 6 p.m.) and Dodgers at Mets (TBS, 8:30 p.m.).
Monday Night Football has Pittsburgh at San Diego (ESPN, 8:15 p.m.).
The rapper known as The Game chooses between the last finalists on the dating show "She's Got Game" (VH1, 10 p.m.), which follows in the tradition of "Flavor of Love," "Rock of Love" and "For the Love of Ray J."
The future may be limited. The expensive adaptation of the sci-fi "Minority Report" (Fox, 9 p.m.) has not caught on with viewers and has had its network order reduced to 10 episodes.
I will say Gary Busey lasted longer than I thought he would on "Dancing with the Stars" (ABC, 8 p.m), though he did so dancing to Buddy Holly. Tonight is partner switch-up night.
"Booze Traveler" (Travel, 10 p.m.) goes to Finland and may never return. In an easy choice "I'll Have What Phil's Having" (_BS, 10 p.m., check local listings) goes to Paris to eat.
The weekly examination of tattoos on "Blindspot" (NBC, 10 p.m.) maybe just another one of those smarmy ploys to get Jaime Alexander to disrobe.
You could actually spend the whole night watching "Castle" (TNT, 8 and 9 p.m.; ABC, 10 p.m.), with reruns on cable before a new episode on broadcast TV.
"The Godfather" (Sundance, 5 p.m.) is reunited with "The Godfather, Part II" (Sundance, 9 p.m.).
Also, "The Girl He Met Online" (Lifetime Movie Channel, 9 p.m.) meets "The Boy She Met Online" (Lifetime Movie Channel, 10 p.m.).
Or you could spend the night examining an island prison, with "Inside Alcatraz: Legends of the Rock" (History, 8 p.m.) alongside the two hour "Alcatraz: The Search for the Truth" (History, 9 p.m.).
I'm not sure where you find it but it's worth seeking out GetTV to revel in the new weekly reruns of the old variety series "The Judy Garland Show" (GetTV, 8 p.m.).
The month-long, 39-movie Monday night salute to David Niven on Turner Classic Movies continues with "A Matter of Life and Death" (8 p.m.), "The Bishop's Wife" (10 p.m.), "The First of the Few" (midnight), "The Way Ahead" (2:15 a.m.), "Enchantment" (3:45 a.m.) and "A Kiss in the Dark" (5:45 a.m.).
In hockey, it's Florida at Philadelphia (NHL, 7 p.m.).
In preseason basketball, New Orleans at Chicago (NBA, 8 p.m.).
Daytime Talk
Kelly & Michael: Clive Owen, Jussie Smollett, Ronda Rousey. The View: Clark Gregg, Chloe Bennet, Olivia Wilde, Luke Wilson, Misty Copeland. The Talk: Shay Mitchell, Rachel Bloom. Ellen DeGeneres: Kate Winslet, Pharrell Williams. Wendy Williams: Cheryl Kramer, Michael Yo. The Real: Shameik Moore. Meredith Vieira: Jonathan & Drew Scott.
Late Talk
Stephen Colbert: Carey Mulligan, Elvis Costello, Darlene Love. Jimmy Kimmel: Kirsten Dunst, Nathan Fielder, Purity Ring. Jimmy Fallon: Clive Owen, Gabrielle Union, Neon Indian, Jazmine Sullivan. Seth Meyers: Olivia Wilde, Grant Gustin, the Vamps. James Corden: Aaron Sorkin, Bradley Whitford. Carson Daly: Mark-Paul Gosselaar, Tone Bell, Tennis, Taissa Farming. Tavis Smiley: Slavoj Zizek. Trevor Noah: Ta-Nehisi Coates. Conan O'Brien: Steven Ho, Brittany Snow, Incubus (rerun).