Following a splendid first season, the anthology-like "Fargo" (FX, 10 p.m.) starts a second season even more assured, surprising, funny, out there, brutal and addictive. With only a thread's connection to last season (Molly Solverson, age 6, is seen being raised by her dad, Lou, a Minnesota State Trooper played by Patrick Wilson. Rural law enforcement is a family tradition; his father-in-law is county sheriff (and played by Ted Danson). The  two are investigating a case shocking for its small town of Luverne, Minn., a triple homicide at the Waffle Hut.
Like a lot of what happens in Noah Howley's perfect adaptation of the classic film by the Cohen Brothers (in its setting and sensibility), it's a crazy turn by unsuspecting people that didn't need to go this way. As in last season, it involves small time hoods, big time Midwestern crime syndicates, weird families, merchants desperately trying to get ahead and ordinary people who make bad choices.
On the edges, it gets weirder, with UFOs flying around, and flashbacks to old Ronald Reagan movies. The era itself is just before the Reagan 80s, in 1979, and the clothes and look are all on point. Only the light snow in Canada where it was shot, was a disappointment.
But there's such a wealth of stories, and an immense cast. Chief among them are Kristen Dunst as a hairdresser trying to self-actualize and her loving husband who wants to buy the butcher shop where he works, played by Jesse Plemons of "Friday Night Lights" (poor guy gets involved in more murders than he should).
And among the Midwestern mobsters, a tough Jean Smart squares off against the predatory syndicate represented by Brad Garrett, who seems quite at home in the setting. Beneath them are a bunch of unique characters. On one side, the hot headed Dodd Gerhardt (Jeffrey Donovan), and his troublesome daughter Simone (Rachel Keller), the wormy Rye (Keran Culkin) and a murderous Native (Zahn McClarnon).
On the other side is Bokeem Woodbine, who seems to be doing Samuel L. Jackson's part in "Pulp Fiction," who travels with a pair of mute twin enforcers. And among the townspeople is Nick Offerman, for goodness sake. With all this talent one of the standouts is Christin Militia as the soft-spoken wife (and mother of Molly) who picks up on some of the most significant clues while dealing with her own problems.
It's all framed in a compelling way and presented with music that is both fitting at times and out of left field.
"Music is a huge part of the process for me in terms of figuring out how to use it," Hawley told me at the TV Critics Association summer press tour in August. "I spoke to our composer very early and I said, 'You can't use any of the music from the first year, except for the main theme, because it was all written very specifically as themes for these character from that year, and we have to go back to that."
To prepare for season two, which includes a lot of the Germanic Gerhardt family, "I started listening to a lot of Mahler, it's very Germanic, very macho, muscular, which felt like it really played into the time and the Gerhardt identity. So there's a lot more of that muscular quality in the music and you hear it in the needle drops as well, the Fleetwood Mac in that first hour to some pretty big songs of the period.
Something very unexpected is "Children of the Sun," the oddball space-rock song by Australian Billy Thorpe, which hit the Top 40 the year of the season two settling, 1979.
"The song, 'Children of the Sun." I don't know how many people know it. It's a crazy song and tells this amazing story," Hawley says. "And it's got this sound design to it that seemed to play perfectly to a scene that was written around that song. I'm always on the lookout. We had this song at the end of episode six last year that was this Italian pop song from the 60s that I don't know why it was the perfect song but it was, do you know what I mean?"
And this season, you'll hear everything from Burl Ives'"One Hour Ahead of the Posse" to the clap-clap of Bobbie Gentry's "Reunion" to the layout Japanese pop of Yamasuki's 1971 "Yama Yama" to the weird 1978 concept album "Jeff Wayne's Musical Version of The War of the Worlds" (you will remember its album cover).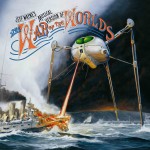 How does he find such strange songs that fit so well?
"I find my way to things," he says. "There's a free association you can do, now with the help of Spotify or something like that. And one of the things that was interesting to me was to see how America is reflected from all the countries. You look at all the [American] music of the 70s, how did the Italians, when they started copying 70s music, it's different, it's funny. it sounds different. We have some African pieces in there too. But that was also a great time of music revolution. John Cage and Leonard Bernstein were doing some really fascinating things. I just really tried to stay open and think about what was going to evoke the perfect mood."
But the mood is different than season one, Hawley says.
"Last year we had this tension, this very steady, washing machine sound," he says. "This year you notice in the first hour we have the sense of chaos. When things get tense, those horns come in, that sense of chaos like anything could happen.
"So it's a very different way of thinking about how to create tension and put people on edge when you want to put them on edge. And I love that process."
Returning composer Jeff Russo was on the case early, sending pieces of music after the script was written but before shooting began. "Both years, I'm up in Calgary on location scouts, and I've got the headphones on and I'm just listening to the music of the season, and it's helping me put me in the place and the mood. I don't know how you'd do it otherwise.
It helps, Hawley says, that "I'm a musician so I have an instinctual sense of how music work, and where to use it and where not to use it — and how silence is sometimes more dramatic than not."