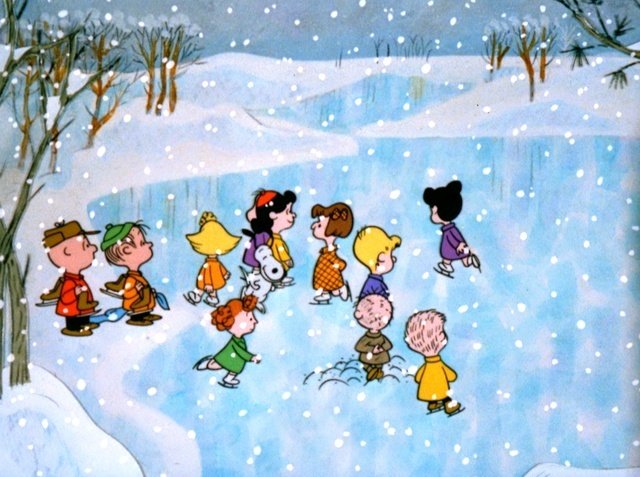 The best thing about "A Charlie Brown Christmas" (ABC, 9 p.m.) is its simplicity in the face of holiday excess. Nevertheless, over the years it's been bulked up to an hour with extra material. And tonight, not he occasion of its golden anniversary, it's been blown up to two hours with the addition of an unnecessary special "It's Your 50th Christmas, Charlie Brown" (ABC, 8 p.m.), hosted by Kristen Bell and including Matthew Morrison, Kristin Chenoweth, Boyz II Men, David Benoit, Pentatonix and  Sarah McLachlan.
There must be a dozen cooking competitions on the air each week already, including "The Great British Bake Off" which was picked up domestically by PBS. Its Christmas network variation, featuring one of the British judges, Mary Berry, is "The Great Holiday Baking Show" (ABC, 10 p.m.). Six amateur American cooks compete in the four episode series hosted by Nia Vandals and her husband Ian Gomez, and set in a rural tent during a rainy week in early fall.
Another new show, which begins its regular run in the New Year, gets a two episode debut. "Superstore" (NBC, 10 p.m.) is a mostly clumsy workplace comedy set in a big box store, where America Ferrera is a manager and Ben Feldman the new employee who doesn't quite fit in. Despite a cast that includes Mark McKinney it stumbles on crudeplfot lines and dumb visual gags.
"Minority Report" (Fox, 9 p.m.) ends its season early.
Monday Night Football has Baltimore at Cleveland (ESPN, 8:30 p.m.).
Tovah Feldshuh plays Rachel's mother as the holidays approach on "Crazy Ex-Girlfriend" (The CW, 8 p.m.). Cat gets a visit from her mother, too, on "Supergirl" (CBS, 8 p.m.).
A switched at birth case is featured on "Barbara Walters Presents American Scandals" (Investigation discovery, 10 p.m.).
For the fall finale of "Gotham" (Fox, 8 p.m.), Bruce Wayne is kidnapped.
Satyajit Ray's The Apu Trilogy, often cited as the finest movies in Indian cinema, gets a full viewing tonight on Turner Classic Movies, telling the tale of a young Bengali from youth to a young man to an adult and father. While "Pather Panchali" (8 p.m.) has been seen before on the network, "Aparajito" (10:30 p.m.) and "Apur Sansar" (12:30 a.m.), both fully restored, are premieres. Written, produced and directed by Ray the black and white films had cinematography by Subrata Mitra and music by Ravi Shankar. The evening ends with a 1982 documentary on the director, "Satyajit Ray" (TCM, 2:30 a.m.).
Basketball includes San Antonio at Chicago (NBA, 8 p.m.).
Hockey has Edmonton at Toronto (NHL, 9 p.m.) and Vancouver at Anaheim (NHL, 11:30 p.m.).
Men's college hoops include Wake Forest at Rutgers (ESPNU, 7 p.m.), Illinois State at Kentucky (ESPN2, 7 p.m.) and Clemson at Minnesota (ESPN2, 9 p.m.).
Daytime Talk
Kelly & Michael: Michael Chiklis, Uzo Aduba, Michelle Tan. The View: LeAnn Rimes, Stacy London. The Talk: Jenna Dewan-Tatum, Bryshere Gray, Ellen K. Ellen DeGeneres: Kylie Jenner, Ed Sheeran & Rudimental, Kym Douglas. Wendy Williams: Kim Fields (rerun). The Real: Loretta Devine, Trina Braxton. Meredith Vieira: Scott Foley.
Late Talk
Stephen Colbert: Aziz Ansari, Shonda Rhimes, Bruce Campbell, Lucy Lawless, Liam Neeson (rerun). Jimmy Kimmel: Adam Sandler, Taylor Lautner, Luke Wilson, Terry Crews, Jorge Garcia, Rob Schneider, Fall Out Boyz II Men . Jimmy Fallon: J.J. Abrams, Pink, the Flaming Lips. Seth Meyers: Ed Burns, Richard Kind, Judy Blume, Abe Laboriel Jr. (rerun). James Corden: Taye Diggs, Amy Landecker, 5 Seconds of Summer. Carson Daly: Nathan Fillion, Alan Tudyk, Strung Out, Davis Guggenheim (rerun). Tavis Smiley: Sen. Bernie Sanders. Trevor Noah: Spike Lee. Conan O'Brien: David Spade, Jenna Dewan Tatum.