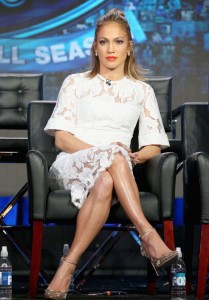 With the final season of "American Idol" already begun, Friday was the final TV Critics Association panel for the show. For judge Jennifer Lopez, it was bittersweet.
Being a judge for several seasons was never part of her original plan.
"I planned to do it for one year when they first when I did it on season ten, and I wound up doing it four or five years," Lopez says. "I mean, it's just I really loved it, and it was because of the people."
Not just the fellow judges, she says, " but the people that walked through the door in all of the cities — just the whole journey of it was just amazing to me."
But there has been a down side.
"The hardest part for me has always been watching the disappointment on someone's face who really, really believed they did good, because we do turn away good singers sometimes because of different reasons."
They could have been turned away for any number of reasons, she says. "They didn't have the strongest audition even though we know they can sing, or they just are lacking some sort of it factor. Something is not right, and they just don't understand it.
And it's hard to try to explain that in that moment when all they want is another chance, or they think this is their only chance. That's always been difficult for me."
What fun the judges seem to have on the panel is real, Lopez says. "Everything you see on TV, you know, we are respectful and loving to each other, and it's never been anything but that for me."