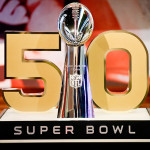 The most hyped concussion-making event of the day, Super Bowl 50 (CBS, 6:30 p.m.) occurs in San Diego where somewhere inside all the excess and the overpriced ads it will be Denver vs. Carolina. If it's the biggest broadcast of the year, as it usually is, it will tell us something about America, and probably something we don't like.
Speaking of which, Coldplay does the halftime show with needed pizazz from Beyonce. Pregame coverage begins at 2 p.m. Elsewhere, the absurdism of frolicking animals and fish found in "Kitten Bowl III" (Hallmark, 3 p.m.), "Puppy Bowl XII" (Animal Planet, 7 p.m.) and "Fish Bowl XXL" (Nat Geo Wild, 8 p.m.).
The post Bowl showcase goes to the network's late night hosts, each providing a rare Sunday night show. First comes Margot Robbie, Will Ferrell, Tina Fey, Megan Kelly and Key and Peele on "The Late Show with Stephen Colbert" (CBS, approximately 10 p.m.) and Zac Efron, Anna Kendrick and Adam DeVine join "The Late Late Show with James Corden" (CBS, approximately 11:35 p.m.) and Sir Elton John will join the host for some Carpool Karaoke.
Preparation for the New Hampshire primaries dominate the fourth episode of "The Circus: Inside the Greatest Political Show on Earth" (Showtime, 8 p.m.).
That battle over the hospital has been one of the most tiresome things about the last season of "Downton Abbey" on "Masterpiece" (PBS, 9 p.m., check local listings), but at least it comes to an end here.
Dr. Foster gets released from his quarantine on "Mercy Street" (PBS, 10 p.m., check local listings).
Chuck learns the inner workings of Axe Capital on a new "Billions" (Showtime, 10 p.m.).
Frank helps Erica and Debbie ups her game on a new "Shameless" (Showtime, 9 p.m.).
Four contestants are left to compete on "Worst Cooks in America" (Food, 10 p.m.).
Turner Classic Movies' 31 Days of Oscars continues tonight with "The Harvey Girls" (8 p.m.), "It's Always Fair Weather" (10 p.m.), "Designing Woman" (midnight), "Key Largo" (2:15 a.m.), "Dr. Ehrlich's Magic Bullet" (4 a.m.) and "It Happened Tomorrow" (5:45 a.m.).
Men's college hoops include East Carolina at Connecticut (CBS Sports, noon), Miami at Georgia Tech (ESPNU, 1 p.m.), Saint Louis at St. Bonaventure (NBC Sports, 2 p.m.), SMU at South Florida (CBS Sports, 2 p.m.), Houston at Tulsa (ESPNU, 3 p.m.) and Utah at Oregon (ESPN2, 4 p.m.).
WOmen's games include Notre Dame at Louisville (ESPN2, 2 p.m.) and Tennessee at Texas A&M (ESPN, 4 p.m.).
Pro basketball includes Sacramento at Boston (NBA, 1 p.m.) and Clippers at Miami (ABC, 2 p.m.).
In the NBA, it's Philadelphia at Washington (NBC, noon).
Sunday Talk
ABC: Marco Rubio, Donald Trump, Hillary Clinton. CBS: Bernie Sanders, Clinton, NFL Players Association executive director DeMaurice Smith. NBC: Trump, Clinton, Sanders. CNN: Sanders, Clinton, Trump, Chris Christie, John Kasich. Fox News: Kasich, Christie, Jeb Bush.