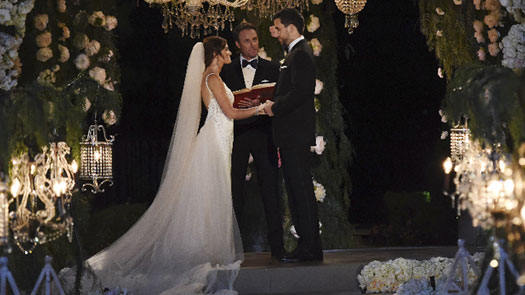 No use trying to ignore Valentine's Day, which blossoms in a couple of cable movies, as well as in "The Bachelor at 20: A Celebration of Love" (ABC, 8 p.m.), a special with highlights over the years of the show that has resulted in so very few couples. But one of them, Jade Roper and Tanner Tolbert get married for TV, with Seal performing.
"The Tonight Show Valentine's Day Special" (NBC, 9 p.m.) collects the best of Jimmy Fallon's show and brings them to prime time.
The singer performs in her home turf on "Adele: Live in London" (BBC America, 10 p.m.).
Hallmark has been churning out Valentine's movies with the urgency it uses for Christmas, but the film they chose for the day itself is particularly dim, following the same pattern of overworked corporate woman who has to slow down (and switch stories online) in order to find romance in "Anything for Love" (Hallmark, 9 p.m.). Erika Christensen and Paul Green star whose underlying message is how terrible best friends can be.
Elsewhere, "Love Finds You in Valentine" (UP, 7 p.m.), the latest in the "Love Finds You" series stars with Michaela McManus returning to her parents old farm and learning about the family feud they left behind. Love interest Diogo Morgado has a crazy accent unsuited for the U.S.; not that it was shot at all in Valentine, Neb., where it is supposedly set (it was shot in Millersburg, Ohio, site of the last film). Lindsay Wagner is part of a cast that includes the elder Edward Asner as yet another cranky grandfather who of course eventually softens.
You may be better off with a Valentine's Day-themed episode of "The Simpsons" (Fox, 8 p.m.) in which Prof. Frink uses science to make himself attractive to women.
Love also occurs in the drama of "Downton Abbey" (PBS, 9 p.m., check local listings), where Mary goes see Henry in a car race.
"The Walking Dead" (AMC, 9 p.m.) begins its midseason start amid a whole lot of walkers. "The Talking Dead" (AMC, 10 p.m.) is back to talk about it.
I'm more excited about the return of "Last Week Tonight with John Oliver" (HBO, 11 p.m.) after a long break.
"The Good Wife" (CBS, 9 p.m.) ends at the end of this season, it was announced during last week's Super Bowl. So tonight's is the ninth to last ever episode.
The NBA All-Star Game (TNT, TBS, 8:30 p.m.) tips off in Toronto.
Those awaiting the Oscars will be interested in "The EE British Academy Film Awards 2016" (BBC America, 7:30 p.m.). "Bridge of Spies" and "Carol" leads all films with nine nominations. Stephen Fry returns to host.
There's much to cover from New Hampshire to South Carolina on "The Circus: Inside the Greatest Political Show on Earth" (Showtime, 8 p.m.).
A new season starts for "Brain Games" (National Geographic, 9 p.m.) for people who want to stress that organ instead of the heart.
"Wild Sri Lanka" (Nat Geo Wild, 8 p.m.) looks into a sea of giants.
An Eastern European uranium heist gets the attention of "Madam Secretary" (CBS, 8 p.m.).
Mitch and Emily's honeymoon doesn't work out so well after they were "Married by Mom and Dad" (TLC, 10 p.m.).
"Live to Tell" (History, 10 p.m.) chronicles the Roberts Ridge.
A second season starts in the home cook competition "All-Star Academy" (Food Network, 10 p.m.).
"The Walking Dead" is the name of tonight's episode of "CSI: Cyber" (CBS, 10 p.m.), maybe as a way to cash in.
Margaret Cho, Jodie Sweetin and Ross Mathews are all gullible enough to visit the "Hollywood Medium with Tyler Henry" (E!, 10 p.m.).
Turner Classic Movies pulls out some classics tonight for its 31 Days of Oscar with "Casablanca" (8 p.m.), "Now, Voyager" (10 p.m.), "Jezebel" (12:15 a.m.), "Wuthering Heights" (2:15 a.m.) and "Lydia" (4:15 a.m.).
Axe disappears on "Billions" (Showtime, 10 p.m.).
Men's college hoops include Indiana at Michigan State (CBS, 1 p.m.), South Florida at Temple (CBS Sports, 3 p.m.), Evansville at Loyola-Chicago (ESPNU, 4 p.m.), Miami at Florida State (ESPNU, 6:30 p.m.), Southern California at Arizona (Gox Sports 1, 8 p.m.) and UCLA at Arizona State (ESPNU, 8:30 p.m.).
WOmen's games include Connecticut at Temple (ESPN2, noon), Dayton at George Washington (ESPNU, noon), North Carolina at Florida State (ESPNU, 6:30 p.m.), Washington at UCLA (ESPNU, 2 p.m.), Texas at Oklahoma (Fox Sports 1, 2:30 p.m.), Xavier at Marquette (Fox Sports 2, 2:30 p.m.) and Maryland at Northwestern (ESPN2, 4 p.m.).
Hockey has Boston at Detroit (NBC, 3:30 p.m.) and Philadelphia at Rangers (NBC Sports, 7:30 p.m.).
Sunday Talk
ABC: John Kasich, Marco Rubio, Bernie Sanders. CBS: Donald Trump, Rubio, Sanders. NBC: Kasich, Rubio, Trump. CNN: Rubio, Jeb Bush. Fox News: Rubio, Sanders.