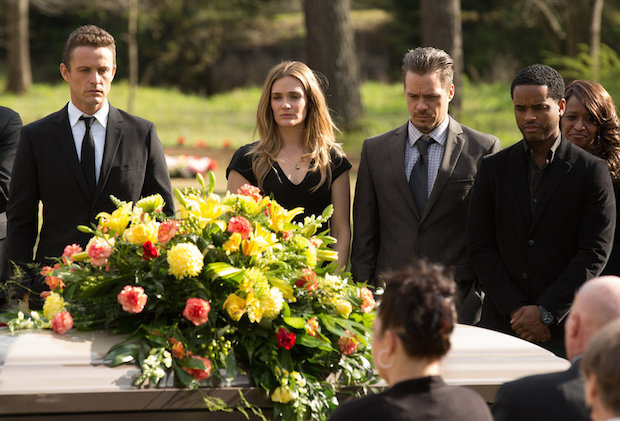 An adaptation of a Turkish series called "Suskunlar," the new series "Game of Silence" (NBC, 10 p.m.) is about a group of childhood pals who had been sent to juvenile jail and apparently abused, and vow years later to get revenge on their jailers. (Carefully named as if to lure in those awaiting Game of You Know What).
It involves one guy who's done well in his life, a defense attorney played by David Lyons, leading a cast of mostly unknowns. There's a lot of blood and bro-hugs in the fast-moving pilot which throws in some unnecessary stuff about an overlying conspiracy, drugs and corruption. The childhood flashbacks, filmed like "Stand By Me" in the cooler, often play better. But it almost seems too violent , frantic and mercurial for what it is trying to be.
Al Jazeera America, the serious and international-minded news network that couldn't quite get over its name, signs off for good tonight with "Your Stories" (Al Jazeera America, 6 and 9 p.m.), a three hour retrospective of its highlights, including breaking the Flint water story a year before most places.
"The Mindy Project" (Hulu, streaming) is still happening, returning with new episodes online. Its former broadcast pairing, "New Girl" (Fox, 8 p.m.) continues its season with Jess hit with an restraining order.
What are the "10 Parks that Changed America" (PBS, 8 p.m., check local listings)? One is Central Park, another is the San Antonio Riverwalk. Also the Square of Savanah, Philly's Fairmout Park, Seattle's Freeway Park and Gas World Park, the High Line in New York, a cemetery in Cambridge, Mass., and various neighborhood parks in Chicago.
It's followed by the concluding half of Ken Burns' "Jackie Robinson" (Fox, 9:30 p.m.), in which he retires from baseball, works for a coffee company, advances civil rights but also becomes Republican.
"iZombie" (The CW, 8 and 9 p.m.) ends its second season with two episodes.
Europe's refugee crisis gets covered in the social "Deadly Crossing: The 19 Million Project" (Fusion, 8 p.m.).
Dean arranges a focus group on "The Grinder" (Fox, 9:30 p.m.).
A finale comes just in time for the crass "Not Safe with Nikki Glaser" (Comedy Central, 10:30 p.m.).
"Idol" is gone and the layoff rounds continue on "The Voice" (NBC, 8 p.m.).
"Deadliest Catch: On Deck" (Discovery, 8 p.m.), a kind of pre-show for "Deadliest Catch" (Discovery, 9 p.m.), should not be confused with "Mega Decks" (DIY, 9 and 9:30 p.m.).
I'm thinking the "Total Divas" (E!, 9 p.m.) don't travel well to Paris.
Somebody throws her wedding band down the drain on "Married at First Sight: The First Year" (FYI, 9 p.m.).
Sure has been a lot of commercial tie-ins on "Dance Moms" (Lifetime, 9 p.m.). Tonight, a big plug for the film "The Huntsman: Winter's War."
Even sisters fight on "Bad Girls Club" (Oxygen, 8 p.m.).
A new adversary appears on "Marvel's Agents of S.H.I.E.L.D." (ABC, 9 p.m.), because they always do.
On "Outsiders" (WGN America, 9 p.m.), Asa tries to end Big Foster's reign of terror.
"The 2016 MTV Movie Awards" (MTV, 8 p.m.) that you've been hearing so little about is on again.
Robert Osborne picks the flicks tonight on Turner Classic Movies. His choices: "Kings Row" (8 p.m.), "Juke Girl" (10:15 p.m.), "The Main Event" (midnight), "Body and Soul" (2 a.m.) and "Kid Nightingale" (4 a.m.).
Baseball includes Arizona at Dodgers (MLB, 4 p.m.) and Kansas City at Houston (MLB, 8 p.m).
NBA action includes Oklahoma City at San Antonio (TNT, 8 p.m.) and Memphis at Clippers (TNT, 10:30 p.m.).
Then there are the pro basketball playoffs in the D-Leagues, with Sioux Falls at Canton (ESPNU, 7 p.m.) and Los Angeles at Reno (ESPNU, 9:30 p.m.).
Daytime Talk
Kelly & Michael: Gwyneth Paltrow, Jennifer Arnold & Bill Klein, La'Porsha Renae. The View: Barbara Corcoran, Mark Cuban, Lori Grenier, Robert Herjavec, Kevin O'Leary. The Talk: Marie Osmond, Nichelle Turner. Ellen DeGeneres: Eric Stonestreet, Jerrod Carmichael, Fitz and the Tantrums. Wendy Williams: Micah Jesse. The Real: Jon Cryer. Meredith Vieira: Bethenny Frankel. 
Late Talk
Stephen Colbert: Tom Hiddleston, Laura Benanti, Frightened Rabbbit (rerun). Jimmy Kimmel: Katie Couric, Clark Gregg, Benedict Cumberbatch, Deftones. Jimmy Fallon: Amy Schumer, Richard Linklater, Zara Larsson, Wayne Newton. Seth Meyers: Anna Winter, Eve, the Last Shadow Puppets, Fabrizio Moratti. James Corden: Martin Short, Will Arnett (rerun). Carson Daly: Will Arnett, Empress Of, Lauren Lapkus (rerun). Tavis Smiley: Amy Goodman. Trevor Noah: King Bach. Larry Wilmore: Lamorne Morris, Carrot Top, Arden Myrin. Conan O'Brien: Aaron Paul, John Bradley, Ben Rector.