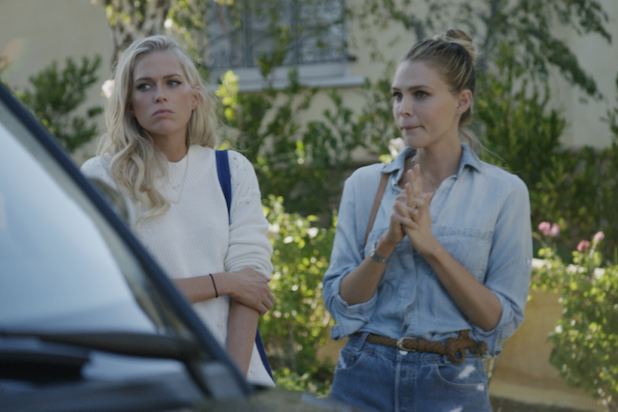 For growing up in a kind of epicenter of reality TV (where David Foster, Brody Jenner and Gigi Hadid mom and "Real Housewife" Yolanda Foster are all part of the clan, sisters Erin and Sara Foster have retained their sense of humor.
On "Barely Famous" (E!, 10 and 10:30 p.m.), they present the rare fake reality show that's self-deprecating and funny, even as it draws in a number of Hollywood stars who don't mind making fun of themselves either.
On the first few episodes of the second season that starts tonight that includes Chris Martin of Coldplay, Kate Hudson, a heavily drinking Jessica Alba and Joey Fatone. It's still tough at times to tell the two model-like sisters apart at times, but they make fun of that, too.
In the new three-part "9 Months That Made You" (PBS, 10 p.m., check local listings) follows human life in the 280 days from conception to birth is tracked, starting with a view of how individual traits that made us all unique were acquired in the first 12 weeks.
The U.S. Olympic Trials (NBC, 8 p.m.) in swimming continue in prime time.
Perhaps the most desperate suitors are flown to Bora Bora for the third season of "Dating Naked" (VH1, 9 p.m.).
Speaking of naked, the creatures on "Wayward Pines" (Fox, 9 p.m.) are on the attack again.
"American Gothic" (CBS, 10 p.m.) looks further into what the silver bells could mean.
Shark Week is already at a midpoint with "Wrath of a Great White Serial Killer: Sharkopedia Edition" (Discovery, 8 p.m.), "Deadliest Sharks" (Discovery, 9 p.m.) and "Sharks vs. Dolphins: Face Off" (Discovery, 10 p.m.).
Last season's winner Claudia Sandoval returns to help on "MasterChef" (Fox, 8 p.m.).
The season's first power of veto competition is held on "Big Brother" (CBS, 8 p.m.).
Flying squirrels, paradise tree snakes and flying fish are among the creatures profiled on "Supernature – Wild Flyers" (PBS, 8 p.m., check local listings).
Everyone takes on deceptive dating patterns on "Baby Daddy" (Freeform, 8:30 p.m.).
EJ explores his gender fluidity on a new "EJNYC" (E!, 9 p.m.).
Elliot and Alan are surprised to find their foster child is a teen on "Young & Hungry" (Freeform, 8 p.m.).
Whitney flubs a job interview for a radio job on "My Big Fat Fabulous Life" (TLC, 9 p.m.).
Heat starts affecting people on the second of two episodes of "The Night Shift" (NBC, 9 and 10 p.m.).
LuAnn has a cocktail party on "The Real Housewives of New York City" (Bravo, 9 p.m.).
A second suspect emerges in the Silver Bells Killer case on "American Gothic" (CBS, 10 p.m.).
On "Another Period" (Comedy Central, 10 p.m.), a prince arrives at Bellacourt Manor
Bill Hader, Mark Cuban and Malcolm Gladwell are guests on the second "Any Given Wednesday with Bill Simmons" (HBO, 10 p.m.).
A theater legend suffers memory loss on "Royal Pains" (USA, 10 p.m.).
There are complications to Jazz' operation on "I Am Jazz" (TLC, 10 p.m.).
A handful of Shakespeare adaptations are on Turner Classic Movies tonight: Orson Welles' 1948 "Macbeth" (8 p.m.), Laurence Olivier's "Hamlet" (10 p.m.), also from 1948; the 1935 "A Midsummer Night's Dream" (12:45 a.m.) with James Cagney as Bottom and Mickey Rooney as Puck; the 1936 "Romeo and Juliet" (3:15 a.m.) with Norma Shearer and Leslie Howard; and Paul Scofield in the 1971 "King Lear" (5:30 a.m.).
Baseball includes Cubs at Cincinnati (MLB, 12:30 p.m.), Philadelphia at Arizona (MLB, 3:30 p.m.) and Mets at Washington (ESPN2, 7 p.m.).
The College World Series culminates in a deciding Game 3 of Arizona vs. Coastal Carolina (ESPN, 8 p.m.) from Omaha.
And second round play begins at Wimbledon (ESPN, 7 a.m.).
Daytime Talk
Kelly Ripa: Emilia Clark, Jojo Fletcher, Sam Heuphan, Charlie Puth, Fred Savage. The View: Clay Aiken. The Talk: Virginia Madsen, Ellen K., Jaime King, Yvette Nicole Brown. Ellen DeGeneres: Megan Fox, Candace Cameron Bure, Jodie Tweetin, Andrea Barber (rerun). Wendy Williams: Danielle Brooks. The Real: Vincent Herbert, Adam Housley, Freddy Harteis. Meredith Vieira: Judy Greer, Michael Eric Dyson (rerun).
Late Talk
Stephen Colbert: Samuel L. Jackson, Julie Klausner, Schoolboy Q. Jimmy Kimmel: Zac Efron, Adam DeVine, Walton Goggins, Melanie Martinez. Jimmy Fallon: Jennifer Lawrence, George Lopez, Tom Odell (rerun). Seth Meyers: Dave Franco, Mary Elizabeth Winstead, Diarrhea Planet, Jon Theodore (rerun). James Corden: Ellie Kemper, Eric Christian Olsen, Jimmy Carr (rerun). Carson Daly: Akbar Gbajabiamila & Matt Iseman, Summer Cannibals, Daniels (rerun). Tavis Smiley: Laurence Learner, Walter Mosley. Trevor Noah: Laverne Cox. Larry Wilmore: Samira Wiley. Conan O'Brien: Jim Gaffigan, Julian McMahon, Wild Belle.