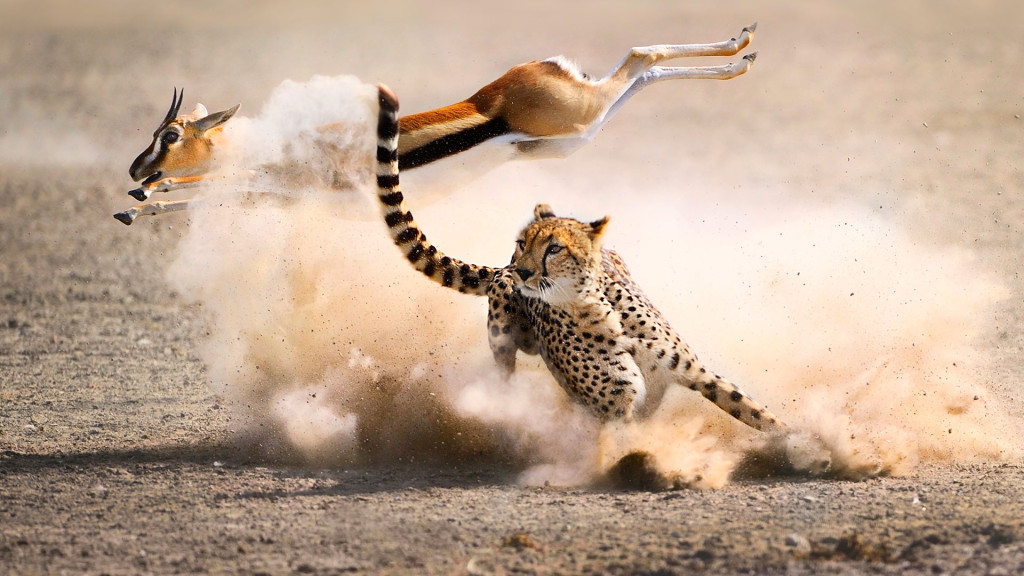 If you think your life is a grind, how about all of the other creatures on earth, who spend their days either eating or being prey? It's one chase after another on "The Hunt" (BBC America, 9 p.m.) a beautifully shot and surprisingly captivating new series narrated by the nature film grandaddy David Attenborough, whose voice lends authority to everything he says. Even the kids will want to watch this series.
Another night filled with game shows has the AFC vs. NFC on "Celebrity Family Feud" (ABC, 8 p.m.), Ana Gasteyer, Rachel Dratch, Robin Roberts and Mario Cantone on "The $100,000 Pyramid" (ABC, 9 p.m.) and Gasteyer once more with Adam Goldberg, Horatio Sanz, Rosie O'Donnell, Tituss Burgess and Sherri Shepherd on "Match Game" (ABC, 10 p.m.).
Olympic Trials (NBC, 7 p.m.) continue in swimming, from Omaha, and track and field, from Eugene, Ore.
A cop killer is pursued on the fourth season premiere of "Motive" (USA, 10 p.m.).
There's an officer-involved shooting on "Murder in the First" (TNT, 10 p.m.).
"Ride with Norman Reedus" (AMC, 10 p.m.) travels from Austin to San Antonio.
The loss of Phil on "Roadies" (Showtime, 10 p.m.) hurts the character and frankly the show.
Jim has a problem with public perception on "The Jim Gaffigan Show" (TVLand, 10 p.m.).
"Top Secret Swimming Holes" (Travel, 10 p.m.) are visited in Fiji and Colorado.
Autumn and Natalie's feud threatens to ruin Spring Training on "WAGS" (E!, 10 p.m.).
Detectives have to rush to find a kidnapped pensioner on "The Tunnel" (PBS, 10:30 p.m., check local listings).
Chandler confronts a new foe on "The Last Ship" (TNT, 9 p.m.).
Shark Week ends up with "The Killing Games" (Discovery, 9 p.m.)
Hector's boxing career is threatened on "Ray Donovan" (Showtime, 9 p.m.).
Jesse learns about what's happened to him on "Preacher" (AMC, 9 p.m.).
A suburban mom in a rock band has to go to "Intervention" (A&E, 9 p.m.).
It's musicals all day on Turner Classic Movies with "On Moonlight Bay" (6:15 a.m.), "Summer Stock" (8 a.m.), "Show Boat" (10 a.m.), "Calamity Jane" (noon), "Kissin' Cousins" (2 p.m.), "Anchors Aweigh" (3:45 p.m.) and "Take Me Out to the Ball Game" (6:15 p.m.). Then tonight it's all Kubrick, with "Barry Lyndon" (8 p.m.), "2001: A Space Odyssey" (11:15 p.m.), "A Clockwork Orange" (2 a.m.) and "Paths of Glory" (4:30 a.m.).
Baseball today includes Cubs at Mets (MLB, 1 p.m.) and Miami vs. Atlanta (ESPN, 8 p.m.) from Fort Bragg, the first MLB game played on an active military base.
It's France vs. Iceland (ESPN, 3 p.m.) in a UEFA Euro quarterfinal.
Third round play continues at Wimbledon (ESPN2, 8:30 a.m.).
In golf, the final round is played in the WCC-Bridgestone Invitational (CBS, 2 p.m.).
It's stage two in the Tour de France (NBC Sports, 8 a.m.), still in Normandy, in a leg from Saint-Lo to Cherbourg-En-Cotentin.
Sunday Talk
ABC: Sen. Sherrod Brown, Rick Santorum. CBS: Sens. John McCain and Lindsey Graham. Rep. Adam Schiff. NBC: Labor Secretary Tom Perez, Sen. Tom Cotton. CNN: Sen. Cory Booker, Libertarian presidential nominee Gary Johnson. Fox News: Reps. Devin Nunes and Xavier Becerra.