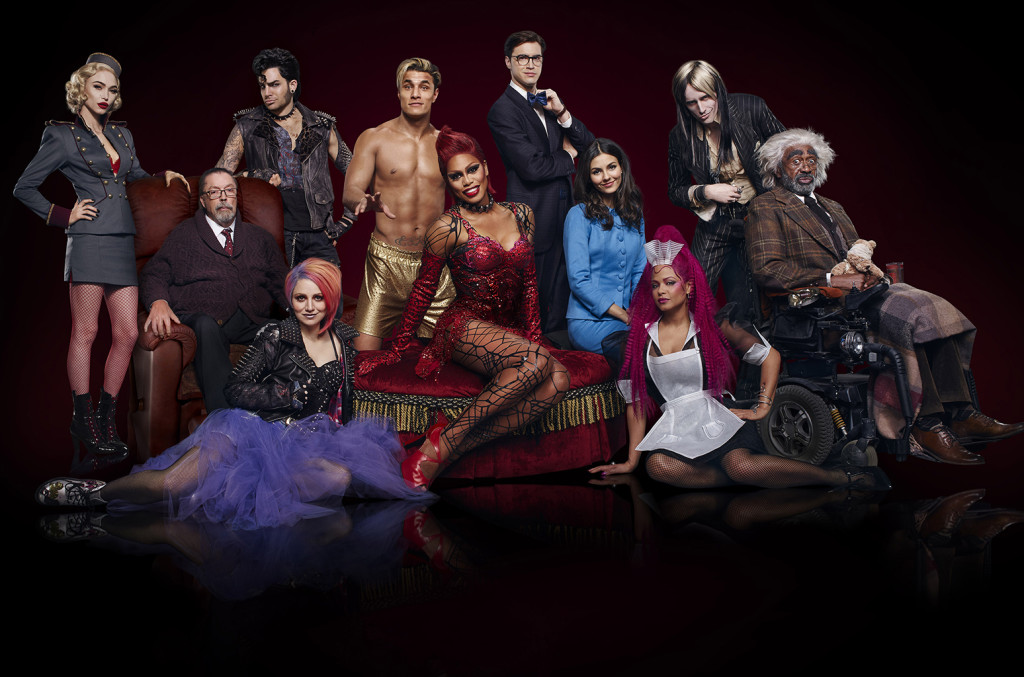 What do you expect from a new version of a naughty old film musical as directed by the guy behind "High School Musical."
Well, the new TV version with the full title "The Rocky Horror Picture Show: Let's Do the Time Warp Again" (Fox, 8 p.m.) by Kenny Ortega may seem tame for the medium — or changes in society that make Frank-N-Furter "the sweet transvestite from transsexual Transylvania" not that shocking or threatening any more.
Laverne Cox of "Orange is the New Black" takes on the role originated by Tim Curry, who returns to narrate.
Otherwise, it's a Nickelodeon generation of stars including Victoria Justice and Ryan McCartan as Janet and Brad, and Adam Lambert popping up as Eddie. Christina Milian and Ben Vereen are also part of the network musical.
What was once the grandaddy of midnight movies because of the audience participation that grew organically from its fans, once its rituals have been incorporated into the production, the jig is up.
Still on board with the TV version is the show's original producer Lou Adler, who was best known through his career as a record producer, of Carole King's "Tapestry" and many hits by the Mamas & the Papas, not to mention helping put on the original Monterey Pop festival.
"I don't think anything about 'Rocky Horror' that doesn't surprise us every time we do it, stage, film, television," Adler told reporters at the TV Critics Association summer press tour.
"It's really an audience film," he said. " 'Rocky Horror' always, in my particular case, had a mind of its own, and I just waited for it. It sounds a little corny, but I waited for it, which is basically the fans, to tell us what we do next. We started doing this television idea quite a while ago, and I guess it just wasn't the right time, and when Tim came along and validated it by wanting to be in it, and Kenny came along and could direct it to take it to another place, always keeping the fans in mind, but he took the choreography to another place. The music, my son Cisco Adler produced the soundtrack. And what Kenny and I said in the beginning was be true to the original, but make it contemporary. So there's loops and samples, but it's still the original music."
Curry, for his part, said he gives the new version his unconditional endorsement, when he was so asked. And when he asked if he was at peace with Frank N Furter representing his film legacy he responded morosely: "There's not a lot I can do about it really."