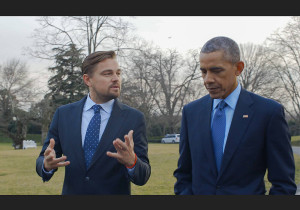 Childhood might be a little weird if you have a Hieronymus Bosch painting over the crib. But Leonardo DiCaprio says the print of "The Garden of Earthly Delights" sent him on a path to environmentalism. He learned at the feet of Al Gore, according to his film "Before the Flood" (National Geographic, 9 p.m.), which has been moved up to premiere today so it might have an impact on voting.
After all, nobody brought up global warming in the presidential debate, so why not Leo, who travels from China to Indonesia to the bottom of the ocean, and also visits the president as well as the Pope in his quest. Coral reefs are toast, he finds, but there is hope, especially if you change the way you eat. It may seem egotistical that the film ends with his speech before the United Nations, but it's effective. (For those who have already cut the cable, the network is also making the film available free across digital and screening platforms including iTunes, YouTube, Facebook and Twitter.)
The World Series reaches Game 5 with Indians at Cubs (Fox, 8 p.m.). Cleveland is up 3-1 and could win it all tonight.
That means two big primetime games. The other, on Sunday Night Football, Philadelphia at Dallas (NBC, 8:20 p.m.). Earlier NFL has Washington vs. Cincinnati (Fox, 9:30 a.m.) from London, New England at Buffalo (CBS, 1 p.m.), Seattle at New Orleans (Fox, 1 p.m.) and Green Bay at Atlanta (Fox, 4 p.m.).
The Master reveals himself in the third season finale of "The Strain" (FX, 10 p.m.).
The $50,000 winner is named in the sixth season finale of "Halloween Wars" (Food, 9 p.m.).
On a new episode of "The Walking Dead" (AMC, 9 p.m.), the group finds a community that seems too good to be true. Dana Gould joins the conversation talking about the episode on "Talking Dead" (AMC, 10:06 p.m.).
On "Masters of Sex" (Showtime, 10 p.m.), Masters and Johnson go on the road.
Sooni is pursued by two suitors on "Indian Summers" (PBS, 10 p.m., check local listings).
Walter does a jailhouse interview on "Blunt Talk" (Starz, 8:30 p.m.).
"Elementary" (CBS, 10 p.m.) hits its 100th episode.
Things are heating up on "Westworld" (HBO, 9 p.m.).
A billionaire buys the homeless shelter on "Shameless" (Showtime, 9 p.m.).
They talk to Joe Biden about fistfights and stuff on "The Circus: Inside the Greatest Political Show on Earth" (Showtime, 8 p.m.).
Issa may not be the right person to host a Career Day on "Insecure" (HBO, 10 p.m.).
Next stop for "Divorce" (HBO, 10 p.m.): The mediator.
On "NCIS: Los Angeles" (CBS, 8 p.m.), Sam has to choose someone to go to a football game with him.
Leslie gets her heart broken on "The Durrells in Corfu" (PBS, 8 p.m., check local listings).
Melissa holds a fashion show in the seventh season finale of "The Real Housewives of New Jersey" (Bravo, 8 p.m.).
"Madam Secretary" (CBS, 9 p.m.) has to oversee the elections — in Angola.
Would you go to different cities just for the sandwiches? They do on "Food Paradise" (Travel, 8 p.m.).
Rob goes missing on "Keeping Up with the Kardashians" (E!, 9 p.m.). Which doesn't seem like a big thing.
Shocking behavior threatens a deal on "Manzo'd with Children" (Bravo, 9 p.m.) then Caroline lans a birthday for Albie in the season three finale.
The month long Sunday night salute to Frankenstein concludes with "Young Frankenstein" (8 p.m.), "Abbott and Costello Meet Frankenstein" (10 p.m.) and Lon Chaney in the silent "The Monster" (midnight). Later, a couple of terror classics, "Diabolique" (TCM, 2 a.m.) and "Gaslight" (TCM, 4 a.m.).
Hockey includes Tampa Bay at Rangers (NHL, 7 p.m.).
Sunday Talk
ABC: Tim Kaine, Kellyane Conway, Reps. Bob Goodlatte and Adam Schiff. CBS: Mike Pence, Joe Biden. NBC: Pence, Robby Mook, Evan McMullin. CNN: Conway, John Podesta. Fox News: Pence, Mook, Rep. Devin Nunes.