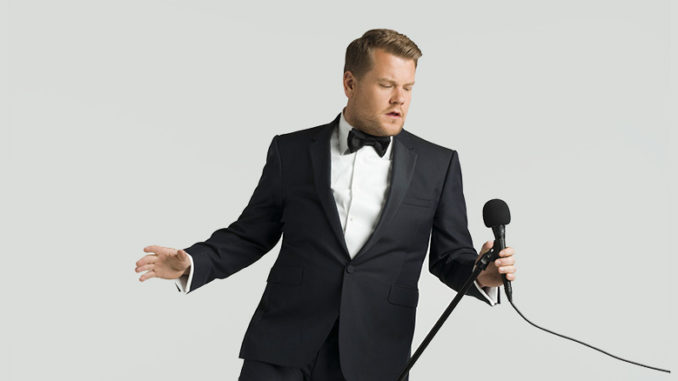 Framing The 59th Annual Grammy Awards (CBS, 8 p.m.) as a battle between single-named divas Beyonce and Adele makes it sound so 2015. More than the awards though, will be the performances framed by explosives and all of the tribute segments required, including Prince, George Michael and the Bee Gees. Hosting is James Corden, the gregarious late night host who has proved in his carpool karaoke segments, that he can sing as well.
Performances are scheduled the aforementioned women, but also Bruno Mars, Chance the Rapper, Katy Perry, Kelsea Ballerini, Sturgill Simpson and a Lukas Graham, as well as some one-time collaborations by Metallica with Lady Gaga, Keith Urban and Carrie Underwood, A Tribe Called Quest with Anderson Paak, The Weeknd and Daft Punk, Alicia Keys with Maren Morris, William Bell and Gary Clark Jr., and Little Big Town with Demi Lovato and Andrea Day.
Network Red Carpet coverage begins at 7:30 p.m., after more extensive coverage on E! starting at 6 p.m.
A Grammy-themed "60 Minutes" (CBS, 7 p.m.) collects previous interviews with Beyonce, Adele and Bruno Mars.
"Girls" (HBO, 10 p.m.) returns for its sixth and final season at the height of its powers, with a glimpse of all of its major character before Lena Dunham's character goes out to visit a surfing class on Long Island, where she meets an instructor played by Riz Ahmed from "The Night Of" and "Rogue One."
"Last Week Tonight with John Oliver" (HBO, 11 p.m.) returns for its first show of 2017 to begin its fourth season with an avalanche of comedic material to pick from the news.
The second season of "The Missing" (Starz, 8 p.m.) is worth getting on board. It starts with a woman returning home after 11 years of an abduction. Detective Julien Baptiste is on the case, though, as it points to another missing girl case that is still ongoing. The intriguing series involves a few time jumps and strong performances.
The seventh season of "The Walking Dead" (AMC, 9 p.m.) resumes, visiting yet another community. The longer than usual episode is followed by a late-starting "Talking Dead" (AMC, 10:30 p.m.).
Film fans may want to tune into "The EE British Academy Film Awards 2017" (BBC America, 8 p.m.).
Saul's trip takes a wrong turn on "Homeland" (Showtime, 9 p.m.).
Clamping doesn't work out well for "The Real Housewives of Atlanta" (Bravo, 8 p.m.).
Homer hates the health food trends at his local fast food places on "The Simpsons" (Fox, 8 p.m.).
"The Good Pope" (HBO, 9 p.m.) is winding up its season; the finale is Monday.
On "Victoria" (PBS, 9 p.m., check local listings), Albert finds a noble cause.
Max has a run-in with the law on "Black Sails" (Starz, 9 p.m.).
"Bob's Burgers" (Fox, 9:30 p.m.) has its Valentine's episode.
Dr. Seuss' birthday is celebrated on "Cake Wars" (Food, 10 p.m.).
A council meets to determine who will rule on "The Royals" (E!, 10 p.m.).
H moves to I in the alphabetical 31 Days of Oscar on Turner Classic Movies with "The Heart is a Lonely Hunter" (6 a.m.), "The Heiress" (8:30 a.m.), "High Society" (10:30 a.m.), "Hold Back the Dawn" (12:30 p.m.), "Honeysuckle Rose" (2:45 p.m.), "How the West Was Won" (5 p.m.), "How to Marry a Millionaire" (8 p.m.), "The Hunchback of Notre Dame" (9:45 p.m.), "I Married a Witch" (11:45 p.m.), "I Remember Mama" (1:15 a.m.), "I Vitelloni" (3:45 a.m.) and "Ice Station Zebra" (5:45 a.m.).
Men's college basketball includes Lehigh at Holy Cross (CBS Sports, noon), Michigan at Indiana (CBS, 1 p.m.), Temple at Memphis (CBS Sports, 2 p.m.), Nevada at San Diego State (CBS Sports, 4 p.m.), Cincinnati at SMU (ESPN, 4 p.m.), Wichita State at Loyola (ESPNU, 4 p.m.), Oregon State At UCLA (Fox Sports 1, 5 p.m.), Virginia at Virginia Tech (ESPNU, 6:30 p.m.) and Washington State at Colorado (ESPNU, noon).
Women's games include Dayton at George Washington (ESPNU, noon), Tulane at South Florida (ESPN2, noon), Maryland at Michigan State (ESPN2, 2 p.m.), Texas A&M at Tennessee (ESPNU, 2 p.m.) and Baylor at TCU (ESPN2, 4 p.m.).
Pro games include San Antonio at New York (ABC, 3:30 p.m.), Detroit at Toronto (NBA, 6 p.m.) and New Orleans at Sacramento (NBA, 9 p.m.).
In golf, the final round is played at Pebble Beach (CBS, 3 p.m.).
Sunday Talk
ABC: White House adviser Stephen Miller, Washington State Attorney Bob Ferguson, Rep. Elijah Cummings. CBS: Miller, Sens. Chuck Schumer and Jeff Flake. NBC: Miller, Sen. Bernie Sanders. CNN: Sen. Al Franken, Chris Christie. Fox News: Miller, Sen. Ben Cardin.