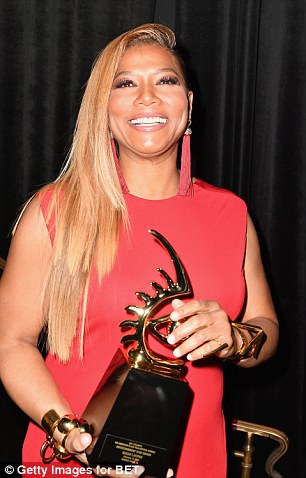 Never mind that #OscarsSoWhite is slightly less so this year. But before that all gets on display Sunday, here's the 2017 American Black Film Honors (BET, Centric, 8 p.m.) taped last weekend from Los Angeles. Regina Hall hosts the event, which will present special awards to Denzel Washington, Issa Rae, Queen Latifah, Terrence Howard and producer F. Gary Gray. Maxwell and Dionne Farris perform. The event replaces the BET Honors, which is usually held Februarys in Washington.
The DiMeos have an Oscar party, meanwhile, on "Speechless" (ABC, 8:30 p.m.).
And if it's a music awards show you're after, there is The BRIT Awards (BBC America, 10 p.m.), hosted by Emma Willis and Dermot O'Leary, with performances from Bruno Mars, Ed Sheeran, Katy Perry, Robbie Williams, The 1975 and Emili Sande. Up for the most awards: Little Mix and Rihanna.
Elsewhere, David is looking for answers on "Legion" (FX, 10 p.m.) but frankly so are we all.
Cam doesn't want an MRI for his head injury on "Modern Family" (ABC, 9 p.m.).
Abby finishes her romance novel on the third season finale of "Girlfriends' Guide to Divorce" (Bravo, 10 p.m.).
"Nova" (PBS, 9 p.m., check local listings) looks at developing technology designed to prevent train crashes.
Looks like "Doubt" (CBS, 10 p.m.) will have serialized story lines as well as case-of-the-week stuff.
A big night out puts the Vegas show in jeopardy on the first season finale of "Vivica's Black Magic" (Lifetime, 10 p.m.).
"Major Crimes" (TNT, 9 p.m.) returns from hiatus with the murder of a long woman found in a river.
It's not just the character names (China White, Damien Darhk) that are wanting on "Arrow" (The CW, 8 p.m.), it's the place names (Iron Heights, Star City).
Dutchess leaves Ceaser on "Black Ink Crew" (VH1, 8 p.m.).
Quentin adjusts to his new life on "The Magicians" (Syfy, 9 p.m.).
The team splits up to catch a lethal courier on "Blindspot" (NBC, 8 p.m.).
Dre is forced into jury duty on "Blackish" (9:30 p.m.).
On "The Goldbergs" (ABC, 8 p.m.), Beverly tries a makeover for Adam.
On "Hunted" (CBS, 8 p.m.), one team tries to shake their pursuers with an online ploy.
A high school football prospect is murdered on an episode of "Lethal Weapon" (Fox, 8 p.m.) titled "Unnecessary Roughness."
A murder has also occurred on "Star" (Fox, 9 p.m.).
Love triangles begin to tumble on "Are You the One?" (MTV, 9 p.m.).
Mike's class action suit hits a snag on "Suits" (USA, 10 p.m.).
"Criminal Minds" (CBS, 9 p.m.) is busted back to traffic duty.
Josh traces the route of Captain Kidd on "Expedition Unknown" (Travel, 9 p.m.).
Fin revisits his military roots on "Law & Order: Special Victims Unit" (NBC, 9 p.m.).
Everybody frets when a new editor takes over on "So Cosmo" (E!, 9 p.m.).
There's more violence among "The 100" (The CW, 9 p.m.).
I thought it was going to end last week, but here it is, a fourth episode of the "Spy in the Wild" thing on "Nature" (PBS, 8 p.m.).
Casey Wilson, Lamorne Morris, Leah Remini, Mario Cantone, Niece Nash and Scott Wolf play "Match Game" (ABC, 10 p.m.) with Alec Baldwin.
It's almost all R movies all day on Turner Classic Movies' 31 Days of Oscar. Not the rating; their titles all start with R: "Rhapsody in Blue" (6:45 a.m.), "Rich, Young and Pretty" (9:15 a.m.), "The Richest Girl in the World" (11 a.m.), "The Rise and Fall of Legs Diamond" (12:30 p.m.), "Road to Morocco" (2:15 p.m.), "Roberta" (3:45 p.m.), "Robin and the 7 Hoods" (5:45 p.m.), "Roman Holiday" (8 p.m.), "A Room with a View" (12:15 a.m.), "Running on Empty" (3 a.m.) and "Sadie Thompson" (5 a.m.).
Hockey has Washington at Philadelphia (NBC Sports, 8 p.m.).
Men's college basketball includes DePaul at Georgetown (CBS Sports, 7 p.m.), TCU at Kansas (ESPN2, 7 p.m.), Duke at Syracuse (ESPN, 7 p.m.), Central Florida at Temple (ESPNU, 7 p.m.), Xavier at Seton Hall (Fox Sports 1, 7 p.m.), Oregon at California (ESPN2, 9 p.m.), Oklahoma State at Kansas State (ESPNU, 9 p.m.), Louisville at North Carolina (ESPN2, 9 p.m.), Connecticut at Houston (CBS Sports, 9 p.m.), Butler at Villanova (Fox Sports 1, 9 p.m.), Oregon at Stanford (ESPNU, 11 p.m.) and Fresno State at San Diego State (CBS Sports, 11 p.m.).
Daytime Talk
Kelly Ripa: Famke Janssen, Michael Huisman, Mark Consuls. The View: Eva Longoria, Laverne Cox, Cameron Mathieson. Harry Connick: Ricky Martin, Ms. Pat. Ellen DeGeneres: Demi Lovato. Wendy Williams: Yvette Nicole Brown, Devin Alexander. The Real: Rep. Maxine Waters, NeNe Leakes.
Late Talk
Stephen Colbert: Kelly Ripa, Billy Gardell, the Lemon Twigs. Jimmy Kimmel: Oprah Winfrey, Coldplay, Tom Hanks, Meryl Streep, Helen Mirren, George Clooney, Christoph Walz, Charlize Theron, Matt Damon (rerun). Jimmy Fallon: Ariana Grande, Ken Jeong, Josh Johnson. Seth Meyers: Terry Crews, Leighton Meester, Dr. Ben Santer, Andres Forero. James Corden: Lionel Richie, Bob Odenkirk, David Oyelowo, Bebe Rexha. Carson Daly: Ron Funches, Summer Moon, Kevin Delaney. Conan O'Brien: Lin-Manuel Miranda, John Earley, the Head and the Heart (rerun).