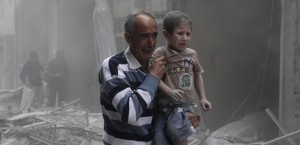 The tragedy of Syria is laid out in Evgeny Afineevsky's hour-long documentary "Cries from Syria" (HBO, 10 p.m.), that traces from the beginnings of its conflict to its current refugee crisis. Helen Mirren narrates.
Good riddance to the worst bachelor yet Nick Viall, who chooses between two finalists Raven Gates and Vanessa Grimaldi and makes the obvious choice on the finale of "The Bachelor" (ABC, 8 p.m.), which stretches into the inevitable "After the Final Rose" (ABC, 10 p.m.).
Ice Cube is producer of the new game show "Hip Hop Squares" (VH1, 9 p.m.) which takes the old "Hollywood Squares" format and fits it with hip-hop stars, among them Fat Joe, Remy Ma, T Pain, Faizon Love, Bobby Brown, Amber Rose and Cube himself. No Charlie Weaver in sight. DeRay Davis, a comedian who appeared with Cube in "Barbershop and "21 Jump Street" is the host.
Tony Almeida returns to "24: Legacy" (Fox, 8 p.m.).
The bad comedies "Young & Hungry" (Freeform, 8 p.m.) and "Baby Daddy" (Freeform, 8:30 p.m.) return for new seasons.
Fall approaches on "Summer House" (Bravo, 10 p.m.), closing its first season.
Blind auditions may never end on "The Voice" (NBC, 8 p.m.) — especially as the pace they're going.
The team looks for an endangered monkey on "Scorpion" (CBS, 10 p.m.).
Norman guards his secrets on "Bates Motel" (A&E, 10 p.m.).
On "APB" (Fox, 9 p.m.), Gideon tries to help his dad out.
A terrorist is abducted on "Taken" (NBC, 10 p.m.).
On "Vanderpump Rules" (Bravo, 9 p.m.), Lisa has had it with Lala.
A bullying case of 27 years past is packed on "Cold Case Files" (A&E, 9 p.m.).
On "Man with a Plan" (CBS, 8:30 p.m.), Adam and Andi meet Lowell's wife.
Caroline and Bobby start to fight on "2 Broke Girls" (CBS, 9:30 p.m.).
Franco is stop-and-frisked on "Superior Donuts" (CBS, 9 p.m.).
The English director Philip Leacock (who would go on to direct "The Waltons"), is saluted on Turner Classic Movies tonight with "Take a Giant Step" (8 p.m.), "Hand in Hand" (10 p.m.), "Let No Man Write My Epitaph" (11:30 p.m.), "13 West Street" (1;30 a.m.), "Reach for Glory" (3 a.m.) and "Innocent Sinners" (4:30 a.m.).
NBA action includes Atlanta at San Antonio (TNT, 8 p.m.) and Lakers at Denver (TNT, 10:30 p.m.).
Hockey has Carolina at Islanders (NBC Sports, 7:30 p.m.).
In spring baseball, it's Houston vs. St. Louis (MLB, 1 p.m.).
And in the World Baseball Classic, Netherlands vs. Israel (MLB, 6 a.m.).
Now it's women's basketball's turn with their own NCAA Tournament Selection Show (ESPN, 7 p.m.).
Daytime Talk
Kelly Ripa: Stanley Tucci, Meghan Murphy, Michael Weatherly. The View: Gillian Anderson, Jennifer Nadel, Adam Gassman. The Talk: Josh Holloway, Emily Deschanel, Carnie Wilson. Harry Connick: Justin Hartley, Wyatt Russell, Duff Goldman. Ellen DeGeneres: Minnie Driver, Luke Evans, Noah Cyrus with Labrinth. Wendy Williams: Chassie Post. The Real: Tahj Mowry.
Late Talk
Stephen Colbert: Ewan McGregor, Finn Wittrock, the Shins. Jimmy Kimmel: Nick Viall, Milo Ventimiglia, OK GO, The Go-Go's. Jimmy Fallon: Kiefer Sutherland, Priyanka Chopra, Rebel and a Basketcase. Seth Meyers: Glenn Close, Alex Karpovsky, Mohsin Hamid, Nicko McBrain. James Corden: Leighton Meester, Dominic Monaghan, Blake Griffin, Judah and the Lion. Carson Daly: Katy Tur, Mothers, Amma Asante (rerun). Trevor Noah: Lee Daniels. Conan O'Brien: Carl Reiner, Lauren Lapkus, Hurray for the Riff Raff.