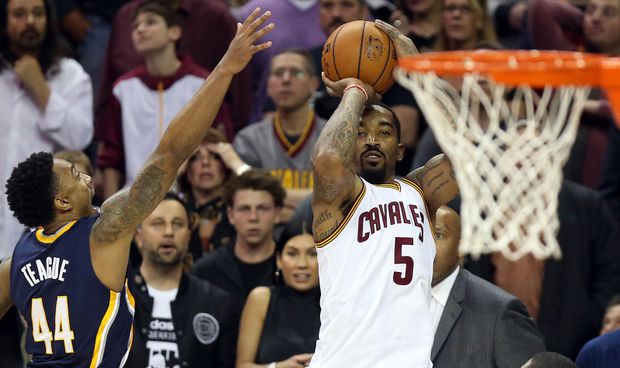 The NBA Playoffs begin, but oddly none of the first games of the opening rounds are on prime time broadcast TV, though there's one this afternoon: Indiana at Cleveland (ABC, 3 p.m.). Tonight's games are on cable — Milwaukee at Toronto (ESPN, 5:30 p.m.), Memphis at San Antonio (ESPN, 8 p.m.) and Utah at Clippers (ESPN, 10:30 p.m.).
That's mostly because they wouldn't dare intrude on the Easter Saturday tradition of "The Ten Commandments" (ABC, 7 p.m.), a movie so long you could boil, cool and decorate eggs in the time it takes to see all of it, which stretches until almost until midnight.
There is a Stanley Cup playoff game in prime time, though, with Nashville at Chicago (NBC, 8 p.m.). Other games include Boston at Ottawa (NBC, 3 p.m.), Toronto at Washington (NBC Sports, 7 p.m.), and Calgary at Anaheim (NBC Sports, 10:30 p.m.).
The other prime time sport is a questionable one: UFC Fight Night (Fox, 8 p.m.).
This crucifixion story comes in Spanish: "Killing Jesus" (Telemundo, 8 p.m.), and with reality show touches on "What on Earth?" (Science, 8 p.m.) and  "Biblical Conspiracies" (Science, 10 p.m.).
Peter Capaldi returns for his final season as "Doctor Who" (BBC America, 9 p.m.), as he meets Bill Potts and breaks in a new assistant. The Doctor then enlists four students to do the work of protecting the Earth in the spin-off "Class" (BBC America, 10:10 p.m.) when a monster attacks their school.
As Beyonce presented her "visual album" "Lemonade" on HBO, a rapper gets the same treatment in "J. Cole: 4 Your Eyez Only, A Dreamville Film" (HBO, 10 p.m.), in which he showcases his new album "4 Your Eyez Only" while visiting small towns important to his upbringing, including Baton Rouge, Atlanta, Fayetteville, N.C., Jonesboro, Ark. and Ferguson, Mo.
Last year's "Suicide Squad" (HBO, 8 p.m.), the superhero film with Jared Leto, Margot Robbie and Will Smith,  gets its premium cable premiere. Also new tonight: "The Hollars" (Starz, 9 p.m.) with John Krasinski, Anna Kendrick and Margo Martingale.
An associate pastor in Houston gets the spotlight in a new reality series, "The Book of John Gray" (OWN, 10 p.m.).
"The Vet Life" (Animal Planet, 10 p.m.) begins its second season with treatment of baby kangaroos. It follows "Dr. Jeff: Rocky Mountain Vet" (Animal Planet, 9 p.m.) who fixes a series of dogs of different sizes.
"Lakefront Bargain Hunt Renovation" (HGTV, 9 p.m.) looks for a lake in central Texas.
At first I thought "Playhouse Masters" (TLC, 10 p.m.) would spotlight great actors of early television, in "Playhouse 90." Instead, no, these are people who build custom playhouses, like the company that built fancy treehouses before them.
On the romance "Like Cats & Dogs" (Hallmark, 9 p.m.) two people are booked into the same beach house, and must find a way to get along, though one like cats and the other dogs. I can't guess what eventually happens. Kathy Lee's kid Cassidy Gifford stars with Wyatt Nash.
Paranoia abounds in the made-for-TV "Secrets in Surburia" (Lifetime, 10 p.m.), in which a woman finds that her three best friends and husband are plotting against her and trying to steal her family fortune. Brianna Brown, Joe Williamson and Onira Tares star.
It's preceded by another new one, "Killer Mom" (Lifetime, 8 p.m.). It stars Kirby Bliss Blanton, Richard Roy Sutton and an actress with a perfect name for such films, Karen Cliche.
In the seventh season premiere of "Iyanla: Fix My Life" (OWN, 9 p.m.) Iyanla tries the save the marriage of "former reality stars Neffe and Soullow."
And "social media star Claudia Oshry" is aided on "Say Yes to the Dress" (TLC, 8 p.m.). No, I never heard of these people either.
Maybe it wasn't ice, but fire that downed the big ship, according to the special "Titanic's Fatal Fire" (Smithsonian Channel, 8 p.m.).
On the second episode of "The Son" (Sundance, 9 p.m.) young Eli trains as a warrior. The grown up Eli in 1910 is a bit of a jerk.
"Ransom" (CBS, 8 p.m.) ends its first season; I can't imagine a second.
"Training Day" (CBS, 9 p.m.) looks for a father-son crime team.
Robert Durst gets the one hour treatment on "Murder Made Me Famous" (Reelz, 8 p.m.).
A demolished newlywed home is aided by "Nate and Jeremiah by Design" (TLC, 9 p.m.).
"Ghost Adventures" (Travel, 9 p.m.) goes to New Mexico.
Warren Beatty, Miranda Hart, Keeley Hawes, Peter Capaldi and Jennifer Hudson are on a new episode of "The Graham Norton Show" (BBC America, 11:20 p.m.).
Turner Classic Movies unleashes the Easter Bunnies in "Harvey" (8 p.m.), "The Rabbit Trap" (10 p.m.) and "Night of the Lepus" (11:30 p.m.). Then comes a film that predicted reality TV extremes, Bertrand Tavernier's "Death Watch" (TCM, 2 a.m.) with Romy Schneider, Harvey Keitel and Harry Dean Stanton.
Baseball includes St. Louis at Yankees (MLB, 1 p.m.), Detroit at Cleveland (Fox Sports 1, 4 p.m.), San Diego at Atlanta (Fox Sports 1, 7 p.m.) and Arizona at Dodgers (MLB, 10 p..m.).
In golf, there is third round play in the Heritage Tournament (Golf, 1 p.m.; CBS, 4 p.m.).
Men's college lacrosse includes Army at Navy (CBS Sports, noon), Brown at Yale (ESPNU, noon), Penn State at Johns Hopkins (ESPNU, 2 p.m.) and Villanova at Georgetown (CBS Sports, 2:30 p.m.).
College baseball includes Florida at Vanderbilt (ESPN2, 3 p.m.).
There is also the NCAA Women's Gymnastics Championships (ESPNU, 9 p.m.) from St. Louis, where the Super Six teams compete.
Spoon and White Denim play an "Austin City Limits" (PBS, 11 p.m., check local listings) from 2015.
Jimmy Fallon hosts "Saturday Night Live" (NBC, 11:30 p.m.) with Harry Style of One Direction. Will broadcasting it live coast-to-coast for the first time make any difference? Well, it won't make it any funnier.