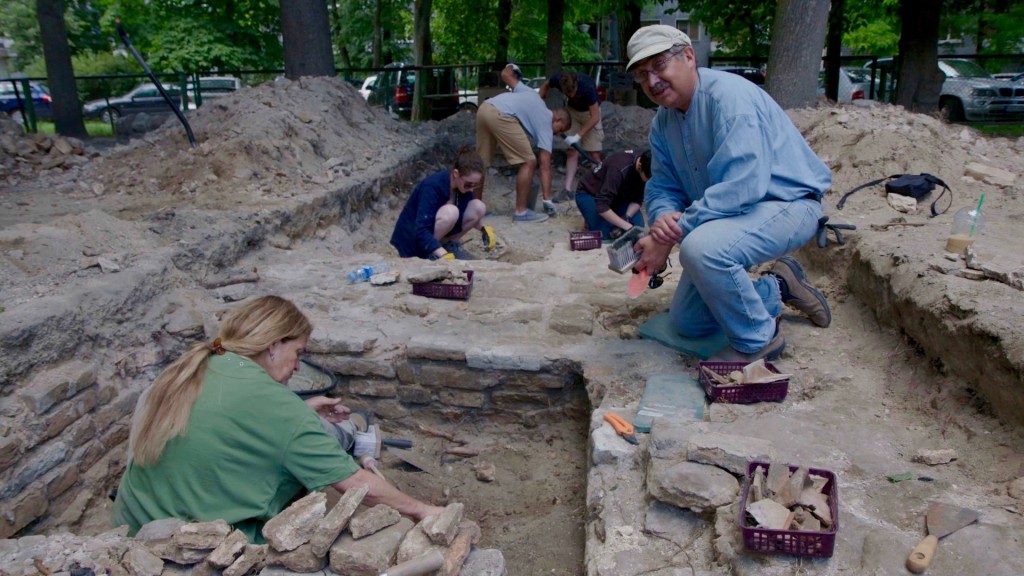 When a long-rumored Holocaust escape tunnel was discovered near a mass grave in Lithuania last summer, cameras from "Nova" (PBS, 9 p.m., check local listings) were there. The episode "Holocaust Escape Tunnel" also shows the success of a team led by Dr. Richard Freund in uncovering the great synagogue there and the grim findings of the Nazi burial site. Here's a story I wrote about the effort.
"Nature" (PBS, 8 p.m., check local listings) travels to Brazil in search of the elusive giant armadillo who lives inside the world's largest tropical wetland in Pantanal.
The "Designated Survivor" (ABC, 10 p.m.) is having his own problems getting a Supreme Court seated.
Here comes the merge on a two hour "Survivor" (CBS, 8 p.m.).
The pansexual wife of "Brockmire" (IFC, 10 p.m.) comes to visit.
Lots of reruns in prime time tonight including "Empire" (Fox, 9 p.m.) and "Modern Family" (ABC, 9 p.m.).
In anticipation of tomorrow's 4/20 observation, Krishna Andavolu returns with a new episode of "Weediquette" (Viceland, 10 p.m.), followed by the culinary "Bong Appetit" (Viceland, 10:30 p.m.).
The sixth season of "Property Brothers: Buying and Selling" (HGTV, 9 p.m.) gets under way.
"Criminal Minds: Beyond Borders" (CBS, 10 p.m.) heads to Greece.
"The Magicians" (Syfy, 9 p.m.) reaches its second season finale. And the Roci crew are forced to save the ship on the second season finale of "The Expanse" (Syfy, 10 p.m.).
Preston and Ashe zero in on suspects in the Joey Campbell murder on "Shots Fired" (Fox, 8 p.m.).
Tiffani has a health scare on "Little Women: Dallas" (Lifetime, 10 p.m.), while three on "Little Women: Atlanta" (Lifetime, 9 p.m.) stage a play.
"The Real Housewives of New York City" (Bravo, 9 p.m.) go to the Hamptons for the weekend.
It's only the second episode and already Joey McIntyre has to have a dance-off with Joey Lawrence on "Return of the Mac" (Pop, 8:30 p.m.).
Rosalee returns to find her family on "Underground" (WGN America, 10 p.m.).
"The Last Alaskans" (Discovery, 9 p.m.) go on a moose hunt as winter approaches.
There's a mining frenzy for "Bering Sea Gold" (Discovery, 10 p.m.).
The "Total Divas" (E!, 9 p.m.) fight on a trip to the Caribbean.
"Billy the Exterminator" (A&E, 10 p.m.) is now going after paranormal pests as well.
"Lopez" (TV Land, 10:30) goes on a date with a much younger woman.
Turner Classic Movies presents Claude Rains movies from the 1930s, with "The Invisible Man" (8 p.m.), "Stolen Holiday" (9:30 p.m.), "Juarez" (11:15 p.m.), "They Won't Forget" (1:30 a.m.), "They Made Me a Criminal" (3:30 a.m.) and "Hearts Divided" (5:15 a.m.).
NBA Playoffs have Atlanta at Washington (NBA, 7 p.m.), Oklahoma City at Houston (TNT, 8 p.m.) and Portland at Golden State (TNT, 10:30 p.m.).
Stanley Cup playoffs have Washington at Toronto (NBC Sports, 7 p.m.), Ottawa at Boston (USA, 7:30 p.m.), Minnesota at St. Louis (NBC Sports, 9:30 p.m.) and Anaheim at Calgary (USA, 10 p.m.).
Baseball includes Cleveland at Minnesota (ESPN, 8 p.m.).
Daytime Talk
Kelly Ripa: Rose Byrne, Bella Thorne, Jussie Smollett. The View: Sen. Elizabeth Warren, Julian Lennon. The Talk: Cheryl Ladd, Elizabeth Wagmeister. Harry Connick: John Lithgow, Condola Rashad, Jacob Collier. Ellen DeGeneres: Magic Johnson, Nicole Richie, Travis Scott. Wendy Williams: Morris Chestnut, Obi Obadike. The Real: La'Porsha Renae, Steven Cojocaru, AngelaYee.
Late Talk
Stephen Colbert: Rose Byrne, Lewis Black, PJ Harvey. Jimmy Kimmel: Julia Louis-Dreyfus, Kevin Nealon, Yo Gotti. Jimmy Fallon: Sienna Miller, Anthony Bourdain, Chris Cornell. Seth Meyers: Kristen Bell, Bill Nighy, Aquillo, Charlie Benante (rerun). James Corden: Adam Sandler, Kevin James. Carson Daly: Dominic Purcell, Baron Vaughn (rerun). Trevor Noah: Marc Edwards. Conan O'Brien: Deon Cole, X Ambassadors.