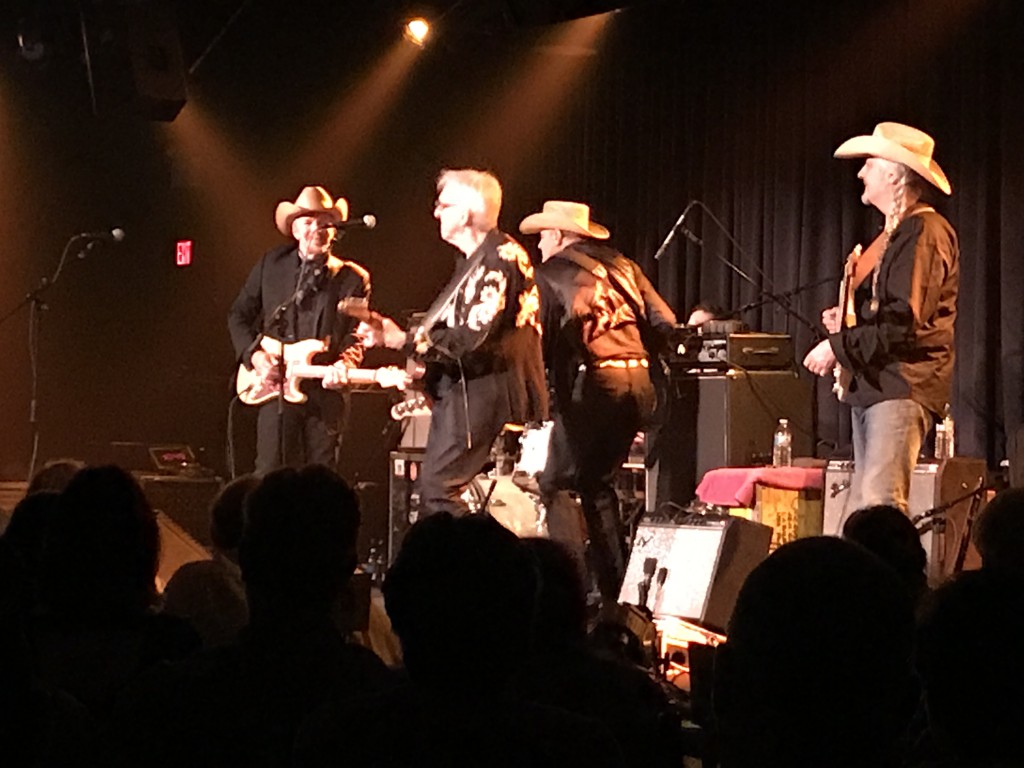 The guitarist and songwriter Dave Alvin morphed in his time from out-of-time rockabilly revivalist amid the L.A. punk heyday, to cowboy California troubadour. After reuniting on a couple of albums and tours with his brother Phil, with whom he created The Blasters, he's back solo with his band The Guilty Ones (before the brother act is revived again with some shows next month).
Alvin at 61 is a bit of a road dog, even an organizer of a railroad trip that takes fans across the country as musicians get on board to play.
He was happy to be back again Friday at the Birchmere in Alexandria where, free from having to promote any recent album, could give a balanced show showcasing the span of his career. His atmospheric songs of a mythical West have done such a good job setting a scene, they've been used as music in TV shows too, so he began his show with one generously used in the series "Justified," "Harlan County Line."
With a lot of his songs built on dynamics, so that the blistering guitars quiet such that his deep baritone can intone its message, sometimes only in a whisper, Alvin's songs sound in many ways much older than they are.
But some clearly are. "Southern Flood Blues" is something he dug up from Big Bill Broonzy to play on the brothers duet album; "Shenandoah" is the folk song we all learned in school.
Otherwise, he played his own songs, that only sounded like classics, from the ringing "Jubilee Train" to "Long White Cadillac," which he dedicated to the memory of Brenda Burns, the diminutive Texas singer and songwriter who died earlier that day at 64.
Death seemed pervasive in Alvin's set, from the version of "In the Gardens" he did in memory of his friend Chris Gaffney, who died nine years ago that month, to the tragedy at the center of an R&B star who died on Christmas more than 60 years ago, "Johnny Ace is Dead."
Loss aches in a lot of his songs from "Dry River" to "Abilene" to the disconnecting emptiness at the center of "4th of July." Even the blast of blues fire in the song "Ashgrove" laments the loss of the club where so much of it was played.
Alvin's Guilty Ones are as solid a backing group that you'd want: Chris Miller with his waist-length pigtails often turned to slide guitar, Brad Fordham on bass and backing vocals and an unstoppable Lisa Pankratz on drums.
Too bad it was hard for a lot of a crowd to see her behind the walls of amps surrounding her kits; she was given a drum solo spotlight though late in the show during "Dry River." A solid member of Alvin's old Guilty Women band, she's the main reason the band is no longer called the Guilty Men.
Pankratz also distinguished herself for being the only member of the band not wearing all black topped by a beige Stetson. The frontline looked like a deputy sheriffs' convention.
These things may fly out West (or on the railroad tour) but look a little corny so close to D.C.
But if it's gunslingers it conjured up, Alvin seemed to have met his match in the opener, his old friend Bill Kirchen.
The founding guitarist of Commander Cody and His Lost Planet Airman, who became a relocated D.C. musician from 1986 to 2005, Kirchen is an entertaining guy, decent singer and a notable songwriter (of "Semi-Truck" for one).
As he did in Commander Cody, he energizes old-time rockabilly nuggets and jump blues from Tex Williams' "Smoke, Smoke, Smoke (That Cigarette)" to Charley Ryan's "Hot Rod Lincoln."
He adds and even updates his own songs, such as the "Hillbilly Truck Driving Man" which added a verse thumbing the nose at North Carolina's bathroom laws (which got a big cheer from the Northern Virginia audience).
On top of all that, Kirchen is an astounding guitar player, who relies on those baritone notes for those truck driving songs, has an inventive solo for every fill and in a pinch can emulate any kind of guitar you want.
In the encore it included everyone from Johnny Cash to Duane Eddy, Roy Orbison, Buddy Holly, Johnny Rivers, Marty Robbins, Merle Travis, Merle Haggard, Earl Scruggs, Iggy Pop, Bo Diddley, Chuck Berry and then all manner of groups of guitarists — Link Wray to Stevie Ray, every King from B.B. to Freddie, to Albert, to Ben. E., to Don and Carole. Ending with Sex Pistols and Jimi Hendrix.
Clearly, Kirchen is a guy who brings an AK to a gunfight, so when Alvin had him come out to join him during his encores, there was clearly some good-natured trepidation.
He fit in solos where he could, between Alvin and Miller, but like a good opener, tried not to show up the headliner too much.
The setlist for Dave Alvin & the Guilty Ones Friday was: 
"Harlan County Line"
"Jubilee Train"
"Southern Flood Blues"
"King of California"
"Johnny Ace is Dead"
"Long White Cadillac"
"Abilene"
"Shenandoah"
"Ashgrove"
"Dry River"
"4th of July"
"The Gardens"
"Out in California"
"Marie, Marie"