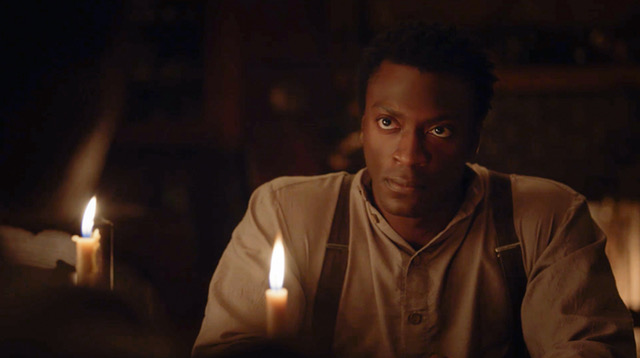 "Underground" (WGN America, 10 p.m.) ends its second season and with it, perhaps the entire series about the Underground Railroad. That's due to the purchase of Tribune stations last week by Sinclair Broadcasting, whose officials have said they have no interest in continuing to produce high end original series. There is hope, however, it might jump to another network.
Shemar Moore returns to "Criminal Minds" (CBS, 9 p.m.) on the occasion of its season 12 finale. Also, there's apparently a big crash.
Also, "Blackish" (ABC, 9:30 p.m.) ends its third season with a big baby shower.
More is learned about V.M. Varga when he comes over to dinner uninvited on "Fargo" (FX, 10 p.m.).
"Full Frontal with Samantha Bee" (TBS, 10:30 p.m.) returns with a new episode that focuses on religious freedom and health care reform.
Loved ones come to visit on "Survivor" (CBS, 8 p.m.).
"Brockmire" (IFC, 10 p.m.) is invited to an annual sports dinner, among colleagues like Joe Buck.
Fetty Wap guest stars on "Empire" (Fox, 9 p.m.) in which the family feud heats up.
"Nova" (PBS, 9 p.m., check local listings) discovers a sunken ship from the 1840s, called the Arctic Ghost Ship.
Mitch and Jay find common ground on "Modern Family" (ABC, 9 p.m.).
"The Filthy Rich Guide" (CNBC, 10 p.m.) returns for a third season.
The fake president on "Designated Survivor" (ABC, 10 p.m.) is attending an international summit, which is more than you can say about our current president.
The two part episode about dolphin spies concludes on "Nature" (PBS, 8 p.m., check local listings).
The team cracks a member of Sandstorm on "Blindspot" (NBC, 8 p.m.).
The school year ends on "The Goldbergs" (ABC, 8 p.m.).
The sixth season of "Total Divas" (E!, 9 p.m.) comes to an end in New York during SummerSlam.
An online torture is of concern on "Chicago P.D." (NBC, 10 p.m.).
Dozens of violent criminals are released on "Arrow" (The CW, 8 p.m.).
A spiritual healer raises suspicions on "Law & Order: Special Victims Unit" (NBC, 9 p.m.).
On "Shots Fired" (Fox, 8 p.m.), a potential murder weapon surfaces.
They're making summer plans on "Speechless" (ABC, 8:30 p.m.).
Carole attends a memorial service on "The Real Housewives of New York City" (Bravo, 9 p.m.). With any luck, no fights will break out.
"Little Women: Atlanta" (Lifetime, 9 p.m.) goes to the Bahamas.
Turner Classic Movies has a bunch of films about models tonight, with: "Cover Girl" (8 p.m.), "How to Marry a Millionaire" (10 p.m.), "The French Line" (midnight), "A Life of Her Own" (2 a.m.) and "Model Shop" (4 a.m.).
Two game sevens int he second round of the Stanley Cup Playoffs: Pittsburgh at Washington (NBC Sports, 7:30 p.m.) and Edmonton at Anaheim (NBC Sports, 10 p.m.).
The NBA Playoffs have Washington at Boston (TNT, 8 p.m.).
Baseball includes San Francisco at Mets (MLB, 1 p..m), Cubs at Colorado (MLB, 4 p.m.) and St. Louis at Miami (ESPN, 7 p.m.).
College baseball has Nebraska at Creighton (CBS Sports, 8 p.m.).
Daytime Talk
Kelly and Ryan: Matthew Perry. The View: Mayim Bialik. The Talk: Caitlyn Jenner. Harry Connick: Asia Monet Ray, Jeremy Wade, Ian Harding. Ellen DeGeneres: Julia Louis-Dreyfus, Tom Holland. Wendy Williams: Maggie Q. The Real: Faith Evans, Kelly Osbourne.
Late Talk
Stephen Colbert: Nick Offerman, Megan Mullally, Aaron Taylor Johnson, Dave Matthews, Tim Reynolds. Jimmy Kimmel: Billy Crudup, Ariel Winter, Wale with G-Eazy. Jimmy Fallon: Tina Fey, Alessandro Nivola, Dirty Projectors with Dawn. Seth Meyers: Zach Woods, Dan Mintz, Thaddeus Dixon. James Corden: Betty White, Ben McKenzie, Amy Brenneman, Conor Oberst. Carson Daly: Kathryn Hahn, Froth, Lucy Gillespie. Trevor Noah: Valerie Jarrett. Conan O'Brien: Rashida Jones, Neil deGrasse Tyson, Danger Mouse and Sam Cohen.