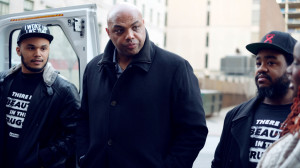 When it comes to race relations in this country, who'd you rather turn to than Charles Barkley? Well, maybe a lot of people. But the NBA star and analyst hosts the two night "American Race" (TNT, 9 p.m.), in which he travels the country to take the pulse of its people. IT begins in Baltimore, two years after the death of Freddie Gray ignited the city.
A second hour at 10 takes Barkley to Texas, where Muslims struggle among local laws and protests. The final two episodes air Friday.
Barkley seems genuinely interested in his topic, and his celebrity brings him access. Most important, a lot of different voices get to express themselves.
A half dozen shows have their season finales tonight. Among them is the comic book adaptation turned murder mystery "Riverdale" (The CW, 9 p.m.) in which Archie also sings.
Richard Marx guest stars on the second season finale of "Life in Pieces" (CBS, 9:30 p.m.), a wedding episode.
It's also the second season finale for "The Catch" (ABC, 10 p.m.).
On the season finale of "The Big Bang Theory" (CBS, 8 p.m.), Sheldon's admirer returns.
Christy tries to help Bonnie get out of tax trouble on the fourth season finale of "Mom" (CBS, 9 p.m.).
A new doctor arrives on the second season finale of "Chicago Med" (NBC, 9 p.m.).
Can't imagine that the news will cool down enough for them to run it, but tonight's "Soundtracks: Songs That Defined History" (CNN, 10 p.m.) covers music made after Hurricane Katrina.
"The Amazing Race" (CBS, 10 p.m.) continues in Athens.
Next season will be the last for "Scandal" (ABC, 8 p.m.). So fill up on it while you can, I guess.
Kids cook for food critics on "MasterChef Junior" (Fox, 8 p.m.).
Owen gets life-altering news on "Grey's Anatomy" (ABC, 8 p.m.).
It's Jay Leno vs. Craig ferguson on "Lip Sync Battle" (Spike, 9:30 p.m.), followed by Bellamy Young vs. Matt McGorry at 10.
Hunters are dying on "Supernatural" (The CW, 8 p.m.).
A two part episode on honeymoons concludes on "Married at First Sight" (Lifetime, 9 p.m.).
A woman is hacked by a digital stalker on "Dark Net" (Showtime, 10 p.m.).
Liz becomes target of a mercenary on "The Blacklist" (NBC, 10 p.m.).
Lauretta turns 70 on "Unprotected" (Bravo, 10:30 p.m.).
The month-long Thursday night showcase of creature movies continues with "Rodan" (8 p.m.), "The Black Scorpion" (9:30 p.m.), "The Deadly Mantis" (11:15 p.m.), "The Monster That Challenged the World" (1 a.m.), "Empire of the Ants" (2:45 a.m.) and "The Giant Claw" (4:30 a.m.).
NBA Playoffs have San Antonio at Houston (ESPN, 8 p.m.).
Before the season is quite over there is the NBA draft combine (ESPN2, 3 p.m.).
Baseball includes Boston at Milwaukee (MLB, 1 p.m.) and Houston at Yankees (MLB, 7 p.m.).
College baseball has Auburn at LSU (ESPN2, 7:30 p.m.).
Daytime Talk
Kelly and Ryan: Glenn Close, Guillermo Diaz. The View: Patti LaBelle, Drew Brees. The Talk: Wanda Sykes. Harry Connick: Freida Pinto, Warren Kole. Ellen DeGeneres: Amy Schumer, Goldie Hawn. Wendy Williams: Jesse Tyler Ferguson. The Real: Tracée Ellis Ross, Kelly Osbourne.
Late Talk
Stephen Colbert: Mayim Bialik, Andy Karl, Ramy Youssef. Jimmy Kimmel: Ewan McGregor, Katie Lowes, At the Drive-In. Jimmy Fallon: Michelle Pfeiffer, Kyle MacLachlan, Mark Normand. Seth Meyers: Aziz Ansari, Jenna Dewan Tatum, Lany, Thaddeus Dixon. James Corden: Goldie Hawn, Kevin Bacon, Dreamcar. Carson Daly: Thomas Middleditch, Night Beats, Katie Dippold. Trevor Noah: D.L. Hughley. Conan O'Brien: Charlie Hunnam, Kristen Schaal, Narek Margaryan and Sergey Sargsyan.