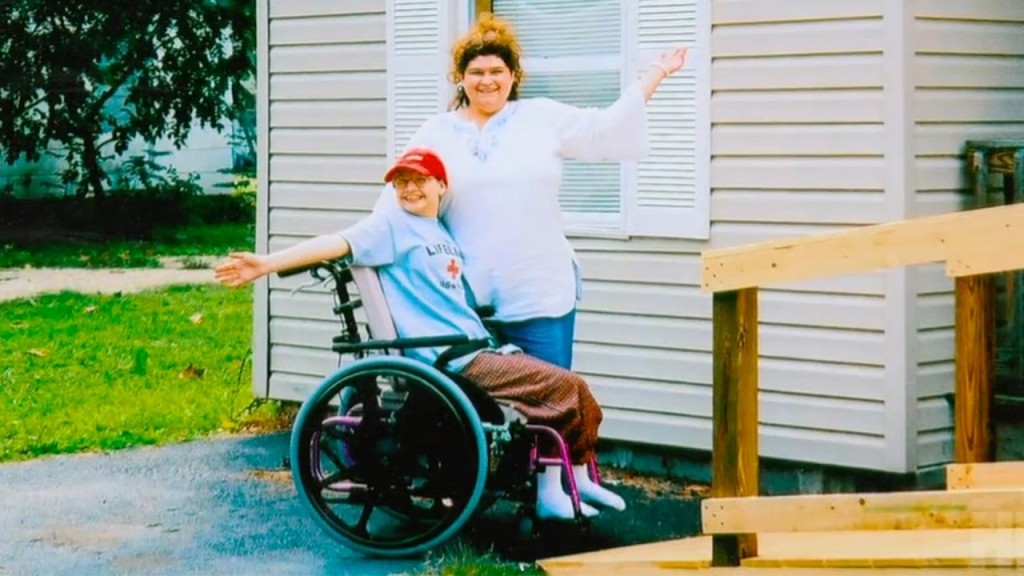 With all the flowery sentiments of Mother's Day out of the way, here's a harrowing story of a terrible bond. It's mother in Springfield, Mo., who made her daughter think she was seriously ill and partially paralyzed – a classic case of Munchausen by proxy syndrome, until as an adult she brutally struck back, with the help of a kinky young man she met on a Christian singles website. But did the daughter Gypsy Rose carry some of her mother's inherent treachery? The questions are raised in Erin Lee Carr's creepily fascinating "Mommy Dead and Dearest" (HBO, 10 p.m.).
Another documentary tonight, "Forever Pure" on "Independent Lens" (PBS, 10 p.m.) looks at the ugliness that occurred when a Jerusalem soccer team signed its first Muslim players.
The new six-part series "Year Million" (National Geographic Channel, 9 p.m.) looks way into the future — a million years to be exact. Laurence Fishburne narrates.
Jack Whitehall, David Suchet and Eva Longoria star in the three part Evelyn Waugh adaptation "Decline and Fall" (Acorn, streaming)..
It's down to the final four on "Dancing with the Stars" (ABC, 8 p.m.) — three sports figure and a singer from Fifth Harmony. MLB catcher David Ross has the lowest judges' scores among them. Everybody dances twice in tonight's semifinals.
It's down to the final eight on "The Voice" (NBC, 8 p.m.).
Jimmy launches a new venture on "Better Call Saul" (AMC, 10 p.m.), which lately has been one of the best things on TV.
Three shows have their season finales tonight, "Man with a Plan" (CBS, 8:30 p.m.), "Scorpion" (CBS, 10 p.m.) and "Quantico" (ABC, 10 p.m.), where there's a Constitutional Convention.
"Supergirl" (The CW, 8 p.m.) decides whether or not to obey the president's orders on an episode titled "Resist," and Calista Flockhart's Cat Grant returns to National City.
"Jane the Virgin" (The CW, 9 p.m.) struggles to ask Fabian for a favor.
The prime suspect of a murder at an asylum may be the father of "Lucifer" (Fox, 9 p.m.).
Ivy comes to Selina's aid on "Gotham" (Fox, 8 p.m.).
Joe Strummer's boots get a price on "Antiques Roadshow" (PBS, 8 p.m., check local listings). An autographed photo of Laurel & Hardy pops up on "Pawn Stars" (History, 10 p.m.).
Elliot battles with a squirrel on "Young & Hungry" (Freeform, 8 p.m.).
"Basketball Wives" (VH1, 9 p.m.) go to Palm Springs; "Angie Tribeca" (TBS, 10:30 p.m.) goes to New York.
Kathryn considers a reunion with the father of her children on "Southern Charm" (Bravo, 9 p.m.). Louis plays strip golf with "Southern Charm Savannah" (Bravo, 10 p.m.). Charm must mean something different down there.
Domani is racially profiled on "T.I. and Tiny: The Family Hustle" (VH1, 10 p.m.).
The network's debut of the Cohen Brothers' "Blood Simple" (TCM, midnight) leads to a night of films by brother teams. It includes the Maysles brothers' "Grey Gardens" (8 p.m.), "La Promesse" (10 p.m.) by Luc Dardenne and Jean-Pierre Dardenne, the Boulting Brothers' "Seven Days to Noon" (1:45 a.m.), a collection of films by the Lumiere Brothers, "Lumiere's First Picture Shows (1895-1897)" (3:30 a.m.), and of course the Marx Brothers, "At the Circus" (4:15 a.m.).
In the deciding game 7 of the NBA Eastern Conference semifinals, it's Washington at Boston (TNT, 8 p.m.).
The Stanley Cup Playoffs have Ottawa at Pittsburgh (NBC Sports, 8 p.m.).
Monday Night Baseball is Houston at Miami (ESPN, 7 p.m.).
Daytime Talk
Kelly and Ryan: Tony Goldwyn, Derek Hough. The View: Terrence Howard, Adam Glassman. The Talk: Steven Weber, Brian Balthazar. Harry Connick: Nick Lacey, Nate Berkus, Jeremiah Brent, Brooke Orbison Lewis. Ellen DeGeneres: Will Ferrell, Amy Poehler, Mariska Hargitay. Wendy Williams: Chassie Post, Jordi Lippe-McGraw. The Real: Cheryl Burke, Remy Ma.
Late Talk
Stephen Colbert: Danny McBride, Jane Krakowski, Metallica. Jimmy Kimmel: Ed Helms, Paul George, Vladimir Caamano. Jimmy Fallon: Michael Fassbender, Jeffrey Tambor, Weezer, Todd Rundgren. Seth Meyers: Tracy Morgan, Michael McKean, Sen. Ben Sasse, Mark Guiliana. James Corden: Harry Styles, Aaron Taylor-Johnson. Carson Daly: Charlamagne Tha God, The Frights, AJ Mendez Brooks. Trevor Noah: Timothy Snyder. Conan O'Brien: Bryan Cranston, James Franco, Barry Crimmins, Billie Joe Armstrong (rerun).