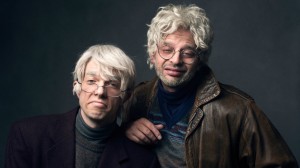 You may not have thought much of the recurring characters Gil Faizon and George St. Geegland when they kept popping up on "The Kroll Show." But when John Mullaney and Nick Kroll later developed the characters first for a comedy tour then for a bona fide Broadway stint, people paid attention to the old coots they play, and their big trick: ordering someone too much tuna.
Now their "Oh Hello on Broadway" (Netflix, streaming) has been added to the online lineup: full circle back to your TV set.
Now that the season is finally over, the closest taste to the NBA tonight may be the "30 for 30″ documentary on the rivalry between Boston and L.A. in "Celtics / Lakers: Best of Enemies" (ESPN, 8 p.m.). It's a long rivalry: parts one and two cover three hours.
It won't get the daytime ratings (or probably, the network attention) that last week's hearings with fired FBI director James Comey, but the Jeff Sessions hearing (CSPAN, CNN, MSNBC, Fox News, 2:30 p.m.) before the Senate Intelligence Committee might be filled with some interesting nuggets as well.
Martin goes on a trash-eating binge on "Downward Dog" (ABC, 8 p.m.).
Season 12 starts on "Face Off" (Syfy, 9 p.m.) with artists divided into two effects shops for the first time.
Auditions continue on both "America's Got Talent" (NBC, 8 p.m.) and "World of Dance" (NBC, 10 p.m.).
The 2010 bio film on "The Buddha" (PBS, 8 p.m., check local listings) is rerun.
On "Animal Kingdom" (TNT, 9 p.m.), Smurf goes to the desert for a wake.
Liv and Blaine consume the brains of a conspiracy theorist on "iZombie" (The CW, 9 p.m.).
Season one of "Famous in Love" (Freeform, 9 and 10 p.m.) comes to a close after two consecutive episodes.
Tonight's episode of "Below Deck Mediterranean" (Bravo, 9 p.m.) is titled "Mo' Onions, Mo' Problems."
Sig returns to the fishing season that nearly killed him on "Deadliest Catch" (Discovery, 9 p.m.).
The police finally get involved on "Pretty Little Liars" (Freeform, 8 p.m.).
Sounds like a mash-up of two shows: "48 Hours: NCIS" (CBS, 10 p.m.).
"Fear Factor" (MTV, 10 p.m.) is pretty much torture for cash.
Rachel gets a call back for her first film audition on "Born This Way" (A&E, 10 p.m.).
"The Profit" (CNBC, 10 p.m.) comes to the rescue of a Chicago snowboard shop.
On "The Jim Jeffries Show" (Comedy Central, 10:30 p.m.), the host flies to Slovenia to visit Melania Trump's hometown.
Competitors on "Forged in Fire" (History, 9 p.m.) recycle steel from a jackhammer.
Einstein and his wife face hurdles in trying to move to the U.S. on "Genius" (National Geographic, 9 p.m.).
The Big Bang is one of "Space's Deepest Secrets" (Science, 9 p.m.).
This baby may never come on "Little People, Big World" (TLC, 9 p.m.).
"Bizarre Foods: Delicious Destinations" (Travel, 9 p.m.) goes to San Antonio and, at 9:30 p.m., Oaxaca, Mexico.
Oliver Stone tries to keep the conversation going on part two of "The Putin Interviews" (Showtime, 9 p.m.).
Marlene Dietrich is the star on Turner Classic Movies tonight with "Desire" (8 p.m.), "The Song of Songs" (10 p.m.), "A Foreign Affair" (11:45 p.m.), "Witness for the Prosecution" (2 a.m.) and "Rancho Notorious" (4:15 a.m.).
Baseball includes Milwaukee at St. Louis (MLB, 2 p.m.) and Cubs at Mets (MLB, 7 p.m.).
In WNBA action, it's Dallas at Los Angeles (ESPN2, 10 p.m.).
It's France vs. England (ESPN2, 3 p.m.) again, this time on a soccer field in a men's international friendly.
Daytime Talk
Kelly and Ryan: Kate McKinnon, Uzo Aruba. The View: Kerry Washington, Newt Gingrich. The Talk: Salma Hayek. Harry Connick: Taye Diggs, Skylar Astin, Danny Seo (rerun). Ellen DeGeneres: Tom Hanks (rerun). Wendy Williams: Demetrius Shipp Jr.
Late Talk
Stephen Colbert: Olivia Wilde, Eddie Izzard, Nick Cave. Jimmy Kimmel: Band of Horses. Jimmy Fallon: Mark Wahlberg, Heidi Klum, Lady Antebellum. Seth Meyers: Kate McKinnon, Brian Tyree Henry, Janet Mock, Eric Moore. James Corden: Jane Krakowski, Kate Mara, Lily James, Iggy Azalea. Carson Daly: Sanaa Lathan, Tennis System, Reid Scott (rerun). Trevor Noah: Selenis Leyva. Conan O'Brien: Holly Hunter, Natasha Lyonne, Robert Cray & Hi Rhythm.