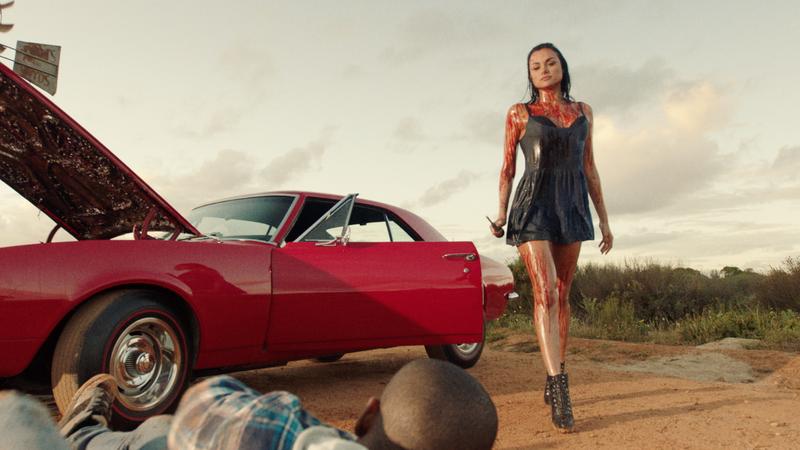 The Syfy channel goes all out splatter with its new series "Blood Drive" (Syfy, 10 p.m.) which has at its touchstone the trashy "grind house" B-films like "Death Race 2000" in particular. In fact this one is set in "Los Angeles in the future: 1999." It's a time when the best thing you could have is a red sports car, even with gas and water unavailable, they have to run on blood. Christina Ochoa stars as driver; Alan Richson stars as the last cop in sight; and Colin Cunningham is a shifty ringleader.
The season ends for the remarkable season of "The Handmaid's Tale" (Hulu, streaming), with Serena Joy onto Offred's mingling with the Commander.
Last week Emmit went to Gloria Burgle to confess. Then things turn upside down in tonight's penultimate episode of "Fargo" (FX, 10 p.m.).
"Full Frontal with Samantha Bee" (TBS, 10:30 p.m.) has a too timely look at civil discourse.
The three part "30 for 30" documentary "Celtics / Lakers: Best of Enemies" (ESPN, 8 p.m.) concludes with the teams play from 1985 to 1987.
It's right three of the four night sessions from Oliver Stone, "The Putin Interviews" (Showtime, 9 p.m.).
The trio on "Nobodies" (TV Land, 10 p.m.) have a fear of Melissa McCarthy (who happens to be one of the show's producers).
The top 20 are given their initial mystery box challenge on "MasterChef" (Fox, 8 p.m.).
Jerrod survives an accident on "The Carmichael Show" (NBC, 9 p.m.).
Katy Perry, Kal Pen and Max Greenfield visit "The F Word with Gordon Ramsay" (Fox, 9 p.m.).
Ramona is left out of Bethenny's holiday party on "The Real Housewives of New York City" (Bravo, 9 p.m.).
A seventh season starts for "Alaskan Bush People" (Discovery, 9 p.m.), followed by the second season of "Homeland Rescue" (Discovery, 10 p.m.).
The season finale of "Little Big Shots" (NBC, 8 p.m.) brings favorite performers back.
It's bachelor and bachelorette party weekend in Las Vegas on "Little Women: Atlanta" (Lifetime, 10 p.m.).
"Little Women: LA" (Lifetime, 9 p.m.) go to Alaska.
Opening Cuba means "Expedition Unknown" (Travel, 9 p.m.) is on its way, looking for Spanish treasure.
Among the gullible on this week's "Hollywood Medium with Tyler Henry" (E!, 8 p.m.) are Khloe Kardashian, Kylie Jenner, Ru Paul and Elisha Cuthbert.
William Shatner joins "Cutthroat Kitchen" (Food, 8 p.m.).
People defy beauty norms on "True Life" (MTV, 10 pm.).
George fights with his network on "Lopez" (TV Land, 10:30 p.m.).
Five films of the British directing duo Michael Powell and Emeric Pressburger are featured on Turner Classic Movies tonight with the Technicolor "A Matter of Life and Death" (8 p.m.), "Black Narcissus" (10 p.m.), "Hour of Glory" (midnight), "I Know Where I'm Going" (2 a.m.) and "A Canterbury Tale" (3:45 a.m.).
Baseball includes Cubs at Mets (MLB, 7 p.m.) and Yankees at Angels (ESPN, 10 p.m.).
Daytime Talk
Kelly and Ryan: Taylor Schilling, Sabrina Carpenter. The View: Kim Kardashian West. The Talk: Natasha Lyonne, Big Boy, Vanessa Williams. Harry Connick: Chris Messina, Keith Carradine (rerun). Ellen DeGeneres: Kendall Jenner, Ricky Martin (rerun). Wendy Williams: Ali Wentworth. The Real: Charlie McDermott, Eden Sher, Atticus Shaffer, J.B. Smoove (rerun).
Late Talk
Stephen Colbert: Trevor Noah, Ilana Glazer, Sam Richardson. Jimmy Kimmel: Jamie Foxx, Trace Adkins. Jimmy Fallon: Miley Cyrus. Seth Meyers: Taylor Schilling, Jim O'Heir, Lizzy Goodman, Eric Moore. James Corden: Fred Armisen, Tituss Burgess, Edgar Wright, Gavin DeGraw. Carson Daly: Jonah Ray, Bonobo, JD Dillard (rerun). Trevor Noah: Vince Staples. Conan O'Brien: Judd Apatow, Tom Papa.