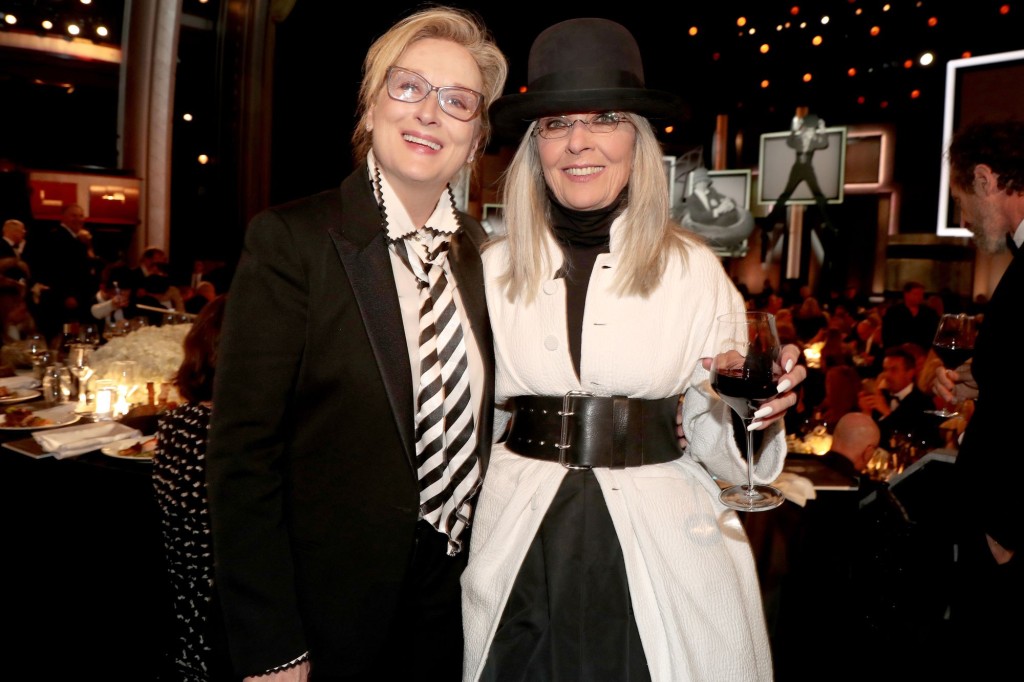 Even Woody Allen showed up last week for the 45th AFI Life Achievement Award: A Salute to Diane Keaton (TNT, 10 p.m.), an event that also brought tributes from Al Pacino, Jane Fonda, Warren Beatty, Morgan Freeman, Reese Witherspoon, Sarah Silverman, Emma Stone, Steve Martin, Martin Short and Meryl Streep, wearing some "Annie Hall" duds.
The British crime drama "The Tunnel: Sabotage" (PBS, 9 p.m., check local listings) returns with a slightly different tunnel, owing to the fact that a plane also crashes into the English Channel near the site of an abduction investigation at the Eurutunnel. Originally closely based on the Scandinavian hit "The Bridge" (which had a successful U.S. adaptation as well), the series returns Clemence Posey and Stephen Dilate as detectives from different countries hoping to solve the events.
Oliver Stone wraps up his four-part conversations with the Russian President, "The Putin Interviews" (Showtime, 9 p.m.).
On "Nashville" (CMT, 9 p.m.), Juliette needs a new hit song.
Bow Wow is hurt by online criticism from a cousin on "Growing Up Hip Hop: Atlanta" (WEtv, 9 p.m.).
A former love interest of Teresa shows up on "Queen of the South" (USA, 10 p.m.).
"Alone" (History, 10 p.m.) returns for its fourth season, all by itself.
Fredrik scores a building with $400 million in potential sales on "Million Dollar Listing New York" (Bravo, 9 p.m.).
"Cyrus vs. Cyrus" (Bravo, 10 p.m.) put in designs for a Nashville music executive.
Morgan races the ice to get supplies on "Mountain Men" (History, 9 p.m.).
"Alaska: The Last Frontier: The Frozen Edge" (Animal Planet, 10 p.m.) has a cattle drive. Which qualifies the series for the Animal Planet.
I was hoping it was the old 80s soap acted out by animals, but "Dingo Dynasty" (National Geographic, 8 p.m.) is just a documentary on the wild dogs in Australia.
A tall oil platform is the subject of "Impossible Engineering" (Science, 9 p.m.).
"Paul Walker's Fatal Crash" (Reelz, 9 p.m.) is about just that.
Egyptian satirist Bassem Youssef visits "The President Show" (Comedy Central, 11:30 p.m.).
A father seeks justice for the murder of his 15 year old son on "Sin City Justice" (Investigation Discovery, 10 p.m.).
The three couples on "Married at First Sight" (Lifetime, 9 p.m.) celebrate their first holiday together: Labor Day.
Firefighters in a California brush fire stumble on a murder mystery on "Murder Among Friends" (ID, 9 p.m.).
Two fans are chosen to go on a 14-day challenge on a two hour "Naked and Afraid" (Discovery, 8 p.m.).
The month-long Thursday night survey of Gay Hollywood continues with "Rebel Without a Cause" (8 p.m.), "All That Heaven Allows" (10:15 p.m.), "Cat on a Hot Tin Roof" (midnight), "Nowhere to Go" (2:15 a.m.), "The Seventh Sin" (4 a.m.) and "Les Girls" (5:45 a.m.).
Baseball includes Dodgers at Cleveland (MLB, noon) and Boston at Philadelphia (MLB, 7 p.m.).
And first round play begins in the U.S. Open (Fox Sports 1, 11 a.m.; Fox, 6 p.m.).
Daytime Talk
Kelly and Ryan: Larry the Cable Guy, Claire Foy. The View: Jessica Alba, Will.i.am, Gary Vaynerchuk. The Talk: Mandy Moore, Claire Holt. Harry Connick: Jamie Alexander, Jen Kirkman (rerun). Ellen DeGeneres: Scott Foley, Little Big Town (rerun). Wendy Williams: Mario Cantone. The Real: J. August Richards (rerun).
Late Talk
Stephen Colbert: Milo Ventimiglia, Judy Greer, Keith Alberstadt. Jimmy Kimmel: Andy Samberg, Jillian Bell, 2 Chainz with Trey Songz and Ty Dolla $ign. Jimmy Fallon: Ethan Hawke, Lorde. Seth Meyers: Andy Cohen, Patty Jenkins, Rakesh Satyal, Eric Moore. James Corden: Jamie Foxx, Ansel Elbort, Beth Ditto. Carson Daly: Hank Azaria, Jef Rosenstock, Al Madrigal (Rerun). Trevor Noah: Whoopi Goldberg. Conan O'Brien: Armie Hammer, Jim Jeffries, Gavin Degraw.