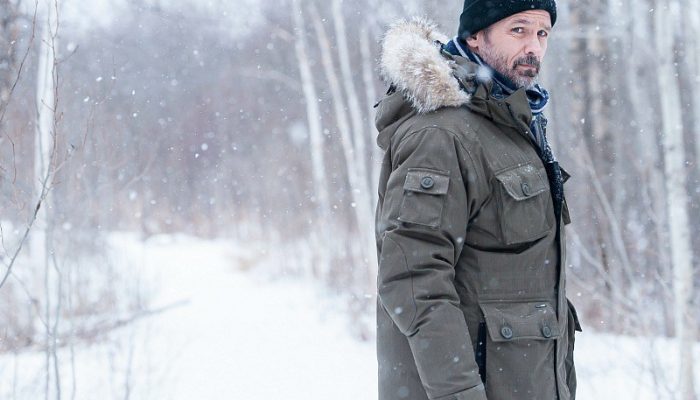 With the first season of "The Handmaid's Tale" complete, Hulu tries to keep the momentum going with an imported Canadian drama. "Cardinal" (Hulu, streaming). Based on the John Cardinal novels by Giles Blunt, it stars Billy Campbell as a police detective in Ontario trying to solve the death of a First Nations girl, with the help of a detective (Karine Vanesse) who is also investigating him.
A third season of the Ashton Kutcher comedy "The Ranch" (Netflix, streaming) begins, with a cast that also includes Elisha Cuthbert, Sam Elliott, Debra Winger and Danny Masterson.
Nostalgia for large scale investigations and presidents who swore they weren't crooks continues with the special "Truth and Lies: Watergate" on "20/20" (ABC, 9 p.m.), in which Bob Woodward, Carl Bernstein, John Dean and Dan Rather appear, along with the daughter of "Deep Throat," Joan Felt. And home movies from H.R. Haldeman and John Erlichman are shown.
"The Great British Baking Show" (PBS, 9 p.m., check local listings) returns for a new season of making fussy little confections, with Mary Berry and Paul Hollywood presiding. They play two episodes in a row to start.
After four seasons, "Reign" (The CW, 9 p.m.) ends its run with a big decision from Mary.
Alex Marlow, Eddie Issard, Ian Bremmer and Malcolm Nance join a new "Real Time with Bill Maher" (HBO, 10 p.m.).
Even "RuPaul's Drag Race" (VH1, 8 p.m.) gets a reunion show.
The concert show "Instant Jam" (CMT, 10 p.m.) features Brett Eldridge.
On "The Originals" (The CW, 8 p.m.), The Hollow goes after Klaus.
"Ginormous Food" (Food, 8 p.m.) looks for big items in Pittsburgh.
On "Stuck in the Middle" (Disney, 8 p.m.), Daphne and her Dad enter a TV dancing competition.
"Andi Mack" (Disney, 8:30 p.m.) challenges the dress code.
The crew on "Dark Matter" (Syfy, 9 p.m.), stumbles on a colony's fight for independence.
"Wynonna Earp" (Syfy, 10 p.m.) fights spiders.
"Diners, Drive-Ins and Dives" (Food, 9 p.m.) goes from California to Virginia to Hawaii.
"Josh Gates' Destination Truth" (Travel, 9 p.m.) goes to Pompeii and Kenya. Then at 10, he's off to Cambodia and British Columbia.
A bear wrecked the cabin of one of the "Yukon Men" (Discovery, 9 p.m.).
The Friday night European Vacation theme continues on Turner Classic Movies with "Light in the Piazza" (8 p.m.), "The Roman Spring of Mrs. Stone" (10 p.m.), "A Room with a View" (midnight), "Death in Venice" (2:15 a.m.) and "Indiscretion of an American Wife" (5 a.m.).
Baseball includes Washington at Mets (ESPN, 7 p.m.) and Yankees at Oakland (MLB, 10 p.m.).
Second round play commences in golf's U.S. Open (Fox Sports 1, 11 a.m.; Fox, 6 p.m.).
If video gaming is a sport, here's "ELeague Clash for Cash: The Rematch" (TBS, 10 p.m.).
Daytime Talk
Kelly and Ryan: Scarlett Johansson, Danai Gurira. The View: Laverne Cox. The Talk: Kate Mara, Darnell Kirkwood. Harry Connick: Josh Holloway, Lisa Edelstein, Major Christina Hopper (rerun). Ellen DeGeneres: Ashton Kutcher, Katherine Langford, Dylan Minnette (rerun). Wendy Williams: Jackie Miranne, Ellie Lee (rerun). The Real: John Singleton (rerun).
Late Talk
Stephen Colbert: Scarlett Johansson, Bill Burr, Fleet Foxes. Jimmy Kimmel: Gwyneth Paltrow, Sean "Diddy" Combs, Ryan Adams (rerun). Jimmy Fallon: Kirsten Dunst, Larry the Cable Guy, Nikki Glaser. Seth Meyers: Courtney Love, John Early, Masa Takayama, Jared Champion (rerun). James Corden: Lionel Richie, Jena Dewan Tatum, Katy Perry (rerun). Carson Daly: Carrie Coon, Deap Vally, Bassem Youssef (rerun).