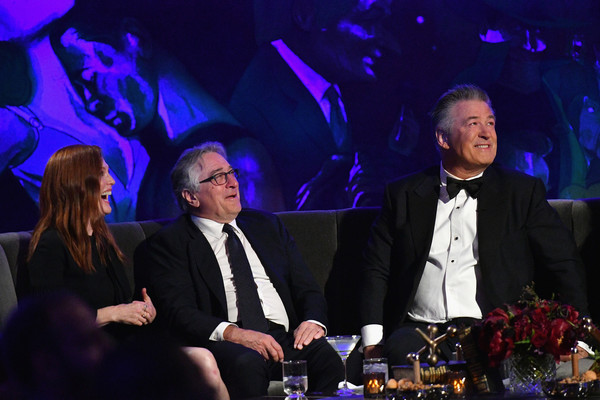 Not sure exactly what he's done to deserve the honor (did you see "Paris Can Wait"?), but a number of luminaries including Robert De Niro, Julianne Moore, Jane Krakowski, Jack Brayer, Tracy Morgan and former President Bill Clinton gather at the Apollo Theater in Harlem to honor the actor and presidential impersonator on "One Night Only: Alec Baldwin" (Spike, 9 p.m.).
History's most famous female pilot went missing 80 years ago this month. Now there's a new theory what happened. In the special "Amelia Earhart: The Lost Evidence" (History, 9 p.m.), a telltale photograph hidden in the National Archives may show her and her navigator Fred Noonan in the Marshall Islands, suggesting they were captured by the Japanese military.
Having successfully tackled three previous decades, a new eight part series addresses the news, fads and names of "The Nineties" (CNN, 9 p.m.).
"Twin Peaks: The Return" (Showtime, 9 p.m.) is back, following one of the weirdest episodes in TV history, with a four word description: "This is the chair."
A Vietnam buddy returns on "I'm Dying Up Here" (Showtime, 10 p.m.).
How silly can network TV's game show obsession get? Now they're reaching into your pocket to adapt your favorite phone games. The 3D "Candy Crush" (CBS, 9 p.m.) is hosted by Mario Lopez. On the colorful studio set, competitors compete from past seasons of "Survivor" and "Big Brother" (CBS, 8 p.m.), on whose current season a new Head of Household is named.
In the new series "The Spouse House" (TLC, 10 p.m.) mixes "The Real World" with dating shows, hoping its 14 singles will pair up before eight weeks are up. Hope they have better luck than the contestants on "Famously Single" (E!, 10 p.m.).
"Celebrity Family Feud" (ABC, 8 p.m.) brings in sports stars, led by Ozzie Smith, James Worthy, Le'Veon Ball and Marshall Faulk. And there's more sports figures on "The $100,000 Pyramid" (ABC, 10 p.m.): Cam Newton, Brandon Marshall, Apolo Ohno and Eric Decker.
Emma gets man advice on "My Mother and Other Strangers" (PBS, 8 p.m., check local listings).
Get a load of the impending Shark Week with a previewing "Sharktacular" (Discovery, 8 p.m.).
What's the connection between a murder and post office robberies? "Grantchester" (PBS, 9 p.m., check local listings) tries to find out.
The first of a two part reunion on "The Real Housewives of Potomac" (Bravo, 8 p.m.) hashes out issues.
Dr. Ken is wrongly accused of a crime on a new "Claws" (TNT, 9 p.m.).
The short season of "Prime Suspect: Tennison" (PBS, 10 p.m., check local listings) concludes.
"Good Paradise" (Travel, 8 p.m.) salutes bacon sushi and taco cannons.
On "Fear the Walking Dead" (AMC, 9 p.m.), a new arrival sows division — a common plot devise in the franchise.
A confession blindsides Larry on the first season finale of "Invite Only Cabo" (Bravo, 9 p.m.).
Prosecutors turn up the heat on "Power" (Starz, 9 p.m.).
On "Steve Harvey's Funderdome" (ABC, 9 p.m.), eating utensils for finger food seems to miss the point of finger food.
"Xtreme Waterparks" (Travel, 9 p.m.) are explored in Mexico, Australia, Phoenix and, at 9:30 p.m., Florida, and in a third episode at 10, Guatemala.
He directed; she wrote the screenplays. Two films from Frank and Eleanor Perry are on Turner Classic Movies tonight, "Ladybug, Ladybug" (8 p.m.) and "David and Lisa" (9:45 p.m.). Then Harold Lloyd stars in a quartet of silent shorts, starting with "An Eastern Westerner" (TCM, midnight). Two films by Aki Kaurismaki follow, with "Shadows in Paradise" (TCM, 2 a.m.) and "Ariel" (TCM, 3:30 a.m.).
It's Detroit at Cleveland (ESPN, 8 p.m.) in Sunday night baseball, and the All-Star Futures Game (MLB, 4 p.m.) earlier.
The NBA Summer League has Phoenix vs. Dallas (ESPN, 4:30 p.m.), Minnesota vs. Denver (ESPN2, 6:30 p.m.), Portland vs. Boston (ESPN2, 8:30 p.m.) and Philadelphia vs. San Antonio (ESPN2, 10:30 p.m.).
The championship game in the Softball World Cup (ESPN, 1 p.m.) has U.S. vs. Japan (ESPN, 1 p.m.).
In soccer's CONCACAF Summer League, it's Curacao vs. Jamaica (Fox Sports 1, 7 p.m.) and Mexico vs. El Salvador (Fox Sports 1, 9:30 p.m.).
Final rounds are played in golf's Greenbrier Classic (Golf, 1 p.m.; CBS, 3 p.m.).
In racing, there's the Austrian Grand Prix (CNBC, 7:30 a.m.).
And the Tour de France (NBC Sports, 7 p.m.) reaches a tough Stage 9, from Nantua to Chambrey.
Sunday Talk
ABC: Treasury Secretary Steven Mnuchin, outgoing director of the Office of Government Ethics Walter Shaub Jr., Sen. Ted Cruz, Reps. Tom Cole and Eric Swalwell. CBS: Nikki Haley, U.S. ambassador to the United Nations, Sen. John McCain and Cruz. NBC: Sen. Lindsey Graham, Democratic National Committee chair Tom Perez, Republican National Committee chair Ronna Romney, former CIA director John Brennan. CNN: Haley, Rep. Adam Schiff, former Defense Secretary Ash Carter. Fox News: White House chief of staff Reince Priebus, Sen. Bill Cassidy.