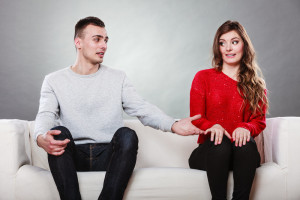 Gawking at couples going through their clumsy motions of romance is becoming a staple of armchair entertainment.
Besides "The Bachelorette" or tonight's concluding "Married at First Sight" (Lifetime, 8 p.m.) (Will they decide to wed or depart to their home countries?), there is a new angle.
"Date Night Live" (Lifetime, 8 p.m.) follows dates from New York, Atlanta, Dallas and San Diego as they happen, over eight weeks, in the manner of A&E's "Life PD," with live commentary from comedian Michelle Collins, radio host Bethany Watson and a relationship coach, Paul Brunson.
On a new "Queen of the South" (USA, 10 p.m.), Camila gets Teresa and her crew to get a meeting with a Chicago distributor.
Kenny joins Drew at his MMA veteran's support group on "The Night Shift" (NBC, 10 p.m.).
Jamie gets Mitch and Logan to help her on "Zoo" (CBS, 10 p.m.).
"Hooten and the Lady" (The CW, 9 p.m.) search for the tomb of Alexander the Great.
Natalie has a violent encounter with Link on "The Mist" (Spike, 10 p.m.).
Erik Estrada and Larry Wilcox are among the actors who played former TV cops (in their case from "Chips") going against those who were in sitcoms on  "Battle of the Network Stars" (ABC, 9 p.m.).
J.B. Smoove, Michael Bolton, Chris Parnell, Ne-Yo, Nick Lachey and Vanessa Lachey play "Hollywood Game Night" (NBC, 8 p.m.).
Contestants on "Boy Band" (ABC, 8 p.m.) sing song from the movies.
Someone gets the boot on "Big Brother" (CBS, 9 p.m.) and I don't even know who's on the block.
Chelsea Handler, Will Arnett and Ken Marino gets a taste of "The Gong Show" (ABC, 10 p.m.) when they become judges.
Interesting names on "Penn & Teller: Fool Us" (The CW, 8 p.m.) include Misty Lee and Shin Lim.
Fredrik tries to drive prices up on "Million Dollar Listing New York" (Bravo, 9 p.m.).
Sunny Anderson and Katie Lee try to "Beat Bobby Flay" (Food, 10 p.m.).
"Mysteries at the Museum" (Travel, 9 p.m.) looks at an air bubble on the ocean floor, which seems better suited for the accompanying "Mysteries of the Outdoors" (Travel, 10 p.m.).
Shark programming today includes "Shark Exile" (discovery, 8 p.m.), "Shark Storm" (Discovery, 10 p.m.) and "Shark After Dark" (Discovery, 11 p.m.).
"The First 48" (A&E, 9 p.m.) covers a hammer attack in Tulsa.
Turner Classic Movies' month-long Thursday night salute to Ronald Colman concludes with "A Double Life" (8 p.m.), "Random Harvest" (10 p.m.), "Greer Garson" (12:10 a.m.), "The Talk of the Town" (12:15 a.m.), "The Late George Apley" (2:30 a.m.) and "The Story of Mankind" (4:15 a.m.).
Baseball includes Oakland at Toronto (MLB, 12:30 p.m.), Tampa Bay at Yankees (MLB, 7 p.m.) and Mets at San Diego ((MLB, 10 p.m.).
Golf has the quarterfinals in the USGA U.S. Girls Junior Championship (Fox Sports 1, 4 p.m.).
In women's soccer, it's U.S. vs. Australia (ESPN, 10 p.m.) in the Tournament of Nations.
Swimming's FINA World Aquatics Championships (NBC Sports, 11:30 a.m.) reaches its semifinals and finals.
There's some horse racing at Saratoga Live (Fox Sports 2, 4 p.m.).
And it's Montreal at Winnipeg (ESPN2, 8:30 p.m.) in Canadian football.
Daytime Talk
Kelly Ripa and Ryan Seacrest: John Bodega, Betty Gilpin, Andy Cohen. The View: Thomas Jackson. The Talk: Kelsey Grammar, Sean Valentine, Nico Tortorella. Harry Connick: Jude Demorest, Chris Hardwick, Linda Miller Nicholson (rerun). Ellen DeGeneres: Amy Schumer, Goldie Hawn (rerun). The Real: Ernie Hudson (rerun).
Late Talk
Stephen Colbert: Samantha Bee, Gillian Jacobs, Spoon. Jimmy Kimmel: Billy Crystal, Chris Bianco, Casey James Salengo (rerun). Jimmy Fallon: Michael Strahan, Jill Kargman, Slayer. Seth Meyers: Tyra Banks, Kyle Mooney, OneRepublic, Brad Will. James Corden: Matt Bomer, Niecy Nash, Brendan Gleeson, Julia Michaels. Carson Daly: Jonah Ray, Bonobo, J.D. Dillard (rerun). Trevor Noah: Masha Gessen. Conan O'Brien: Julia Louis-Dreyfus, Tony Hale, Anna Chlumsky, Reid Scott, Matt Walsh, Kevin Dunn, Gary Cole, Sam Richardson, Mastodon (rerun).