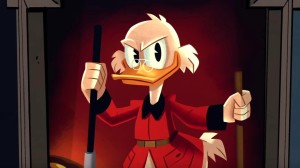 You can barely understand the accent on "Broadchurch," and here's David Tennant as Scrooge McDuck on a reboot of "Duck Tales" (Disney XD, hourly). It also features Dany Pudi, Ben Schwartz and Bobby Moynihan as Huey, Dewey and Louie; Kate Micucci as Webby Vanderquack and Beck Bennett as Launchpad McQuack. The animation is rudimentary, but there's a lot of nostalgia packed in its return. The one hour return will be repeated all day beginning at midnight. The show gets a regular time slot net month.
Dogs find homes and veterans find important allies on the new series "Rescue Dog to Super Dog" (Animal Planet, 10 p.m.), an emotion packed series in which a dog helps a veteran with PTSD and another learns household chores for a woman with cerebral palsy.
"Orphan Black" (BBC America, 10 p.m.) ends its run tonight with a series finale, and Tatiana Maslany, who played so many roles in the clone saga, gets to rest for a while.
Also ending its run tonight, with far less fanfare after four seasons, is the historical drama "Turn: Washington's Spies" (AMC, 9 p.m.). I hear it works out well for the revolutionaries.
And the least painful goodbye will be for the series "Doubt" (CBS, 8 and 9 p.m.), which burns off its its final two episodes tonight.
The Harry Potter spinoff "Fantastic Beasts and Where to Find Them" (HBO, 8 p.m.) makes its premium cable premiere.
Co-owners of a vineyard, who are romantically involved, get stressed about an upcoming wine festival on the made-for-TV "Summer in the Vineyard" (Hallmark, 9 p.m.).
An Kentuckian and an Indonesian get married on "Fatal Vows" (Investigation Discovery, 10 p.m.).
"The Kitty Kelley Files" (Reelz, 10 p.m.) looks at Julia Roberts.
"The Dead Files" (Travel, 10 p.m.) goes to Applegate, Colo.
"Scandal Made Me Famous" (Reelz, 9 p.m.) looks at the Tiger Woods mess.
Tracing a drug empire to Columbus also leads to finding two more missing women on "Gone: The Forgotten Women of Ohio" (Spike TV, 8:30 p.m.).
John Wayne is the star all day on Turner Classic Movies with "The Long Voyage Home" (6 a.m.), "McLintock!" (8 a.m.), "Chasm" (10:15 a.m.), "Stagecoach" (12:15 p.m.), "She Wore a Yellow Ribbon" (2 p.m.), "The Train Robbers" (4 p.m.), "The Man Who Shot Liberty Valance" (5;45 p.m.), "The Quiet Man" (8 p.m.), "The Searchers" (10:30 p.m.), "Rio Bravo" (12:45 a.m.) and "They Were Expendable" (3:15 a.m.).
In preseason football, it's Dallas at Los Angeles (NFL, 9 p.m.).
Baseball includes Pittsburgh at Toronto (MLB, 1 p.m.), Boston at Yankees (Fox Sports 1, 4 p.m.), Cubs at Arizona (MLB, 8 p.m.) and San Diego at Dodgers (MLB, 11 p.m.).
Soccer has a number of games from the English Premier League: Liverpool at Watford (NBC Sports, 7:30 a.m.), Burnley at Chelsea (NBC Sports, 10 a.m.), Stoke City at Everton (CNBC 10 a.m.) and Manchester City at Brighton (NBC, 12:30 p.m.).
Golf has third round play in the PGA Championship (TNT, 11 a.m.; CBS, 2 p.m.) and the semifinals of the U.S. Women's Amateur (Fox Sports 1, 4 p.m.).
Tennis has semifinals all day of the Rogers Cup (ESPN2, 1 p.m.).
Little League (ESPN, 11 a.m.) has its regional finals all day at two hour intervals.
And track and field's IAAF world championships (NBC Sports, 5 a.m.) continues.
Angelique Kidjo performs on a 2014 "Austin City Limits" (PBS, 11 p.m.).
The "Saturday Night Live" (NBC, 11:30 p.m.) from earlier this year hosted by Louis C.K. is rerun, with musical guest The Chainsmokers.