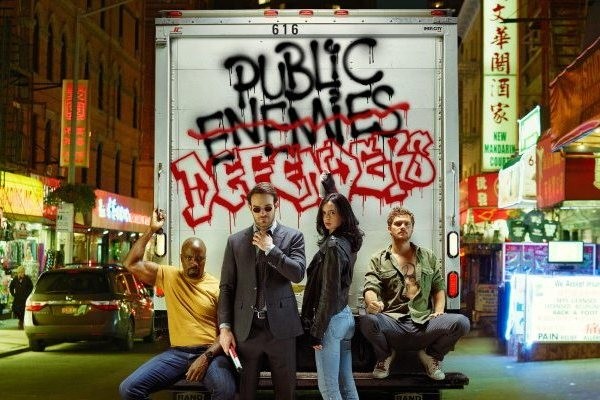 A quickly assembled superhero superstar series brings together Krysten Ritter's Jessica Jones and Mike Colter's Luke Cage with Finn Jones portraying Iron Fist and Charlie Cox's Daredevil in "Marvel's The Defenders" (Netflix, streaming).
Renee Fleming is soloist when Christoph Eschenbach conducts the Vienna Philharmonic in its annual open air summer concert at Austria's Schoenbrunn Palace Gardens. Also on the bill: Tchaikovsky, Stravinsky and Strauss.
The hot star from "Girls Trip," "The Carmichael Show" and "The High Court" finally gets her own standup special, "Tiffany Haddish: She Ready! From the Hood to Hollywood!" (Showtime, 9 p.m.).
A timely "20/20" (ABC, 10 p.m.) reflects six months of reporting on white supremacists.
"Vice" (HBO, 11 p.m.) covers the rangers protecting gorillas in Congo and the number of journalists killed in Manilla.
Sen. Al Franken, California Lt. Gov. Gavin Newson, Penn Jillette and Amy Holmes are guests on a new  "Real Time with Bill Maher" (HBO, 10 p.m.).
"Killjoys" (Syfy, 8 p.m.) plan to rob an armored convoy.
Jay Duplass stars in his own episode of "Room 104" (HBO, 11:30 p.m.).
It's a rare Friday night episode of "Big Brother" (CBS, 8 p.m.).
Ryo gets a crew together to defeat Pyr on "Dark Matter" (Syfy, 9 p.m.).
Vengeance plays out on "Wynonna Earp" (Syfy, 10 p.m.).
Catchy names on "Masters of Illusion" (The CW, 8 p.m.) include Murray SawChuck, Scott Pepper and Xavier Mortimer.
Mia sneaks to school wearing makeup on "Raven's Home" (Disney, 8 p.m.).
K.C. has to track down a weather-controlling device the same night as homecoming on "K.C. Undercover" (Disney, 8:30 p.m.).
The Kelly family invades Shawn's turf on "Bering Sea Gold" (Discovery, 9 p.m.).
On "Bizaardvark" (Disney, 9 p.m.), Frankie's dad tries to get back on the dating scene.
"Josh Gates' Destination Truth" (Travel, 9 p.m.) goes to Russia. "Live PD" (A&E, 9 p.m.) should look into it.
Rod Taylor is the star today on Turner Classic Movies with "36 Hours" (6 a.m.), "The Liquidator" (8 a.m.), "The Glass Bottom Boat" (10 a.m.), "The Time Machine" (noon), "Seven Seas to Calais" (2 p.m.), "Hotel" (3:45 p.m.), "Sunday in New York" (6 p.m.), "The Birds" (8 p.m.), "Dark of the Sun" (10:15 p.m.), "The Man Who Had Power Over Women" (12:15 a.m.), "Young Cassidy" (2 a.m.) and "The Deadly Trackers" (4 a.m.).
Preseason football has Minnesota at Seattle (NFL, 10 p.m.).
Baseball includes Toronto at Cubs (MLB, 2 p.m.) and Yankees at Boston (MLB, 7 p.m.).
In WNBA action, it's Phoenix at Washington (NBA, 7 p.m.) and San Antonio at Seattle (NBA, 10 p.m.).
Soccer includes Bayer Leverkusen at Bayern Munich (Fox Sports 1, 2:30 p.m.) in the German Bundesliga.
Little League World Series has Australia vs. Japan (ESPN, 2 p.m.), Northwest vs. West (ESPN, 4 p.m.), Asia-Pacific vs. Caribbean (ESPN, 6 p.m.) and Southeast vs. Midwest (ESPN, 8 p.m.).
In golf, the U.S. Amateur Championship (Fox Sports 1, 6 p.m.) reach the quarterfinals.
Tennis has quarterfinals in the Western & Southern Open (Tennis, 11 a.m.; ESPN2, 1 and 7 p.m.).
NASCAR has its Food City 300 (NBC Sports, 7:30 p.m.).
And in gymnastics, it's the P&G Championships (NBC Sports, 11 p.m.).
Daytime Talk
Kelly Ripa and Ryan Seacrest: Priyanka Chopra, DJ Khaled, Jeff Garlin. The View: Tom Bergeron, Train, Masaharu Morimoto, Art Smith (rerun). The Talk: Kelly Osbourne Tish and Brandi Cyrus, Lorena Garcia (rerun). Harry Connick: Gloria Estefan Randall Park (rerun). Ellen DeGeneres: Mark Wahlberg, Judd Apatow, Daniel Fernandez (rerun). Wendy Williams: Jussie Smollett, Hilaria Baldwin (rerun). The Real: Kristen Bell, Mel B. (rerun).
Late Talk
Jimmy Kimmel: T.J. Miller, Dana White, Run the Jewels (rerun). Jimmy Fallon: Jon Hamm, Kate Upton, Grant Thompson. Seth Meyers: Billy Eichner, Ashley Graham, All American Rejects, Venzella Joy (rerun). James Corden: Jane Krakowski, Kate Mara, Lily James (rerun). Carson Daly: Ludacris, the Menzingers, Troian Bellisario (rerun).