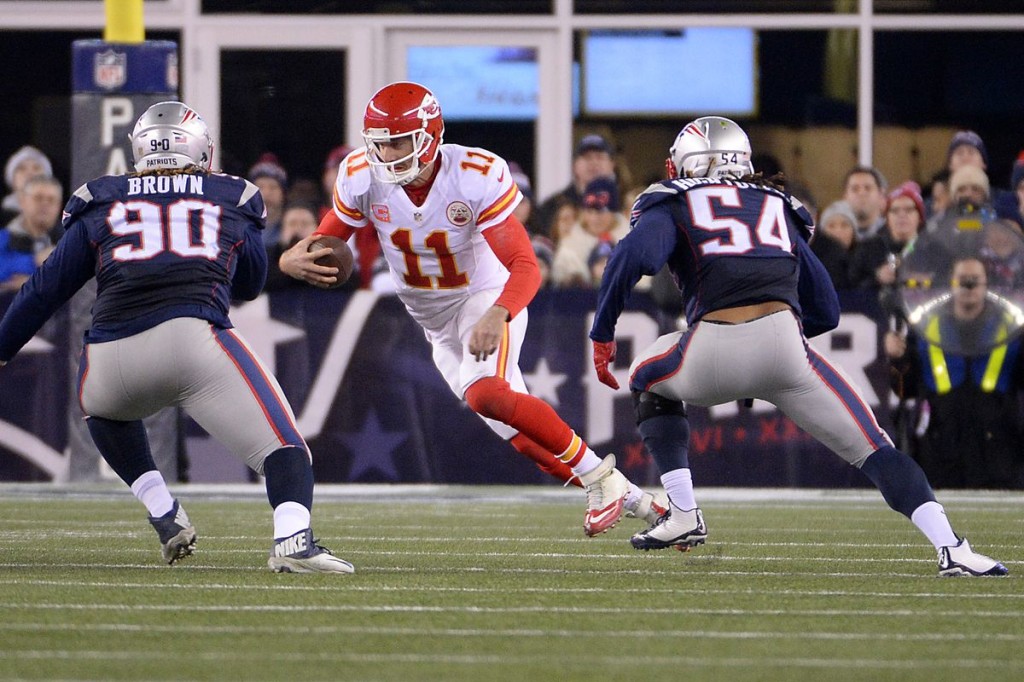 There's no stopping it now: The NFL season starts in earnest with Kansas City at New England (NBC, 8:30 p.m.), preceded by the first "Football Night in America" (NBC, 7:30 p.m.) of the season.
In much lesser sports, there are two episodes of "Battle of the Network Stars" (ABC, 8 and 9 p.m.). The first has actors who played TV doctors (Taye Diggs, Rachelle Lefevre, Deidre Hall and Benjamin Hollingsworth) up against former kids in family shows (Danny Bonaduce, Barry Williams, Beverley Mitchell, Willie Asmes and Charlene Tilton). The second one has lifeguards (David Chokachi, Brande Roderick, Parker Stevenson, Nicole Eggert, Gena Lee Nolin) vs. supposed  "troublemakers" (Vivica A. Fox, Paul Johannson, John Barrowman, Julie Benz and Catherine Bach).
On "The Guest Book" (TBS, 10:30 p.m.), a guy from the trailer park brings his girl to the mountain cabin to get her off meth.
Kevin or Jason is evicted tonight from "Big Brother" (CBS, 9 p.m.) and whoever it is will be mad about it.
Designers make sleepwear on "Project Runway" (Lifetime, 9 p.m.) and Demi Lovato gets to be guest judge. Plus there's a slumber party on the Empire State Building roof.
One problem for new live incarnation of "The Chris Gethard Show" (truTV, 11 p.m.) is they have to use other "stars" of the network such as, tonight, "Impractical Jokers" (truTV, 10:30 p.m., midnight and just about every other time on the network).
Media training is on the agenda on "Dallas Cowboys Cheerleaders: Making the Team" (CMT, 10 p.m.).
Will Arnett returns to judge "The Gong Show" (ABC, 10 p.m.) alongside Courteney Cox and Isla Fisher.
Game shows include "Beat Shazam" (Fox, 8 p.m.) and "Love Connection" (Fox, 9 p.m.).
The team on "Zoo" (CBS, 10 p.m.) are trapped in a plane by toxic spores.
Abby says goodbye to her mother on "Girlfriends' Guide to Divorce" (Bravo, 10 p.m.).
On "Flipping Out" (Bravo, 9 p.m.) he baby comes home and time marches on.
The trial begins on "The Murder of Laci Peterson: A Closer Look" (A&E, 10 p.m.).
It's just melting too much on "Ice Road Truckers" (History, 10 p.m.).
It's Werner Herzog night on Turner Classic Movies with his films "Fitzcarraldo" (8 p.m.), "Stroszek" (10:45 p.m.), "Aguirre, the Wrath of God" (1 a.m.) and "Cobra Verde" (2:45 a.m.) as well as the documentary "Burden of Dreams" (4:45 a.m.), about the director's making of "Fitzcarraldo."
Baseball includes Cubs at Pittsburgh (MLB, 7 p.m.) and Colorado at Dodgers (MLB, 10 p.m.).
College football has Sam Houston State at Prairie View A&M (ESPNU, 7:30 p.m.).
And the U.S. Open (ESPN, 7 p.m.) reaches the women's semifinals.
Daytime Talk
Kelly Ripa and Ryan Seacrest: Seth MacFarlane, Caitriona Balfe, Lindsey Stirling. The View: Elisabeth, Sam Helghan, Caitriona Balfe. The Talk: Alison Brie, Earth Wind & Fire (rerun). Harry Connick: Keith Urban, Gloria Estefan, Lauren Alaina, Ricky Martin (rerun). Steve Harvey: Jay Leno, Jordin Sparks. Ellen DeGeneres: Miley Cyrus, J.J. att, Susan Bro. Wendy Williams: Ricky Martin (rerun). The Real: Iyanla Vanzant, Angela Yee (rerun).
Late Talk
Stephen Colbert: Sen. Bernie Sanders, Caitriona Balfe, the National. Jimmy Kimmel: Christian Slater, Abbi Jacobson, Ilana Glazer, Khalid. Jimmy Fallon: Reese Witherspoon, U2. Seth Meyers: Seth McFarlane, Sheryl Crow. James Corden: Dana Carvey, Lake Bell, All American Rejects. Carson Daly: Seann William Scott, Tobacco, Jon Rudnitsky. Trevor Noah: Zac Posen. Conan O'Brien: Jacob Anderson, Conleth Hill, Liam Cunningham, Isaac Hempstead Wright, Gwendoline Christie, Nathalie Emmanuel, John Bradley, Sophie Turner, Alfie Allen (rerun).