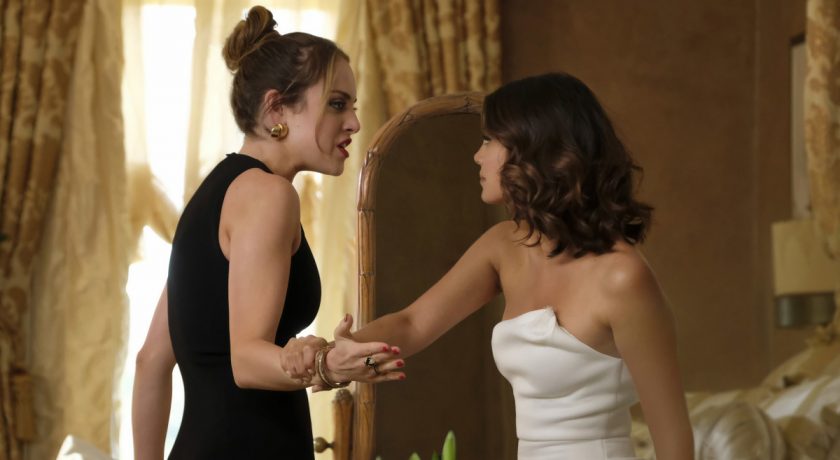 Maybe I spoke too soon on the guilty pleasures of the new "Dynasty" (The CW, 9 p.m.), a revival of the Carringtons TV soap opera, as redone by the people behind "The O.C.," Josh Schwartz and Stephanie Savage. But aside from occasional pop culture snarking, or scenes in which an embittered daughter bites the head off the wedding cake statue of her soon-to-be stepmother, it's rather dreary business involving the kind of family — like the Trumps, Kardashians and Murdochs glimpsed at the start of the episode — that tends to be one of the worst in the world.
Still, it's more true to its roots than the crazed "Riverdale" (The CW, 8 p.m.) which puts the Archie characters through a teen slasher movie prism. The notion to turn the long running comic into crime mystery  — in this case the shooting at Pop's that ended season one —  is only part of what makes it such a drag.
On a headier level, Rami Malek's character forges a new path as the third season starts for "Mr. Robot" (USA, 10 p.m.).
The same week that Scott Pruitt announces "The war on coal is over," "Frontline" (PBS, 10 p.m., check local listings) produces a timely, ultimately depressing report about how he's dismantled the Environmental Protection Agency and the road to that position, entangled with energy companies.
A second season starts online for Hugh Laurie's absorbing "Chance" (Hulu, streaming), about a neuropsychiatrist drawn into crime solving. In the new season, it's a serial killer.
The deep voiced actor thinks big once more in his new series "The Story of Us with Morgan Freeman" (National Geographic, 9 pm.).
"Nova" (PBS, 9 p.m., check local listings) wonders whether we've learned anything more about Stonehenge.
There's a big animated segment on "Broad City" (Comedy Central, 10:30 p.m.) after the two take mushrooms.
How will losing its executive producer change "Full Frontal with Samantha Bee" (TBS, 10:30 p.m.)?
"The Shannara Chronicles" (Spike, 10 p.m.) begins its second season on a new network.
A showmance is a problem on "Survivor" (CBS, 8 p.m.).
Phil attends to his superstition on "Modern Family" (ABC, 9 p.m.).
Cookie looks back at her prison time on "Empire" (Fox, 8 p.m.) when she is denied a line of credit.
Brooke Shields is a guest star on "Law and Order: Special Victims Unit" (NBC, 9 p.m.), on which a man is found castrated.
Red drafts Tom in a plan to re-establish his criminal rep on "Blacklist" (NBC, 8 p.m.).
On "Designated Survivor" (ABC, 10 p.m.), there's a viral pandemic.
Researchers are being held hostage on the South China Sea on "SEAL Team" (CBS, 9 p.m.).
A Detroit businessman is targeted on "Criminal Minds" (CBS, 10 p.m.).
The young women of "Star" (Fox, 9 p.m.) learn what they thought was a co-headlining gig is really one for backup singers.
"Chicago P.D" (NBC, 10 p.m.) are drawn into the world of meat processing.
The kid dyes her hair blonde without permission of the "American Housewife" (ABC, 9:30 p.m.).
Maya gives Jimmy tips on being boss on "Speechles" (ABC, 8:30 p.m.).
There's a fight on "The Goldbergs" (ABC, 8 p.m.).
The people on "Channel Zero: No-End House" (Syfy, 10 p.m.) look for an exit.
Sides are drawn on "The Real Housewives of New Jersey" (Bravo, 9 p.m.).
Josh goes to Easter Island and Zimbabwe on "Expedition Unknown: Hunt for Extraterrestrials" (Travel, 9 p.m.).
Puppetoon creator George Pal is featured tonight on Turner Classic Movies, with the documentary "The Fantasy Film Wolrds of George Pal" (8 p.m.) leading into "The Puppetoon Movie" (10 p.m.) and his work in the films "Destination Moon" (11:30 p.m.), "The Time Machine" (1:15 a.m.), "Atlantis, the Lost Continent" (3:15 a.m.) and "The Power" (5 a.m.).
Earlier, there are a slew of Mickey Rooney movies: "Down the Stretch" (TCM, 8:45 a.m.), "A Family Affair" (TCM, 10 a.m.), "Little Lord Fauntleroy" (TCM, 11:15 a.m.), "Hold That Kiss" (TCM, 1:15 p.m.), "Lord Jeff" (TCM, 2:45 p.m.) and "Men of Boys Town" (TCM, 6 p.m.).
The rained out National League Division Series Game 4 of Washington at Chicago (TBS, 4 p.m.) is played, as is Game 5 of Yankees at Cleveland (Fox Sports 1, 8 p.m.) in the American League Division Series.
Hockey has Pittsburgh at Washington (NBC Sports, 7:30 p.m.).
In college football, it's South Alabama at Troy (ESPN2, 8 p.m.).
Preseason basketball has Boston at Charlotte (ESPN, 7 p.m.) and Houston at Memphis (ESPN, 9:30 p.m.).
Daytime Talk
Kelly Ripa and Ryan Seacrest: Jimmy Fallon, K.J. Apa. The View: Van Jones. The Talk: James Van Der Beek, Deborah Norville, Carrie Ann Inaba. Harry Connick: Craig Robinson, Lisa Lillien. Steve Harvey: Wanda Sykes, Deon Cole. Ellen DeGeneres: Sean "Diddy" Combs, French Montana, Gina Rodriguez. Wendy Williams: John Leguizamo. The Real: Elaine Welteroth, Tina Knowles Lawson.
Late Talk
Stephen Colbert: Andrew Garfield, Tracy Ullman, Wolf Parade. Jimmy Kimmel: Renee Zellweger, Marc Maron, Sir Rosevelt. Jimmy Fallon: Margot Robbie, Stephen Moyer, Rachel Feinstein, Daveed Diggs. Seth Meyers: Taran Killam, Japandroids, Joe Russo. James Corden: Josh Gad, Rachel Bloom, Michelle Dockery, Charlie Puth. Carson Daly: Tyler Posey, Partybaby, Hannah Hart (rerun). Trevor Noah: Robin Thede (rerun). Jordan Klepper: Asha Rangappa (rerun).