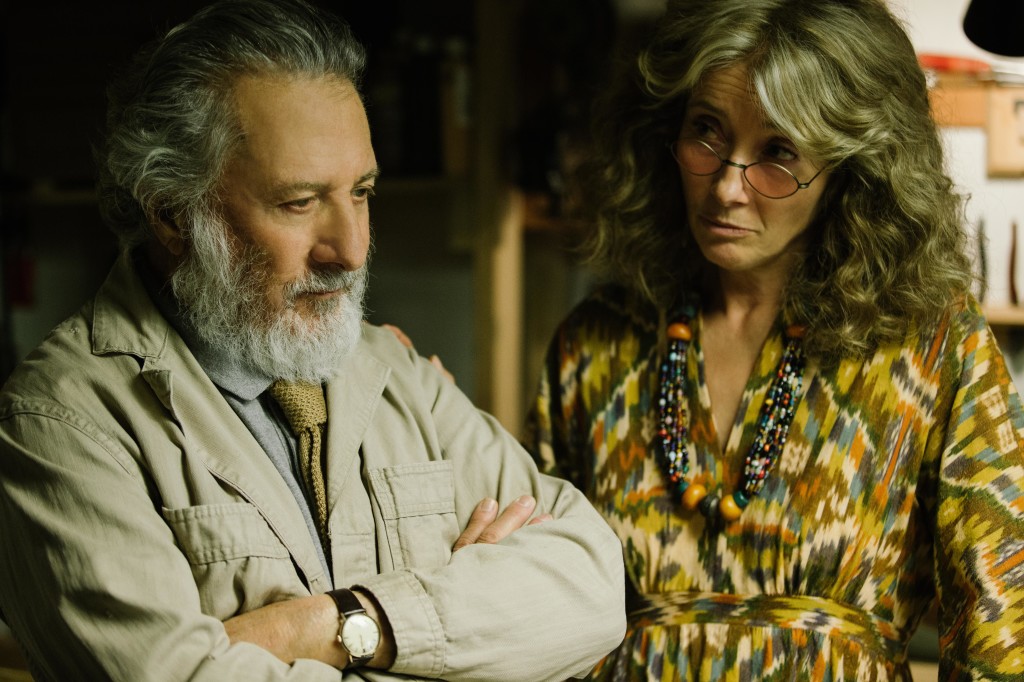 Online entertainment reaches a pinnacle when it presents new movies you'd gladly have gone to the theater to have seen. Tonight's debut is the latest from Noah Baumbach ("The Squid and the Whale," "Frances Ha"). The fractured family yarn "The Meyerowitz Stories (New and Selected)" (Netflix, streaming) stars Dustin Hoffman as a grizzled artist patriarch; Ben Stiller, Adam Sandler and Elizabeth Marvel as his adult children, and Emma Thompson as his latest wife. Terrifically well acted, it's complexly written so that the characters often cross talk as they don't listen to one another as big events occur to their family. And there are a lot of nice surprises in the supporting cast.
David Fincher's latest foray into streaming TV (after "House of Cards") is the new "Mindhunter" (Netflix, streaming), an absorbing new look at crime which pauses to discuss psychology of crime in a society that's breaking down a high minded effort concentrating on two FBI agents and serial killer profilers from 1977, played by Jonathan Gruff and Holt McCallany. It's good.
John Cale will reunite with Maureen Tucker to perform a medley of "I'm Waiting for the Man" and "Sunday Morning" when the Velvet Underground becomes one of seven honorees in the "Grammy Salute to Music Legends 2017" (PBS, 9 p.m.). In a concert taped in July in New York, Charlie Wilson, Valerie Simpson and Vernon Reid will combine to salute Sly Stone; Neal McCoy will salute Charley Pride (who will sing as well); Randy Newman will sing a couple of his great songs to honor record exec Mo Ostin; Stanley Cowell will perform some Ahmad Jamal; Kirk Franklin will honor Shirley Caesar, who will also sing; Dwight Yoakum will sing a three-song medley of Jimmie Rodgers; Andra Day will salute Nina Simone and Dionne Warwick will sing "Then Came You" to honor record producer Thom Bell.
The third season of "Crazy Ex-Girlfriend" (The CW, 8 p.m.) begins with Rebecca planning revenge on Josh after he abandoned her at the altar. Ought to inspire some good songs.
It's accompanied by the fourth season start of "Jane the Virgin" (The CW, 9 p.m.), in which Jane is reunited with her first love, Adam.
For the season finale of the anthology "Room 104" (HBO, 11:30 p.m.), Philip Baker Hall and Ellen Geer rise to the occasion by booking the room as octogenarians reliving their first night together.
It's also the season finale of the weekly "Vice" (HBO, 11 p.m.) but "Real Time with Bill Maher" (HBO, 10 p.m.) is a repeat of last week's episode with Billy Crystal and Russell Brand.
On the new "Lore" (Amazon, streaming), the truth behind the elements of horror legends are explored, based on the Aaron Mahnfke podcast.
One of the lesser 70s TV reboots is that of the 1970s Sid and Marty Krofft series, "Sigmund and the Sea Monsters" (Amazon, streaming). The rubber monsters are back, but Solomon Stewart and Kyle Breitkopf play the kids, David Arquette is Captain Barnabas. And the title song is remade by The Roots.
"Gold Rush" (Discovery, 9 p.m.) begins its eighth season with a $100,000 bet and a live pre-show at 8.
The series on mass shootings "Active Shooter: America Under Fire" (Showtime, 9 p.m.) moves to the 2015 church shooting in Charleston, S.C.
On the made for TV "Babynapped" (Lifetime, 8 p.m.) a baby goes missing after the mother is in a car crash. With Kaitlyn Black, David Gallagher and Vanessa Evian.
Chefs complete a four-tiered shellfish tower on "Hell's Kitchen" (Fox, 8 p.m.).
"MacGyver" (CBS, 8 p.m.) tries to get diamonds in a vault before terrorists can.
The "Friday the 13th" movies are represented on its day with "Jason Goes to Hell: The Final Friday" (AMC, 8 p.m.), "Freddy vs. Jason" (AMC, 10 p.m.) and "Jason X" (AMC, midnight).
Tori Spelling's least favorite reality show appearance comes on "Broke and Famous" (Reelz, 8 p.m.).
A crime boss is murdered on "Hawaii Five-0" (CBS, 9 p.m.).
On "Once Upon a Time" (ABC, 8 p.m.), a search is on for Cinderella.
And Sun Mei and Red disappear on "Z Nation" (Syfy, 9 p.m.).
And they're looking for Black Bolt on "Marvel's Inhumans" (ABC, 9 p.m.).
The situation at the foster home deteriorates on "The Exorcist" (Fox, 9 p.m.).
The death of a judge disturbs a human trafficking case on "Blue Bloods" (CBS, 10 p.m.).
Raven revives her performing life on "Raven's Home" (Disney, 8 p.m.).
A spirit targets a family with three children on "Kindred Spirits" (TLC, 9 p.m.).
Some of those stopped by cops on "Live PD" (A&E, 9 p.m.) are now asking if they're on the show.
"Diners, Drive-Ins and Dives" (Food, 9 p.m.) goes to St. Petersburg and Lansing.
"Josh Gates' Destination Truth" (Travel, 9 p.m.) goes to Sweden and Transylvania.
Creepy dolls take over "Evil Things" (TLC, 10 p.m.).
A palatial pool on the Gulf of Mexico is constructed on "Insane Pools: Second Splash" (Animal Planet, 10 p.m.), which of course has nothing to do with animals.
The Friday Night salute to Anthony Perkins on Turner Classic Movies continues with "Five Miles to Midnight" (8 p.m.), "Phaedra" (10:15 p.m.), "Green Mansions" (12:30 a.m.), "King Solomon's Mines" (2:30 a.m.) and "The Arrangement" (4:15 a.m.). Earlier in the day, it's horror. What the heck, it's Friday the 13th. So: "Kiss of the Tarantula" (6:30 a.m.), "Snake Woman" (8 a.m.), "Village of the Damned" (9:30 a.m.), "The Nanny" (11 a.m.), "The Innocents" (1 p.m.), "A Place of One's Own" (2:45 p.m.), "The Bad Seed" (4:30 p.m.) and "The Curse of the Cat People" (6:45 p.m.).
The American League Championship Series begins with Yankees at Houston (Fox Sports 1, 8 p.m.).
Hockey includes Rangers at Columbus (NHL, 7 p.m.).
College Football has Clemson at Syracuse (ESPN, 7 p.m.) and Washington State at California (ESPN, 10:30 p.m.).
Basketball preseason has San Antonio at Houston (TNT, 8 p.m.) and Lakers at Clippers (TNT, 10:30 p.m.).
In soccer, it's Guinea vs. Germany (Fox Sports 2,  7:30 a.m.) and Niger vs. Brazil (Fox Sports 2, 10:30 a.m.) in the FIFA U-17 World Cup.
Men's college hockey has Denver at Notre Dame (NBC Sports, 7 p.m.).
And in Canadian football, it's Calgary at Hamilton (ESPN2, 7 p.m.).
Daytime Talk
Kelly Ripa and Ryan Seacrest: Miles Teller, Michelle Dockery. The View: Wendy Williams, Susie Essman. The Talk: Rebecca Hall, Charlie Puth, Carrie Ann Inaba. Harry Connick: Molly Sims, Wayne Hoffman. Steve Harvey: Jackie Chan, Cheryl Hines. Ellen DeGeneres: Mindy Kaling, Anderson East. Wendy Williams: Ivana Trump. The Real: Common, Andra Day, Ayesha Curry.
Late Talk
Stephen Colbert: Conan O'Brien, Tig Notaro. Jimmy Kimmel: Kaley Cuoco, David Muir, The XX (rerun). Jimmy Fallon: Blake Lively, Gabrielle Union, Wu-Tang Clan. Seth Meyers: Tina Fey, Kevin Millar & Sean Casey, Matt Goldich, Gene Hogan (rerun). James Corden: Lin-Manuel Miranda, Nikolaj Coster-Waldau (rerun). Carson Daly: Giancarlo Esposito, Dressy Bessy, Mike White (rerun).