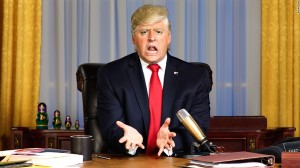 On the special "Late Night in the Age of Trump" (CNN, 9 p.m.) Brian Stelter and Bill Carter takes a look at how comics take on the White Hours, particularly Tony Atamanuik of "The President Show."
The two night finale of "Dancing with the Stars" (ABC, 8 p.m.) begins. Just four contestants are left: Jordan Fisher, Frankie Muniz, Drew Scott and Lindsey Stirling. Julianne Hough is guest judge and Pitbull and Fifth Harmony perform.
The Top 12 perform live on "The Voice" (NBC, 8 p.m.).
The latest Disney movie to be turned into a series is "Big Hero 6," the 2014 computer animated one featuring Marvel characters. The series comes in January, but for now there's an hour long movie to set it up, "Baymax Returns" (Disney, Disney XD, 8 p.m.). It's from the makers of the old "Kim Possible" and picks up where the film left off with a 14-year old Hiro and his robot Baymax. A number of the voice talent from the film takes part, including Maya Rudolph, Scott Adsit and Ryan Potter — but not Damon Wayans Jr. and T.J. Miller.
"The Good Doctor" (ABC, 10 p.m.) gets caught in a grocery store robbery.
"Robert Kirkman's Secret History of Comics" (AMC, 10 p.m.) celebrates Superman.
A turkey is cooked on "Kevin Can Wait" (CBS, 8 p.m.). It's also Thanksgiving on "Superior Donuts" (CBS, 9 p.m.), "9JKL" (CBS, 9:30 p.m.) and "Scorpion" (CBS, 10 p.m.).
On "Lucifer" (Fox, 8 p.m.), a murder is connected to a celebrity dating app.
An alien ship crashes deep underwater on "Supergirl" (The CW, 8 p.m.).
Refugees pour into the Mutant Underground on "The Gifted" (Fox, 9 p.m.).
A mission hits close to home on "The Brave" (NBC, 10 p.m.).
The Shadow Raiders get a lead on "Valor" (The CW, 9 p.m.).
A fake officiant throws Andi's wedding into question on "Man with a Plan" (CBS, 8:30 p.m.).
Barbara Corcoran of "Shark Tank" may not be as smart as you think: She agrees to sit with the "Long Island Medium" (TLC, 9 p.m.).
"Teen Mom 2" (MTV, 10 p.m.) is showing unseen clips from the season. To me, they were all unseen.
THey're making Thanksgiving desserts on the "Holiday Baking Championship" (Food, 9 p.m.).
"Ride with Norman Reedus" (AMC, 9 p.m.) travels from Albuquerque to White Sands, N.M.
A grown man looks for his sister on "Long Lost Family" (TLC, 8 p.m.).
"The Real Housewives of Orange County" (Bravo, 9 p.m.) begin their reunion episodes.
Tonight's batch of films spotlighting the Hollywood Blacklist on Turner Classic Movies concentrate on those who were forced to work without credits, work using false names or relocate to Europe to continue to work. They include director Herbert J. Biberman and three others involved in "Salt of the Earth" (8 p.m.), Dalton Trumbo, who gave up his credit for "The Brave One" (10 p.m.), writer John Howard Lawson's "Cry the Beloved Country" (midnight), director Jules Dassin's "Rififi" (2 a.m.) and Joseph Losey's "The Big Night" (4:15 a.m.).
Monday Night Football has Atlanta at Seattle (ESPN, 8:30 p.m.).
Basketball has Indiana at Orlando (NBA, 7 p.m.).
Men's college basketball includes the Maui Invitational with Marquette vs. VCU (ESPN2, 2:30 p.m.), Wichita State vs. California (ESPN2, 4:30 p.m.), Notre Dame at Chaminade (ESPNU, 9 p.m.) and Michigan vs. LSU (ESPNU, 11 p.m.).
The Hall of Fame Classic has UCLA vs. Creighton (ESPNU, 7 p.m.) and Baylor vs. Wisconsin (ESPN2, 9:30 p.m.).
Other games include Malloy at St. John's (Fox Sports 1, 6:30 p.m.), Texas A&M vs. Oklahoma State (ESPN2, 7 p.m.), Hampton at Xavier (Fox Sports 1, 8:30 p.m.) and North Carolina at Stanford (ESPN2, 11:30 p.m.).
Daytime Talk
Kelly Ripa and Ryan Seacrest: Denzel Washington. The View: Kiefer Sutherland, Lori Greiner. The Talk: Katey Sagal, Carey Pena, Stuart O'Keefe, Scott Wolf. Harry Connick: Gene Simmons, Camren Bicondova, Jill Connick. Steve Harvey: Diarra Kilpatrick. Ellen DeGeneres: Garth Brooks. Wendy Williams: Ashlee Glazer, Bevy Smith, Lloyd Boston, Robert Verdi. The Real: Barbara Corcoran, Tiffany Aliche, George Wallace.
Late Talk
Stephen Colbert: Sen. Elizabeth Warren, Desus & Mero, Vic Mensa. Jimmy Kimmel: Amy Schumer, DJ Khaled, LCD Soundsystem, Paul Shaffer (rerun). Jimmy Fallon: Bryan Cranston, Stephen Curry, Goldlink with Brent Faiyaz and Shy Glizzy. Seth Meyers: Amy Sedaris, Greta Gerwig, Jessie Reyez. James Corden: Kate Bosworth, Shemar Moore, Portugal The Man. Carson Daly: Ron Perlman, Now Now, Drew Frees (rerun). Trevor Noah:  Hillary Clinton (rerun). Jordan Klepper: Jose Calderon (rerun). Conan O'Brien: Jackie Chan, Tig Notaro, Gov't Mule (rerun).