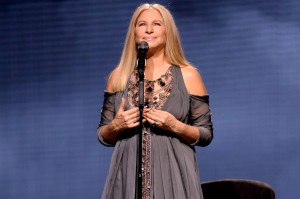 Barbra Streisand pages through her past, singing songs from her No. 1 albums and telling a lot of stories from her most recent tour in "Barbra: The Music …The Memories…The Magic" (Netflix,streaming). She invests in her songs, and the adoring audience is behind her every step of the way. Jamie Foxx stops by and because the concert was filmed in Miami last December, there's a Christmas song too. We hear her order out for food during intermission and the whole thing gets a little indulgent when it ends with a teary salute to her dog.
In more music, the "iHeartRadio Music Festival" (The CW, 8 p.m.) features a roster of stars that includes the Weeknd, Chris Stapleton, Coldplay, Pink and Harry Styles,shot in Las Vegas earlier this fall, hosted by Ryan Seacrest.
Michelle Dockery may at first seem out of place in a Western set in a Mexican town. She's a star in the eight-episode "Godless" (Netflix, streaming) the pits Jeff Daniels against Jack O'Connell.
Yes, "The Wall" (NBC, 8 p.m.) was finally built, but as a prime time game show produced by LeBron James that looks an awful lot like Plinko. Chris Hardwick hosts.
Here's Peanuts for your stuffing: "A Charlie Brown Thanksgiving" (ABC, 8 p.m.). And more than a few familiar sketches in the "Saturday Night Live Thanksgiving" (NBC, 9 p.m.).
The next holiday advances in full speed with another original romance, "With Love, Christmas" (Hallmark, 8 p.m.) involving a pair of ad executives who get involved through Secret Santa. Emilie Ullerup, Melanie Welch and Aaron O'Connell star.
And there's a network special, "Lights, Camera, Christmas! Inside Holiday Movie Classics" (ABC, 10 p.m.).
Loyalties are questioned once more on "Survivor" (CBS, 8 p.m.).
The RV breaks down and Ozzy sits in with a Black Sabbath cover band in Texas on "Ozzy and Jack's World Detour" (A&E, 10 p.m.).
The "SEAL Team" (CBS, 9 p.m.) grumbles about bringing home an American soldier they think was a deserter.
Brandon's wish is granted with a catch on "The Shannara Chronicles" (Spike, 9 p.m.) before a final showdown at 10.
The FBI is closing in on "Mr. Robot" (USA, 10 p.m.).
Wilmer Valderrama and Tamar Braxton join "Martha & Snoop's Potluck Dinner Party" (VH1, 10 p.m.).
They're celebrating Mardi Gras on "Are You the One?" (MTV, 10 p.m.).
"Little Women: Atlanta" (Lifetime, 10 p.m.) have a little turkey.
The five-episode "Property Brothers at Home: Drew's Honeymoon House" (HGTV, 9 p.m.) follows the renovation of a Los Angeles home where Drew will live with his fiancée.
The month-long Wednesday night salute to James Stewart continues on Turner Classic Movies with "The Glenn Miller Story" (8 p.m.), "Harvey" (10:15 p.m.), "Bell Book and Candle" (12:15 a.m.), "Rear Window" (2:15 a.m.) and "The Man Who Knew Too Much" (4:15 a.m.).
NBA action includes Golden State at Oklahoma City (ESPN, 8 p.m.) and Lakers at Sacramento (ESPN, 10:30 p.m.).
Hockey has Chicago at Tampa Bay (NBC Sports, 7:30 p.m.).
Among the men's college basketball holiday tournaments, it's Tennessee vs. Purdue (ESPN2, noon) and Villanova vs. Western Kentucky (ESPN2, 2 p.m.). In the Maui Invitational, it's California vs. Chaminade (ESPNU, 2:30 p.m.) in the seventh place game, VCU vs. Michigan (ESPN2, 5 p.m.) in the fifth place game, Marquette vs. LSU (ESPN2, 8 p.m.) and Wichita State vs. Notre Dame (ESPN2, 10 p.m.) in the championship game.
In the Cancun Challenge, it's George Mason vs. Fresno State (CBS Sports, 6 p.m.) in the third-place game and Louisiana Tech vs. Evansville (CBS Sports, 8:30 p.m.) in the championship game. In the MGM Grand Main event, it's Rice vs. Mississippi (ESPNU, 10 p.m.) in the third place game and UNLV vs. Utah (ESPN2, 12:30 a.m.) in the championship game.
Other games include Belmont at Providence (Fox Sports 1, 7 p.m.).
In women's college volleyball, it's Auburn at Florida (ESPNU, 7 p.m.).
Daytime Talk
Kelly Ripa and Ryan Seacrest: Kelly Clarkson, Gaten Matarazzo. The View: Rocco DiSpirito, Garth Brooks. The Talk: Shirley MacLaine, Rabbi Steve Leder, Susan Weniger. Harry Connick: Sarah Michelle Gellar, Marsai Martin. Steve Harvey: Jenny McCarthy, Donnie Wahlberg, Debbie Allen. Ellen DeGeneres: Kevin Hart. Wendy Williams: Felix Semper. The Real: Erykah Badu, Kyle Anfernee.
Late Talk
Stephen Colbert: John Leguizamo, Elton John. Jimmy Kimmel: Howard Stern, Cardi B, Paul Shaker (rerun). Jimmy Fallon: Denzel Washington, Allison Williams, Talib Kweli with Rick Ross and Yummy Bingham. Seth Meyers: Chris Cuomo, Tim Meadows, Kenny DeForest. James Corden: Krysten Ritter, Josh Hutcherson. Carson Daly: Laird Hamilton, Cigarettes After Sex, Jesica Rothe (rerun). Trevor Noah: Jordan Peele (rerun). Jordan Klepper: Nikole Hannah-Jones (rerun). Conan O'Brien: Jake Gyllenhaal, Max Brooks, Rostam (rerun).