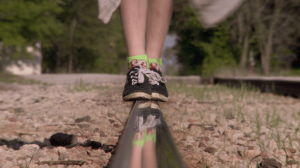 Before we sit down to overfilled holiday tables and gorge, it's time to remember the poor.
And it was hard to forget the children caught in poverty's bleak trap portrayed in "Poor Kids," the 2012 report on "Frontline" (PBS, 10 p.m., check local listings).
In it, we heard what being poor meant to kids, how it felt to be hungry most of the day, how embarrassed they felt alongside other kids in school, how awful it was to give up a pet because there wasn't enough money to feed it.
They lived amid the high producing corn fields of Iowa, and yet there was little food on the table, little or no prospects for their parents in getting jobs. And yet there was a necessary optimism in their point of view.
In a just as heartbreaking update to the film produced by Jezza Neumann and Lauren Mucciolo, we learn things have not changed much.
Time has marched on. What were once kids are now teens. But even those who are college age (but certainly not in college) tend to still live with their parents in their small homes — it's too expensive to move out.
Young Kaylie, last seen balancing on the railroad tracks at 10, is put back on them at 15, and things seem to have gotten worse for her family. Her single mom has cancer. One can just imagine the tattered health safety net.
College seems a fantasy. But she says, philosophically, maybe it will all work out and she'll push through.
The most hopeful prospect for college last time seemed Johnny, who didn't tell his classmates he was in a homeless shelter and kept his mind on football. He's thinly one who has moved far, in his case to Chicago, where his focus on success was sidetracked by drugs and jail. But at 19, he still has a resolve to make it right, because there's no other option.
Meanwhile, his little sister, Jasmine, is a little mad her brother moved out since he was one of the few people she could talk to.
There's a bit of the same spark Brittany had when she was 9, but at 15 she's got her hair dyed goth-black. The baby her mom was going to have last time out is now 5 and on the autism scale. The parents still struggle. And her big brother is following dad's shoes, trying to get shifts at Lowe's.
What was sad and shocking about families in one of the richest countries five years ago is even more sad now. Economic recovery never reached the Quad Cities, it seems. And a change in administration didn't help, despite any lip service to the forgotten man.
What hasn't changed are the bleak statistics, with one in six of the nation's children still living below the poverty line. "Poor Kids," with the update, is a little like an all-dead end American version of the "Seven Up" series of British documentaries taken up by Michael Apted, in which he checks in every seven years on a group of people first profiled as children for a BBC documentary.
Unless we check back and these kids are graduating college without too much crippling debt, I'm not sure I could bear to see them still in poverty.
At some point, Kylie will become discouraged and won't want to walk on those empty tracks for a future segment.
For now it makes for a fascinating, if quite grim reporting. It may motivate you to work a soup kitchen rather than sit before a football game Thanksgiving Day — or at least think twice about policies that would exacerbate their woe.