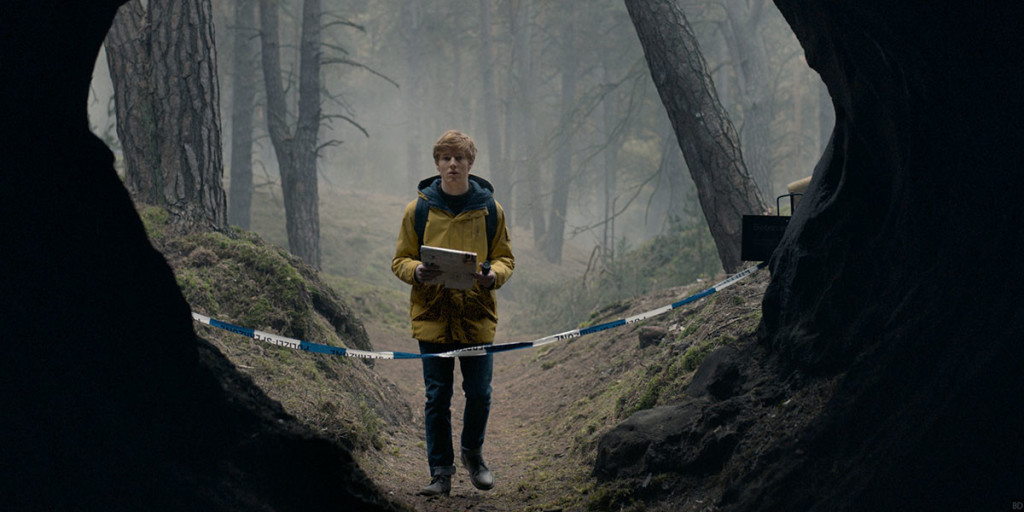 From Germany and dubbed comes the series "Dark" (Netflix, streaming), a supernatural thriller about a death of a boy near the caves not far from a nuclear power plant that is meant to live up to its title. It's fun to find a series so full of new faces populating the four families at play. You may also be reminded of  "Stranger Things" due to its group of kids in the woods with flashlights.
After four years at "East Los High" (Hulu, streaming) it's time to wrap things up with a one hour finale of the series, set several months later season four ended.
Gay Talese's reporting on a Colorado motel owner who spied on his guests, which resulted in the book "The Voyeur's Motel," is reexamined in the documentary "Voyeur" (Netflix, streaming)
Also streaming is a Christmas special, "DreamWorks' Home for the Holidays" (Netflix, streaming, a spin-off of the 2015 movie and its Netflix series.
And a second season starts for "Easy" (Netflix, streaming), the series about various relationships in the Chicago area – a nice little anthology with a lot of familiar faces. But the quick refresh on season one reminded me that I had not only seen the whole thing so far, but largely purged it from my memory as well.
"Marvel's Agents of S.H.I.E.L.D." (ABC, 8 p.m.) returns for its fifth season with a two hour episode. By now, it one of a full dozen titles from Marvel, airing on network TV or streaming. In the premiere, Coulson and the team are stranded on a mysterious ship in outer space.
No jokes about Russell Simmons are expected in the revival of the "All Def Comedy" (HBO, 10 p.m.) stand up series.
The stars of the network, including Dove Cameron, Sofia Carson, Asher Angel and Meg Donnelly, take part in their own "Disney Parks Presents: A Disney Channel Holiday Celebration" (Disney, 8:30 p.m.). hosted by Raven-Symoné and Issac Ryan Brown.
The team on "Blindspot" (NBC, 8 p.m.) tries to avert an international crisis.
Exotic meats are on the menu at "Hell's Kitchen" (Fox, 8 p.m.).
Baez accidentally O.D.s on "Blue Bloods" (CBS, 10 p.m.).
"Hawaii Five-0" (CBS, 9 p.m.) looks into an air race plane crash.
Father Bennett and Mouse head west on "The Exorcist" (Fox, 9 p.m.).
"MacGyver" (CBS, 8 p.m.) goes after stolen nerve gas.
There's a weird barbershop on "Z Nation" (Syfy, 9 p.m.).
Dredge returns on "Superstition" (Syfy, 10 p.m.).
On "Andi Mack" (Disney, 8 p.m.), the school is split.
Jermaine Dupri gets the kids on "The Rap Game" (Lifetime, 10 p..m.) to rap with Doug E. Fresh.
There's an injury on "Bring It!" (Lifetime, 9 p.m.).
The search continues on "Finding Escobar's Millions" (Discovery, 10 p.m.).
"Josh Gates' Destination Truth" (Travel, 9 p.m.) toes to Central America and Fiji.
There are holiday episodes of "Ridiculousness" (MTV, 10 p.m.) and "Masters of Illusion" (The CW, 9 p.m.).
Turner Classic Movies begins a month of Friday night holiday classics, and this year they're pairing them by theme, such as families at Christmas: "Period of Adjustment" (8 p.m.) and "All Mine to Give" (10 p.m.) and kids at Christmas, with "Bush Christmas" (midnight) and "Tenth Avenue Angel" (1:30 a.m.). Then comes the 2011 overview of Christmas movies, "Night at the Movies: A Merry Christmas!" (3 a.m.).
College football has Southern California vs. Stanford (ESPN, 8 p.m.) in the Pacific 12 championship.
Men's college basketball includes Holy Cross vs. Manhattan (CBS Sports, 11:30 a.m.), Lasalle vs. Towson (CBS Sports, 2 p.m.), North Carolina vs. Davidson (ESPN2, 8 p.m.) and Creighton at Gonzaga (ESPN2, 10 p.m.).
Pro basketball has Minnesota at Oklahoma City (NBA, 8 p.m.).
And it's December, so there's skiing with the FIS World Cup (NBC Sports, 12:30 and 2:30 p.m.).
Daytime Talk
Kelly Ripa and Ryan Seacrest: Terrence Howard, Kumail Nanjiani. The View: Sen. Charles Schumer. The Talk: Taye Diggs. Harry Connick: Seth MacFarlane, Kate Somerville (rerun). Steve Harvey: LL Cool J, Jeremy Sisto (rerun). Ellen DeGeneres: Octavia Spencer, Dave Franco, Ed Sheeran. Wendy Williams: Rosanna Scotto, Lori Stokes, Sukanya Krishna, Jennifer Jahmers, Kahlana Barfield. The Real: Melissa Rivers.
Late Talk
Stephen Colbert: Carol Burnett, Lewis Black. Jimmy Kimmel: Mark Hamill, Andy Serkis, John Boyega, Oscar Isaac, Laura Dern, Adam Driver, Daisy Ridley, Gwen Christie, Kelly Marie Tran, Dobhnall Gleeson, Rian Johnson. Jimmy Fallon: Queen Latifah, Freddie Highmore, Sam Smith. Seth Meyers: Amy Sedaris, Greta Gerwig, Jessie Reyez (rerun).  James Corden: Kristen Bell, Dianna Agron, Gary Clark jr. (rerun). Carson Daly: Ron Livingston, Royal Blood, Elizabeth Gilles (rerun).