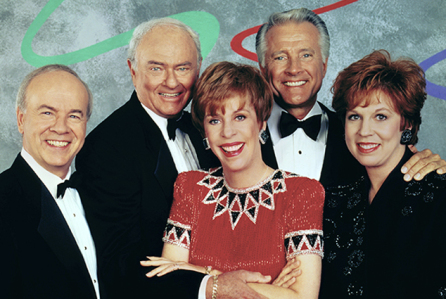 It could have been the high water mark for TV comedy variety shows when "The Carol Burnett Show" began its run half a century ago this fall. Some of the surviving cast members including Vicki Lawrence, Lyle Waggoner and Burnett join Kristin Chenoweth, Stephen Colbert, Bill Hades, Bernadette Peters, Martin Short and Jim Carrey for "The Carol Burnett 50th Anniversary Special" (CBS, 8 p.m.), a two-hour event. Here's an interview I did with Burnett last year for The Washington Post.
Rob Zombie volunteers to narrate the two part documentary "Charles Manson: The Final Words" (Reelz, 9 p.m.) involving one of his last interviews before his death in November.
"Curb Your Enthusiasm" (HBO, 10 p.m.) ends its hit and miss ninth season with further work on the ill-chosen musical "Fatwa!" that has involved Lin-Manuel Miranda.
The show "Forged in Fire" (History, 7 p.m.) inspired some dude in Albany to cause a fire this week that destroyed three residential buildings and damage 28 others, displacing as many as 28 people. So don't try this at home.
The Artemis family reaches Jamaica on "Outlander" (Starz, 8 p.m.).
Fiona tries to raise the neighborhood profile on "Shameless" (Showtime, 9 p.m.).
Nene's party ends on "The Real Housewives of Atlanta" (Bravo, 8 p.m.).
On "The Simpsons" (Fox, 8 p.m.) Lisa starts on her college application to Harvard.
Todd asks Tandy for parenting advice on "The Last Man on Earth" (Fox, 9:30 p.m.).
Javier takes a gruesome job on "Good Behavior" (TNT, 10 p.m.).
On "SMILF" (Showtime, 10 p.m.), Bridge considers forgiving Rafi.
Jewel returns to the homestead on "Alaska: The Last Frontier" (Discovery, 9 p.m.).
The gang gets the key to the city of Chappaqua for finding Chantel on "Search Party" (TBS, 10 p.m.).
Autumn and Sasha try to hash out their problems on "WAGS LA" (E!, 10 p.m.).
On "Ghosted" (Fox, 8:30 p.m.), Max and Leroy try to determine whether a girl actually went missing at a haunted hayride.
Rick continues to enact the plan on "The Walking Dead" (AMC, 9 p.m.). And then it's discussed on "Talking Dead" (AMC, 9 p.m.).
McKayla visits her newborn sister on "Unexpected" (TLC, 10 p.m.).
A video of Floyd goes viral on "White Famous" (Showtime, 10:30 p.m.).
Turner Classic Movies offers a couple of variations of the famous character in the Bizet opera Carmen, "The Loves of Carmen" (8 p.m.) and "Carmen Jones" (10 p.m.). Then comes the silent "Feu Mathias Pascal" (midnight) followed by Fellini's "Amarcord" (3 a.m.).
Sunday Night Football has Philadelphia at Seattle (NBC, 8:30 p.m.). Earlier games include Detroit at Baltimore (Fox, 1 p.m.), New England at Buffalo (CBS, 1 p.m.) and Carolina at New Orleans (Fox, 4:25 p.m.).
Men's college basketball includes Tulane at North Carolina (ESPN2, 2 p.m.), UCF at Alabama (ESPNU, 2 p.m.), Seton Hall at Louisville (ESPN2, 4 p.m.), Nebraska at Michigan State (Fox Sports 1, 4:30 p.m.), Tennessee at Georgia Tech (ESPNU, 6 p.m.) and Coppin State vs. Georgetown (Fox Sports 1, 6:30 p.m.).
Women's games include Stanford at Baylor (Fox Sports 1, 2 p.m.), Notre Dame ad Connecticut (ESPN, 4 p.m.) and West Virginia at Texas A&M (ESPNU, 8 p.m.).
Pro basketball has San Antonio at Oklahoma City (NBA, 7 p.m.) and Houston at Lakers (NBA, 9:30 p.m.).
Hockey includes Los Angeles at Chicago (NHL, 7 p.m.).
in golf, final rounds are played in the Hero World Challenge (Golf, 11 a.m.; NBC, 1 p.m.).
Sunday Talk
ABC: Rep. Adam Schiff, Sen. Mitch McConnell, former attorney general Michael Mukasey. CBS: Sens. McConnell, Lindsey Graham and Angus King, White House budget director Mick Mulvaney. NBC: Sens. Susan Collins and Dianne Feinstein, Corey Lewandowski and David Bossie. CNN: Sens. Mark Warner and Tim Scott. Fox News: White House national security adviser H.R. McMaster, Sen. John Barrasso.