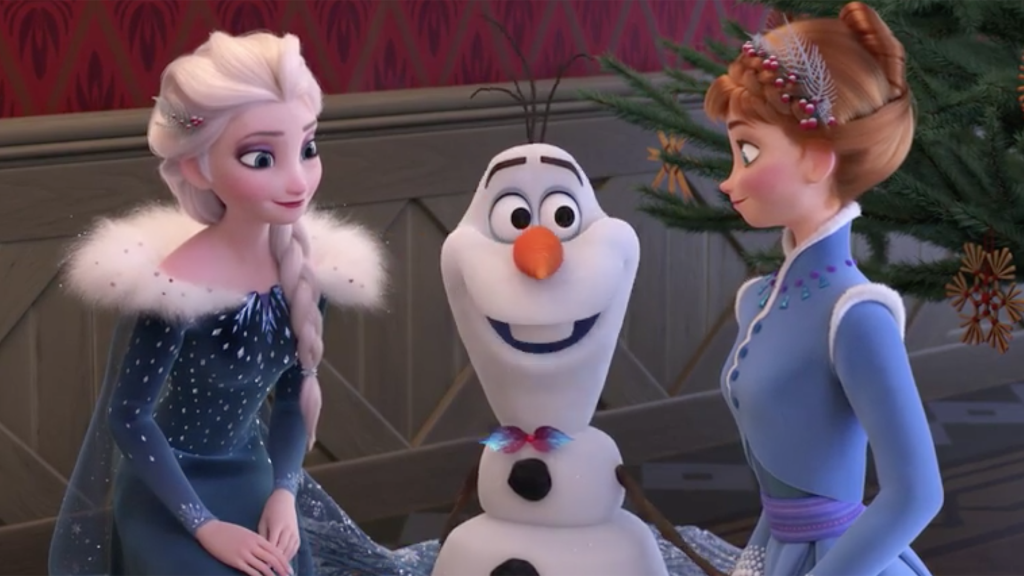 When it appeared last month as the overly long short before the Disney hit "Coco," it garnered some of the worst "Frozen" backlash. So here it is as it may have intended to be, another animated holiday TV special. "Olaf's Frozen Adventure" (ABC, 9 p.m.) features the voices of the original hit. No, "Coco" doesn't follow it. Instead it's the 2009 "Disney Prep & Landing" (ABC, 8:30 p.m.), about a couple of elves.
There's a whole lot of holiday music specials tonight. The "iHeartRadio Jingle Ball 2017" (The CW, 8 p.m.) had the first performance by Taylor Swift in eight month, with a guest spot by Ed Sheehan. Also: the Chainsmokers, Fifth Harmony, Liam Pyane, Camila Cabello and Niall Horan.
Fifth Harmony also appears on "Showtime at the Apollo: Christmas" (Fox, 8 p.m.) with Boyz II Men, Snoop Dogg and DMX. Steve Harvey hosts.
On "Taraji's White Hot Holidays" (Fox, 9 p.m.), the "Empire" star hosts Chaka Khan, Ciara, Taye Diggs, Faith Evans, Fergie, Jussie Smollett, Leslie Odom Jr., Salt-N-Pepa and the Ying Yang Twins.
Thursday Night Football has Denver at Indianapolis (NBC, 8:20 p.m.).
"The Great Holiday Baking Show" (ABC, 9 p.m.) concentrates on desserts and cookies.
Seems like soldiers deserve better than the "WWE Tribute to the Troops: From San Diego" (USA, 8 p.m.).
Hondo's childhood friend is in prison on "S.W.A.T." (CBS, 10 p.m.).
"Top Chef" (Bravo, 10 p.m.) has a Mise En Place relay.
On "The Big Bang Theory" (CBS, 8 p.m.), Sheldon and Wolowitz plan birthday celebrations for Amy and Halley. Then "Young Sheldon" (CBS, 8:30 p.m.) sees a space shuttle launch.
An organization tries to find a cure for vampirism on "Van Helsing" (Syfy, 9 p.m.).
Erik Menendez recalls his mother's decline on "The Menendez Murders: Erik Tells All" (A&E, 10 p.m.).
On "Mom" (CBS, 9 p.m.), Marjorie's husband has a stroke.
The latest housing series is about shipping containers: "Containables" (DIY, 10 p.m.).
On "Life in Pieces" (CBS, 9:30 p.m.) Jen is mistaken for a grandmother.
Audio tapes may hold clues on "A Mystery Down in Georgia" (Investigation Discovery, 10 p.m.).
On "Damnation" (USA, 10 p.m.), a traveling carnival comes to Holden.
Holiday movies today include "Four Christmases" (Freeform, 6:45 p.m.), "The Christmas Cottage" (Hallmark, 8 p.m.), "Christmas with the Kranks" (Lifetime, 8 p.m.), "I'll Be Home for Christmas" (CMT, 8 and 10 p.m.), "National Lampoon's Christmas Vacation" (Freeform, 8:50 p.m.), "Ernest Saves Christmas" (AMC, 10 p.m.), "Sharing Christmas" (Hallmark, 10 p.m.) and "A Gift Wrapped Christmas" (Lifetime, 10 p.m.).
Turner Classic Movies' Thursday night salute to the Great American Songbook continues with the musicals "Girl Crazy" (8 p.m.), "Alexander's Ragtime Band" (10 p.m.), "High Society" (midnight), "Three Little Words" (2 a.m.) and "Second Chorus" (4:15 a.m.).
NBA action includes Lakers at Cleveland (TNT, 8 p.m.) and Dallas at Golden State (TNT, 10:30 p.m.).
Men's college basketball includes Texas Southern at Baylor (ESPN2, 8:30 p.m.).
And in the U.S. Olympic trials in curling (NBC Sports, 7 p.m.), there are mixed doubles .
Daytime Talk
Kelly Ripa and Ryan Seacrest: Laura Dern, Diane Kruger, Chris Byrne. The View: Gwendoline Christie, Christian Soriano. The Talk: Ed Helms, Brooke Shields. Harry Connick: Martha Stewart, Nonna Maria. Steve Harvey: John Cena, Niecy Nash. Ellen DeGeneres: Will Smith. Wendy Williams: Action Bronson. The Real: K. Michelle.
Late Talk
Stephen Colbert: Adam Driver, John Early. Jimmy Kimmel: Will Smith, Pharrell Williams, N.E.R.D. Jimmy Fallon: Kevin Hart, Hailee Steinfeld. Seth Meyers: Laura Dern, Fergie, Mark Guiliana. James Corden: Hugh Jackman, John Cena. Carson Daly: George Foreman, Against Me!, Mike Feeney. Trevor Noah: Niecy Nash. Jordan Klepper: Laura Duca. Conan O'Brien: Jack Black, Kate Hudson.