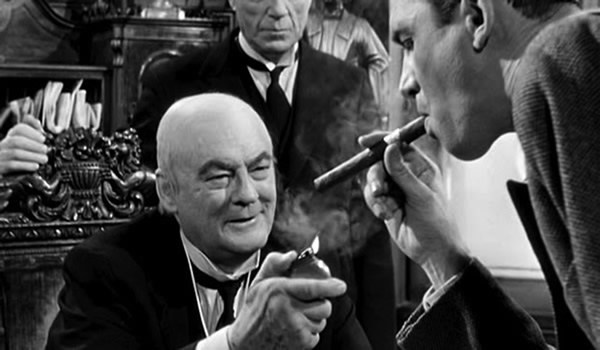 One thing about Frank Capra's perennial "It's a Wonderful Life" (NBC, 8 p.m.) is that they don't overdo it with seasonal replay. Its one showcase is tonight and the 1946 classic is still relevant enough to have been quoted during the recent debate about the tax bill, whose adherents were compared to Mr. Potter, of whom it is said in the film by George Bailey, "You sit around here and you spin your little webs and you think the whole world revolves around you and your money. Well, it doesn't."
There is a case to be made that "The Christmas Story" (TBS, TNT, 8 p.m.) is withheld until Christmas Eve as well (except for the live musical version last week). On the other hand, once it's on, they do famously play it 12 times in a row over the next 24 hours.
On the new "The Toys That Made Us" (Netflix, streaming), classics from Christmases past — from Barbie to G.I. Joe to Legos, are given their individual histories.
The second half of the "Last Tango in Halifax Holiday Special" (PBS, 8 p.m., check local listings) completes the tale.
There are four consecutive new holiday episodes of "The Zoo: Jungle Bells" (Animal Planet, 8, 9, 10 and 11 p.m.)
Disney-owned ABC goes with a property, "Beauty and the Beast" (ABC, 8 p.m.) — the animated version.
Fox throws in an animated holiday special, "Ice Age: A Mammoth Christmas Special" (Fox, 8:30 p.m.) amid replays of "The Simpsons" (Fox, 8 p.m.), "Family Guy" (Fox, 9 p.m.) and "Bob's Burgers" (Fox, 9:30 p.m.).
Miss the colorized "I Love Lucy Christmas Special" (CBS, 8 p.m.) and "The Dick Van Dyke Show – Now in Living Color" (CBSS, 9 p.m.) the other night? They're both on again.
Most networks abandon their regularly scheduled programs on a night like this, but "The Girlfriend Experience" (Starz, 9 p.m.) goes ahead with its second season finale.
Late night programming includes "Christmas Eve with Fairfield University" (CBS, 11:35 p.m.) and "Christmas Eve Midnight Mass" (NBC, 11:30 p.m.).
So many Christmas movies! There's "Dr. Seuss' How the Grinch Stole Christmas" (Freeform, 6:35 p.m.), "The Santa Clause 2" (FX, 7, 9 and 11 p.m.), both "A Christmas Kiss" (ION, 7 p.m.) and "A Christmas Kiss II" (ION, 9 p.m.), the George C. Scott "A Christmas Carol" (AMC, 7:30 p.m.), "Switched for Christmas" (Hallmark, 8 p.m.), "The Holiday" (Lifetime, 8 p.m.), "Tyler Perry's A Madea Christmas" (BET, 9 p.m.), "Elf" (Freeform, 9 p.m.), "Office Christmas Party" (Showtime, 9 p.m.),  "Finding Santa" (Hallmark, 9:30 p.m.), "Scrooged" (AMC, 10 p.m.), "Krampus" (HBO2, 10:30 p.m.), "Merry Kissmas" (ION, 11 p.m.), "The Ultimate Christmas Present" (Disney XD, 11 p.m.), "Christmas at Holly Lodge" (Hallmark, 11 p.m.), "The Santa Clause" (Freeform, 11:25 p.m.), and "Bad Santa" (Comedy Central, 11:30 p.m.).
There is also "Die Hard" (Cinemax, 8 p.m.), which some people consider a Christmas movie, as well as "The Night Before" (FXX, 8 p.m.) and "Love Actually" (CMT, 6 and 9 p.m.).
But do we really need "Homicide for the Holidays" (Oxygen, 8 and 9 p.m.)?
Turner Classic Movies spends Christmas Eve with a bunch of associated movies: "Little Women" (5 a.m.), "The Man Who Came to Dinner" (8 a.m.), "It Happened on Fifth Avenue" (10 a.m.), "In the Good Old Summertime" (12:15 p.m.), "Holiday Affair" (2:15 a.m.), "Christmas in Connecticut" (4 p.m.), "Meet Me In St. Louis" (6 p.m.). "The Bishop's Wife" (8 p.m.), "The Bells of St. Mary's" (10 p.m.), "The Cheaters" (12:15 a.m.), the Reginald Owen "A Christmas Carol" (2 a.m.) and "Pocketful of Miracles" (3:30 a.m.).
The NFL has Denver at Washington (CBS, 1 p.m.) and Seattle at Dallas (Fox, 4:25 p.m.).
Today's one bowl game is Fresno State vs. Houston (ESPN, 8:30 p.m.) in the Hawaii Bowl.
Even athletes get the night off.
Sunday Talk
ABC: Sen. Jeff Flake, Rep. Charlie Dent. CNN: Sen. Bernie Sanders. Fox News: White House legislative affairs director Marc Short, Sen. Ben Cardin.