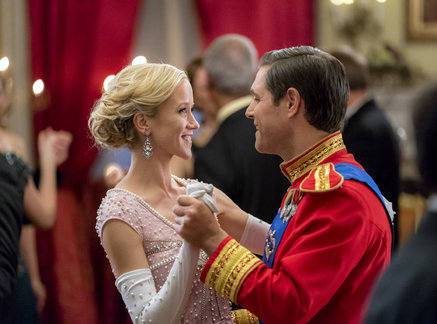 Hallmark has premiered 33 original Christmas movies this year, starting as far back as Oct. 27. But they've made only one New Year's one, and it's on tonight: "Royal New Year's Eve" (Hallmark, 8 p.m.).Jessy Schram plays a magazine assistant who finds romance with a prince played by Sam Page. Cheryl Ladd also stars in the film directed by the singer Monica.
Lifetime, meanwhile, goes right back to lurid crime in their new original movie, "Web Cam Girls" (Lifetime, 8 p.m.), in which a girl who's been making money on camera goes missing. Arrianne Zucker stars. It's followed by "Fatherly Obsession" (Lifetime, 10 p.m.) in which a landlord uses his own cameras to spy on tenants. Ted McGinley and Molly McCook star.
Guy Ritchie's summer bomb "King Arthur: Legend of the Sword" (HBO, 8 p.m.) with Charlie Hunnam makes its premium cable debut, as does the comedy "The Wilde Wedding" (Starz, 8 p.m.) with Glenn Close, John Malkovich and Patrick Stewart.
Megan Mullally and Nick Offerman host the ACL Hall of Fame New Year's Eve special on "Austin City Limits" (PBS, 11 p.m., check local listings) inducts the Neville Brothers, Rosanne Cash and Roy Orbison, with performances by Neko Case, Brandi Carlile, Trombone Shorty, Raul Malo and Ry Cooder, among others, doing their songs.
The only thing new on network TV tonight is an episode of "Ten Days in the Valley" (ABC, 10 p.m.), on which they're still on day eight.
Four members of the cast of "The Last Jedi," Daisy Ridley, John Bodega, Mark Hamill and Gwendoline Christie are on "The Graham Norton Show" (BBC America, 10 p.m.). Also: Sam Smith sings.
Monique plans a graduation party for Glynn on "Checked Inn" (OWN, 10 p.m.).
A single mom meets a jealous guy on "Your Worst Nightmare" (Investigation Discovery, 10 p.m.).
"Ghost Adventures" (Travel, 9 p.m.) goes to Longfellow's Wayside Inn in Sudbury, Mass.
A trio of Frank Sinatra movies are on Turner Classic Movies, beginning with the political thriller "The Manchurian Candidate" (8 p.m.). It's followed by the musical "Robin and the 7 Hoods" (10:30 p.m.) and the comedy "The Tender Trap" (12:45 a.m.). Then a couple horror movies (without Sinatra): "He Knows You're Alone" (2:45 a.m.) and "Don't Open the Door!" (4:30 a.m.).
The college football bowl games get bigger with Mississippi State vs. Louisville (ESPN, noon) in the TaxSlayer Bowl, Memphis vs. Iowa State (ABC, 12:30 p.m.) in the Liberty Bowl, Penn State vs. Washington (ESPN, 4 p.m.) in the Fiesta Bowl, and Wisconsin vs. Miami (ESPN, 8 p.m.) in the Orange Bowl.
There are lots of men's college basketball games, including Wichita State at Connecticut (CBS, noon), Wake Forest at North Carolina (ESPN2, noon), Brown at Northwestern (Fox Sports 1, noon), Miami, Ohio at Ohio State (ESPNU, noon), Fordham at VCU (NBC Sports, 12:30 p.m.), Florida State at Duke (CBS, 2 p.m.), Oklahoma at TCU (ESPN2, 2 pm.), DePaul at Xavier (Fox Sports 1, 2 p.m.), Georgia Tech at Notre Dame (ESPNU, 2 p.m.), Massachusetts at St. Bonaventure (NBC Sports, 2:30 p.m.), Villanova at Butler (CBS, 4 p.m.), Saint Mary's California at BYU (ESPNU, 4 p.m.), Vanderbilt at Florida (ESPN2, 4 p.m.), Georgetown at Marquette (Fox Sports 1, 4:30 p.m.), Davidson at Richmond (NBC Sports, 4:30 p.m.), Texas A&M at Alabama (ESPN2, 6 p.m.), Temple at Houston (ESPNU, 6 p.m.), Eastern Kentucky at Tennessee Tech (CBS Sports, 7 p.m.) and California at Stanford (Fox Sports 1, 10 p.m.).
In hockey's IIHF World Junior Championship, it's Czech Republic vs. Belarus (NHL, noon),  Finland vs. Slovakia (NHL, 4 p.m.) and Denmark vs. Canada (NHL, 8 p.m.).
The Tiffany Haddish-hosted "Saturday Night Live" (NBC, 11:30 p.m.) with Taylor Swift is rerun. At 10 p.m., it's a show from a year ago, with Adam Driver and Chris Stapleton.