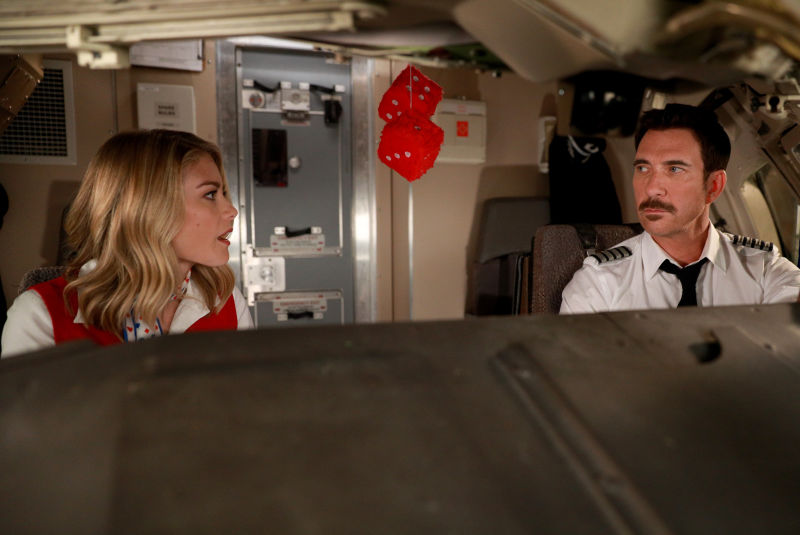 A sitcom set on a weekly shuttle to Sin City seems at first as a refreshing take on the workplace comedy. But "LA to Vegas" (Fox, 9 p.m.) is, instead, a largely unfunny exercise populated by one-dimensional characters. Dylan McDermott is the dim, egotistical captain (whose nemesis in episode three, Dermot Mulroney, completes that joke), Kim Matula as the flight attendant who wants more, the hot love interest (Ed Weeks), the gay attendant (Nathan Lee Graham), the stripper (Olivia Jacklin) and the gambler (Peter Stomare) trying to be a lovable cast of misfits. The problem in this first of a raft of midseason shows, there wasn't a single laugh for me.
Not compared to, say, "The Mick" (Fox, 9:30 p.m.) with which it is paired.
It may be fun for a minute to watch Ellen DeGeneres torture victims who fail to answer quiz questions correctly in her "Ellen's Game of Games" (NBC, 8 and 9 p.m.). But two hours of it has got to be torture in itself.
Another new competition starting to night is the "Chopped Gold Medal Games" (Food, 10 p.m.), an Olympic style cooking contest with a $50,000 prize.
Three couples agree to get "Married at First Sight" (Lifetime, 9 p.m.) in the season six premiere of the unusual series.
Pittsburgh area homes get refurbished by the brother-and-sister team of Leanne and Steve Ford on the new series "Restored by the Fords" (HGTV, 10 p.m.).
Whitney begins the fifth season of "My Big Fat Fabulous Life" (TLC, 8 p.m.) with a two hour episode.
Time to check in on the transgender teen Jazz Jennings with the premiere of the fourth season start of "I Am Jazz" (10 p.m.).
The History channel gets back to its core mission with the third season of "Hunting Hitler" (History, 10 p.m.).
A patient refuses an HIV test on "Chicago Med" (NBC, 10 p.m.).
Torres and Bishop go undercover to track drug runners on "NCIS" (CBS, 8 p.m.). Percy reunites with a former ATF partner on "NCIS: New Orleans" (CBS, 10 p.m.).
On "black-ish" (ABC, 9 p.m.), Tracee Ellis Ross' character goes back to work after maternity leave.
"Lethal Weapon" (Fox, 8 p.m.) go after counterfeiters.
The new season of "Intervention" (A&E, 9 p.m.), quite rightly, is all about the opiod crisis.
Andrew Zimmern heads to the Scottish highlands on "Bizarre Foods: Delicious Destinations" (Travel, 9:30 p.m.).
One little known device worked on by the famous inventor is explored in the special "Tesla's Death Ray: A Murder Declassified" (Discovery, 10 p.m.).
The great W.C. Fields gets a seven-film showcase on Turner Classic Movies, with "Million Dollar Legs" (8 p.m.), "It's a Gift" (9:15 p.m.), "The Bank Dick" (10:45 p.m.), "Never Give a Sucker an Even Break" (12:15 a.m.), "The Dentist" (1:45 a.m.), "The Fatal Glass of Beer" (2:15 a.m.) and "David Copperfield" (2:45 a.m.)
Men's college basketball includes Indiana at Wisconsin (ESPN, 7 p.m.), Michigan at Iowa (ESPN2, 7 p.m.), Butler at Xavier (Fox Sports 1, 7 p.m.), Auburn at Tennessee (ESPNU, 7 p.m.), Toledo at Buffalo (CBS Sports, 7 p.m.), Georgetown at DePaul (Fox Sports 1, 9 p.m.), Texas Tech at Kansas (ESPN, 9 p.m.), Florida at Texas A&M (ESPN2, 9 p.m.), Pittsburgh at Louisville (ESPNU, 9 p.m.) and San Diego State at Colorado State (CBS Sports, 9 p.m.),
In women's games, it's Creighton at Seton Hall (Fox Sports 2, 7 p.m.).
Pro basketball has Portland at Cleveland (NBA, 7 p.m.) and Memphis at Clippers (NBA, 10:30 p.m.).
Hockey includes Pittsburgh at Philadelphia (NBC Sports, 7 p.m.) and Los Angeles at Edmonton (NBC Sports, 9:30 p.m.).
Daytime Talk
Kelly Ripa and Ryan Seacrest: America Ferrera, Colleen Ballinger, Dr. Taz Bhatia. The View: Ana Navarro. The Talk: Dylan McDermott, Elizabeth Wagmeister. Harry Connick: Kumail Nanjiani, Roma Downey (rerun). Steve Harvey: Lisa Vanderpump, Phil Keoghan. Ellen DeGeneres: Ricky Martin, Kalen Allen. Wendy Williams: Van Jones (rerun). The Real: Nick Lachey (rerun).
Late Talk
Stephen Colbert: Anderson Cooper, Maz Jobrani, Margo Price. Jimmy Kimmel: David Duchovny, Arie Luyendyk Jr., Dusty Slay. Jimmy Fallon: Kate McKinnon, Patton Oswalt, Wiz Khalifa with Ty Dolla $ign (rerun). Seth Meyers: John Lithgow, Jonathan Groff, Michael Lewis (rerun). James Corden: Debra Messing, Taran Killam, Sam Rockwell, Bebe Rexha with Florida Georgia Line (rerun). Carson Daly: Paula Poundstone, the Shelters, Dominic Minghella (rerun). Jordan Klepper: Natasha Bertrand. Conan O'Brien: Elijah Wood, JoAnna Garcia Swisher, Paul Weller (rerun).