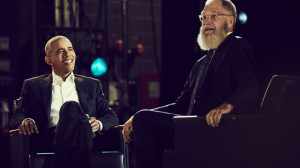 When David Letterman retired two years ago, late night television lost not only a singular comic voice but also a host who could have a natural curiosity about his guests (He could also have contempt for them, and it was a delight to watch that natural reaction as well).
He only chooses the best ones for his new "My Next Guest Needs No Introduction with David Letterman" (Netflix, streaming), six one-hour specials that starts with a guest other late night hosts would die for: Barack Obama. It will be good to see the two recently retired men — one with a big, bushy white beard and the other, presumably, without — talking about race, retirement and other things without the considerations of commercial breaks or censorships.
You couldn't have picked a more graciously appreciative recipient — or one who can still blow away most of the others on the bill than the honoree of "Tony Bennett: The Library of Congress Gershwin Prize for Popular Song" (PBS, 9 p.m.). There are lapses in the lineup — none of his most prominent recent duet partner, Lady Gaga; nothing from Bob Dylan, who was singing one of his hits in D.C. the night before this was taped, and instead of Willie Nelson, his son. But Stevie Wonder showed up and did the harmonica solo to "I Left My Heart in) San Francisco" (PBS, 9 p.m., check local listings). I reviewed the show when it was taped; also saw Dylan the night before).
Friday is the big night for streaming and here's a new feature comedy. Jack Black stars as "The Polka King" (Netflix, streaming), a Polish entertainer who ends up jailed for a Ponzi scheme. Jenny Slate and Jason Schwartzman also star.
Yet another in a horror anthology series, "Philip K. Dick's Electric Dreams" (Amazon, streaming) picks up 10 stories by the author of "Blade Runner" and "The Man in the High Castle" with casts that include Bryan Cranston, Steve Buscemi and Janelle Monáe.
A new season drops for the Kathy Bates sitcom about a family pot dispensary, "Disjointed" (Netflix, streaming).
On the new "Love After Lockup" (WeTV, 10 p.m.) six couples are reunited after a prison stint.
A new season starts on "Taken" (NBC, 9 p.m.) with a couple of new co stars, Adam Goldberg and Jessica Camacho, joining Clive Standen and Jennifer Beals.
A new stand-up comedy special debuts online, "Tom Segura: Disgraceful" (Netflix, streaming).
A second season starts for the travel and food series with "Everybody Love Raymond" creator Phil Rosenthal in "Somebody Feed Phil" (Netflix, streaming).
Are we ready for the second season covering the supposed transformation of Honey Boo Boo's mom, "Mama June: From Hot to Not" (WeTV, 9 p.m.)?
The team is reunited on "Marvel's Agents of S.H.I.E.L.D." (ABC, 9 p.m.).
Talking with a witness ends up getting Anthony shot on "Blue Bloods" (CBS, 10 p.m.).
"20/20" (ABC, 10 p.m.) takes a look at Kim Jong-un; "Dateline" (NBC, 10 p.m.) follows the story of a con man.
Grover tries to keep a suspect from suicide on "Hawaii Five-0" (CBS, 9 p.m.).
On "Crazy Ex-Girlfriend" (The CW, 8 p.m.), Rebecca reaches out to the world.
Nuclear warheads go missing on "Blindspot" (NBC, 8 p.m.).
Ashley Tisdale guest stars on "MacGyver" (CBS, 8 p.m.).
Mystery ingredients enter the world of "Hell's Kitchen" (Fox, 8 p.m.).
Curtis takes Jackie on a date on "Married to Medicine" (Bravo, 9 p.m.).
A raft of survival movies on Turner Classic Movies include "Man in the Wilderness" (8 p.m.), "Inferno" (10 p.m.), "Robinson Crusoe" (11:45 p.m.), "Into the Wild" (1:30 a.m.), "The Secret Land" (4:15 a.m.) and "The Plow that Broke the Plains" (5:30 a.m.).
Men's college basketball includes Marquette at Butler (Fox Sports 1, 6:30 p.m.), Ohio at Kent State (CBS Sports, 7 p.m.) and VCU at Dayton (ESPN2, 7 p.m.).
Pro basketball includes Golden State at Milwaukee (ESPN, 8 p.m.) and Houston at Phoenix (ESPN, 10:30 p.m.). And in the G League, it's Canton vs. Northern Arizona (ESPNU, noon), Greensboro vs. Texas (ESPNU, 2:30 p.m.), Westchester vs. Agua Caliente (ESPNU, 6 p.m.) and Erie vs. Rio Grande Valley (ESPNU, 8:30 p.m.).
Daytime Talk
Kelly Ripa and Ryan Seacrest: Donald Sutherland, Dr. Wendy Bazilian. The View: Helen Miren, Donald Sutherland, Wendy Williams. The Talk: Kathy Bates, Courtney Thorne-Smith. Harry Connick: Cheryl Hines, Rocco DiSpirito, Sheila E. Steve Harvey: Jenny McCarthy, Donnie Wahlberg, Debbie Allen (rerun). Ellen DeGeneres: Ted Danson, Sonequa Martin-Green, Paul Vu. Wendy Williams: Lindsay Lohan. The Real: Yara Shahidi, Trevor Jackson.
Late Talk
Stephen Colbert: Laurie Metcalf. Jimmy Kimmel: Kobe Bryant, Khloe Kardashian, Prophets of Rage (rerun). Jimmy Fallon: James Spader, Camila Cabello, Pete Lee. Seth Meyers: Anthony Anderson, Hong Chau, Amanda Seales, Mark Giuliana (rerun). James Corden: Emmy Rossum, January Jones, Pink (rerun). Carson Daly: Guillermo De Toro, Lian Gallagher, Bair Sochi (rerun).