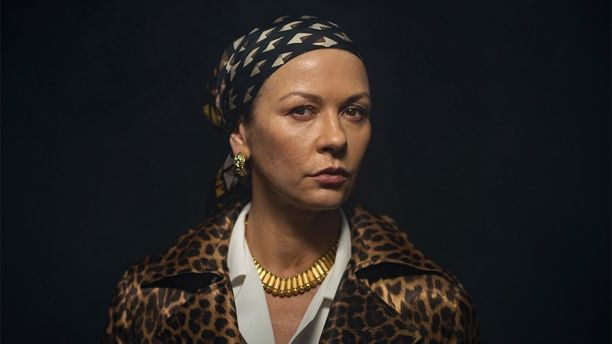 Catherine Zeta-Jones returns to television for the first time in a big way since a 1996 "Titanic" miniseries (though she was briefly in "Feud: Bette vs. Joan" last year, in the fact-based "Cocaine Godmother: The Griselda Blanco Story" (Lifetime, 8 p.m.).
She portrays the notorious Colombian drug lord (or is it lady?) for the Medellin cartel.
"I have been wanting to play Griselda Blanco for over three years, in fact, since I first saw the documentary 'Cocaine Cowboys,'" Zeta-Jones told reporters at the TV Critics Association winter press tour last week.
So she did some research. "I found that these men, some of them still in jail, all talked about La Madrina, this woman, the godmother. And they feared her, and they revered her. And I was thinking, 'My god, what do I know about this woman, this woman, in a very dark, dangerous, man's world and who had so much power?' So I went out. When you find a story like this that has never been done, I just went all out for it."
True, it seems a departure from the usual fare on the network. But the actress said, "Lifetime does such great stories about women for women. They're known for that. This is a story that not necessarily you would think of.
"But what Lifetime does and is doing more and more and more, is working with great filmmakers, having great actors who want to really invest, and they want to show women in all lights," she said. "We may not like Griselda. We may not like that opening scene, but it happens. And we're seeing another side of a women. Maybe men should watch more of Griselda on Lifetime."
Zeta-Jones said she didn't mind shedding her usual glamor for "Cocaine Godmother," which is directed by Guillermo Navarro and co-stars Juan Pablo Espinosa and Raúl Méndez.
"It was so liberating," she said.
"What I didn't want to do was sugarcoat her or rose-tint the story or make a Lifetime audience like her or root for her. And I've seen the movie in many of its different cuts, and call me crazy, but I do root for her.
"It's like this bizarre — why do I want this woman not to get caught? This is bizarre, Catherine, maybe  it's because I just lived with her for so long. But it's a fascinating story and so it just excites me, and I want to do more now. I want to surround myself with great actors who want to be there, who want to invest as much as me in it."